Debt Commissioners: Baby Boomers Will Crush Social Security, Medicare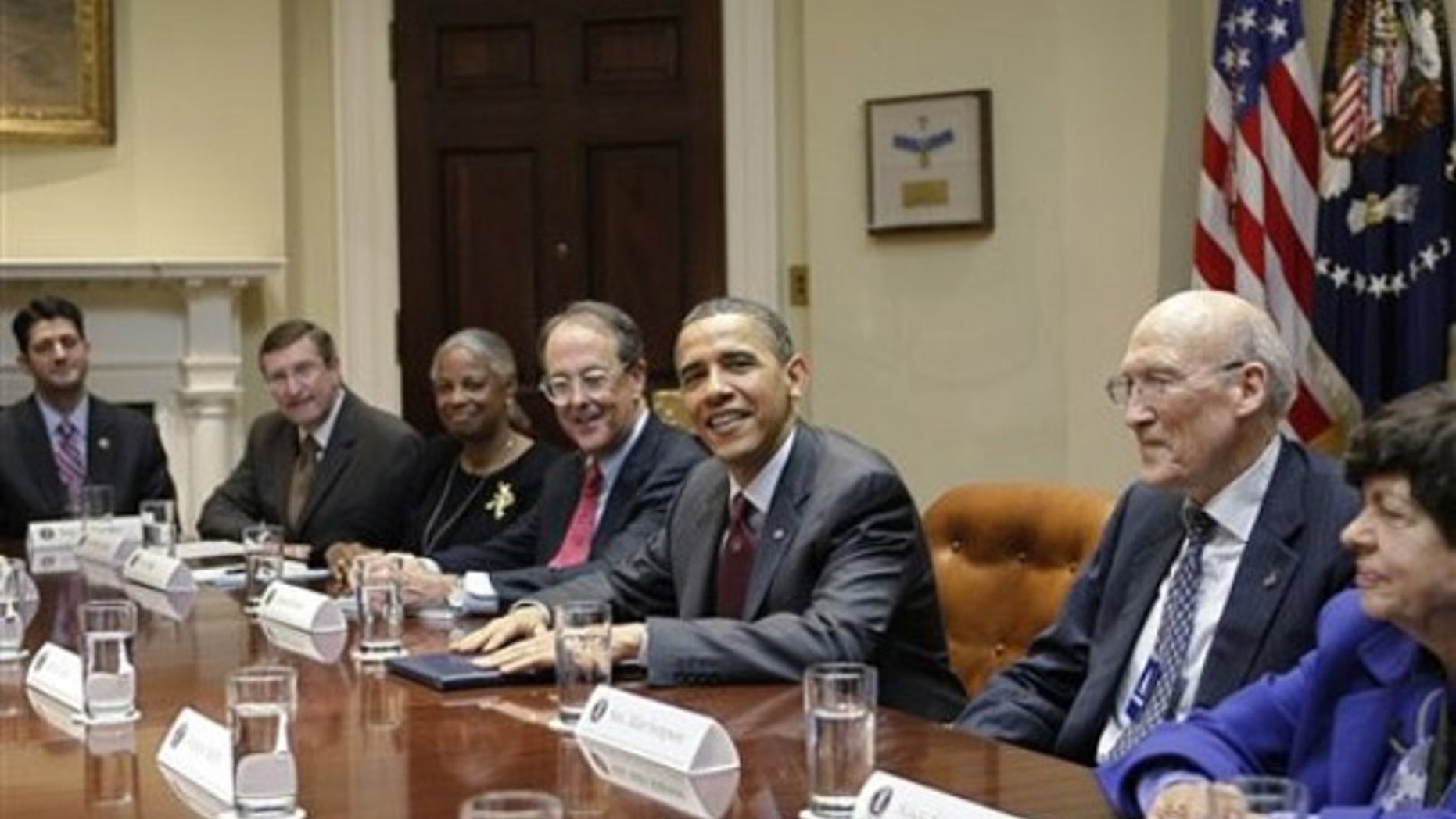 Baby boomers withdrawing funds from Social Security, Medicare and Medicaid are going to "crush the system" in a matter of years, a member of President Obama's blue-ribbon commission on the debt warned Sunday.
David Cote, CEO of Honeywell and one of a handful of private-sector chiefs appointed to the 18-member fiscal reform commission issuing its final recommendations on Dec. 1, said he didn't realize -- even perched at the top of his field -- that the next decade will be disastrous to the nation's accounts ledger unless something drastic is done.
"It scares me that as a financially conversant CEO, I didn't know how bad this was going to get in the next 10 years," Cote said on ABC's "This Week."  "The thing that everybody misses is it's my generation, the baby boomers, who are going to flow through Social Security, Medicare, Medicaid. It's going to crush the system."
"Social Security is going to go cash negative in five years. It's going to go broke in 2037," added Sen. Kent Conrad, D-N.D., another member of the commission who appeared with Cote.
Medicare is "prepared to go permanently cash negative in just 10 years. So, obviously, those things have to be reformed; there have to be some changes," Conrad said.
The U.S. government currently borrows 40 cents of every dollar it spends and is expected this fiscal year to draw a deficit more than $1.3 trillion. At the rate of current spending, interest on the debt alone will cost the U.S. $1 trillion by 2020.
Last week, the president's commission on the debt offered a 50-page set of draft recommendations that many viewed as a "good first step," but which outgoing House Speaker Nancy Pelosi said was dead on arrival.
"We're going to protect important equities, for sure. I mean, we shouldn't cut without sensitivity to the impact of those cuts, and certainly Social Security, which is something she's concerned about, is a great concern to us," White House senior adviser David Axelrod said on "Fox News Sunday.
But, Axelrod added, President Obama is interested to hear all the recommendations before commenting, and any decisions will require compromise from both sides.
"The truth is that as we move forward, if one side says we can't raise any taxes on anybody or any interest, and the other side says we can't cut anything, we're obviously not going to make progress on this. And our interest is in making progress on this," he said.
But even as Obama administration officials and commissioners talk a good game about avoiding a crisis before the U.S. economy goes belly up, already lawmakers are tipping their hands on the inevitable fight that will emerge in Washington.
"I think it's not wise to comment on any specific positions," Sen. Charles Schumer, D-N.Y., said on CBS' "Face the Nation."
"We do have to reduce the deficit, (but it) should not fall disproportionately on the middle class," he added.
Describing any measures to simplify the income tax system to reduce debt "shock therapy," Conrad said he can't support one proposal by the commission that calls for eliminating tax deductions like mortgage interest and exclusions like earned income and child credits.
But he also said he doesn't support raising rates to raise revenue.
"Eliminate some of the loopholes that exist in the system. We have a tax system now that is just loaded -- chockablock full of preferences, loopholes. We're allowing $100 billion a year to be lost to offshore tax havens another $50 billion to abuse of tax shelters. That can't be allowed to continue," he said.
Sen.-elect Rand Paul, R-Ky., said he would support cuts in military spending though also could not back an increase in tax rates because it would mean larger government.
"We now consume at the federal level, 25 percent of the gross domestic product, historically it's been 20 percent," he said, adding that he wants to return that 5 percent to the private sector.
"Listen, some of this stuff is not Democrat or Republican," Sen. Mark Warner, D-Va., said on CNN. "Some of it's just math. For example, 50 years ago, eight retirees for every worker, now only two. Look, folks at 25 or 30 years old today aren't going to get Social Security at 65 or 67."
Cote warned that whatever decisions need to be made, it's critical not to let "the demagogues and the polemicists" return to their neutral corners to scream rather than resolve problems.
"Democracy seems to be uniquely suited to putting a traffic light up after the fourth accident. Now, we can't wait for the fourth accident here," Cote said.