Deal with Senate panel lets Trump Jr., Manafort avoid public testimony for now
A U.S. Senate panel has reached an agreement with President Trump's eldest son and his former campaign manager that makes it appear unlikely they will testify next week in connection with the probe into possible Trump administration ties to Russia.
A statement released Friday by the chairman and ranking member of the Senate Judiciary Committee said the arrangement means the panel no longer needs to subpoena Donald Trump Jr. and former campaign manager Paul Manafort for Wednesday's hearing. But the commitee suggests it might invite Trump Jr. and Manafort to appear at a future public hearing.
"Both Donald Trump Jr. and Paul Manafort, through their attorneys, have agreed to negotiate to provide the committee with documents and be interviewed by committee members and staff prior to a public hearing," the statement from Sen. Chuck Grassley, R-Iowa, and Sen. Dianne Feinstein, D-Calif., said. "Therefore, we will not issue subpoenas for them tonight requiring their presence at Wednesday's hearing but reserve the right to do so in the future."
Both Trump Jr. and Manafort were invited to testify at the committee's July 26 hearing. The committee suggested it would subpoena them if they didn't voluntarily testify.
Feinstein tweeted Friday afternoon, "The Judiciary Committee will talk to Trump Jr. & Manafort before they testify in public, but we will get answers."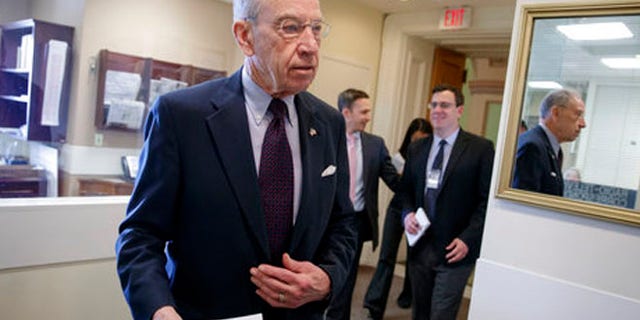 Both Trump Jr. and Manafort have come under scrutiny following revelations that they attended a June 2016 meeting in Trump Tower with a Russian attorney and at least five other people.
The Trump administration has denied any wrongdoing in connection with Russia.
According to emails released by Trump Jr., the prospect of potentially damaging information about 2016 Democratic presidential nominee Hillary Clinton was touted as a reason for the meaning. But Trump Jr. later said the focus of the meeting turned to Russian adoptions.
Meanwhile, President Trump's son-in-law and adviser, Jared Kushner, who also attended the meeting in Trump Tower, is scheduled to appear before the Senate Intelligence Committee on Monday and the House Intelligence Committee on Tuesday, in connection with their Russia probes.