D.C. School Reform Under Suspicion After Allegations of Inflated Test Scores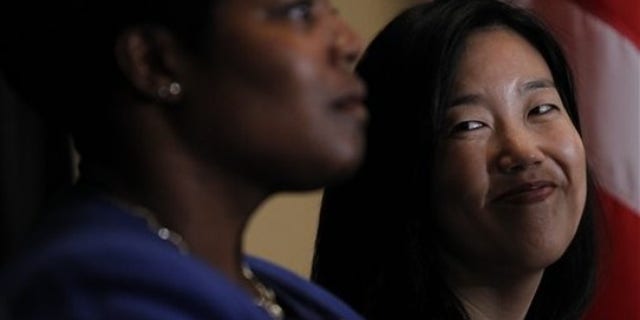 NEWYou can now listen to Fox News articles!
Washington, D.C.'s school district, which has garnered national attention in recent years for its education reform efforts, is under fire after two schools were accused of tampering with tests to give its students better grades.
McKinley Tech Principal David Pinder is on paid administrative leave while the D.C. Public Schools investigate allegations that he manipulated scores.
Documents obtained by USA Today show that Noyes Elementary School, which former schools Chancellor Michelle Rhee had highlighted in her highly touted school reform effort, had a higher-than-normal number of answers on standardized tests that had been erased and changed.
Now the sweeping turnaround that began under Rhee is being called into question.
D.C. Public Schools would not answer specific questions from MyFoxDC.com about what happened but said it hired an independent firm to investigate a handful of schools back in 2009 because of a high number of erasures. The school system said the firm found no wrongdoing at a majority of schools.
In an interview Tuesday with PBS' Tavis Smiley, Rhee dismissed the USA Today article, saying that most of it focuses on one school that the investigating firm said required no further inquiry.
"We followed all the right protocol," she said. "What I think is the unfortunate piece is often times, when the academic achievement rates of a district like D.C. go up, people assume that it can't be because kids are actually attaining higher gains in student achievement but that it's because of something like cheating, which in this case was absolutely not the case."
But parents at Noyes say they have been seeking answers to inconsistencies for several years now.
"We really got no response from anybody," Marvin Tucker told MyFoxDC.com. "It was almost like it was on deaf ears."
Despite his daughter's high test scores, Tucker said he had to get her a tutor, who told him that his daughter is still having problems retaining "basic math."
Tucker also said he saw things happen at Noyes that were downright suspicious after a test had been given.
"I saw them go in a room, put a paper over the door with the test material in their hand," he said. "There were several staff members. I can't say what they did with that test material but I know it wasn't supposed to be out of the lock and safety of it."
The school system says it has new testing procedures in place, including an outside test security firm, stricter testing protocols, independent observers and unscheduled visits to testing sites.