Czech president reportedly bars US ambassador from official visits in rift over Russia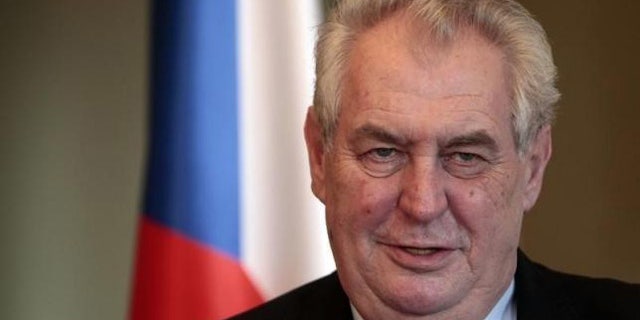 NEWYou can now listen to Fox News articles!
The president of the Czech Republic reportedly has banned the U.S. ambassador to that country from paying him official visits amid a dispute over the Czech leader's plans to attend World War II commemoration ceremonies in Moscow next month.
Milos Zeman said Sunday that Ambassador Andrew Schapiro is unwelcome at his office in the historic Prague Castle, according to the Czech news site Parlamentní listy.
"I cannot imagine that the Czech ambassador in Washington would advise the US president where he should travel," Zeman is quoted as saying. "And I will not allow any ambassador to have a say in my foreign travel plans."
Zeman plans to attend the scheduled May 9 parade honoring the Russian military for its role in defeating Nazi Germany in World War II in Europe. He will likely be one of the only Western leaders to attend, as other heads of state plan to boycott the ceremony to protest Russia's role in the ongoing conflict with Ukraine.
Schapiro told Czech television early last week that while he recognized the Russian contribution to the Allies' military triumph, "standing on a platform reviewing a military parade at a time when that military is destabilizing a European nation is not really a good message to send."
The U.S. Embassy has not commented on Zeman's reported remark. Schapiro posted a response on his personal Twitter account Sunday.
The Wall Street Journal reported that Czech politicians criticized Zeman's statement, with Jaroslav Faltynek, a senior member of ANO, one of three parties in the country's coalition government, calling it "unnecessarily inflammatory."
The Czech presidency is a largely ceremonial post, but Zeman is known for being outspoken about various issues, including foreign policy.