Cuccinelli, McAuliffe call on respective party stars ahead of Tuesday's election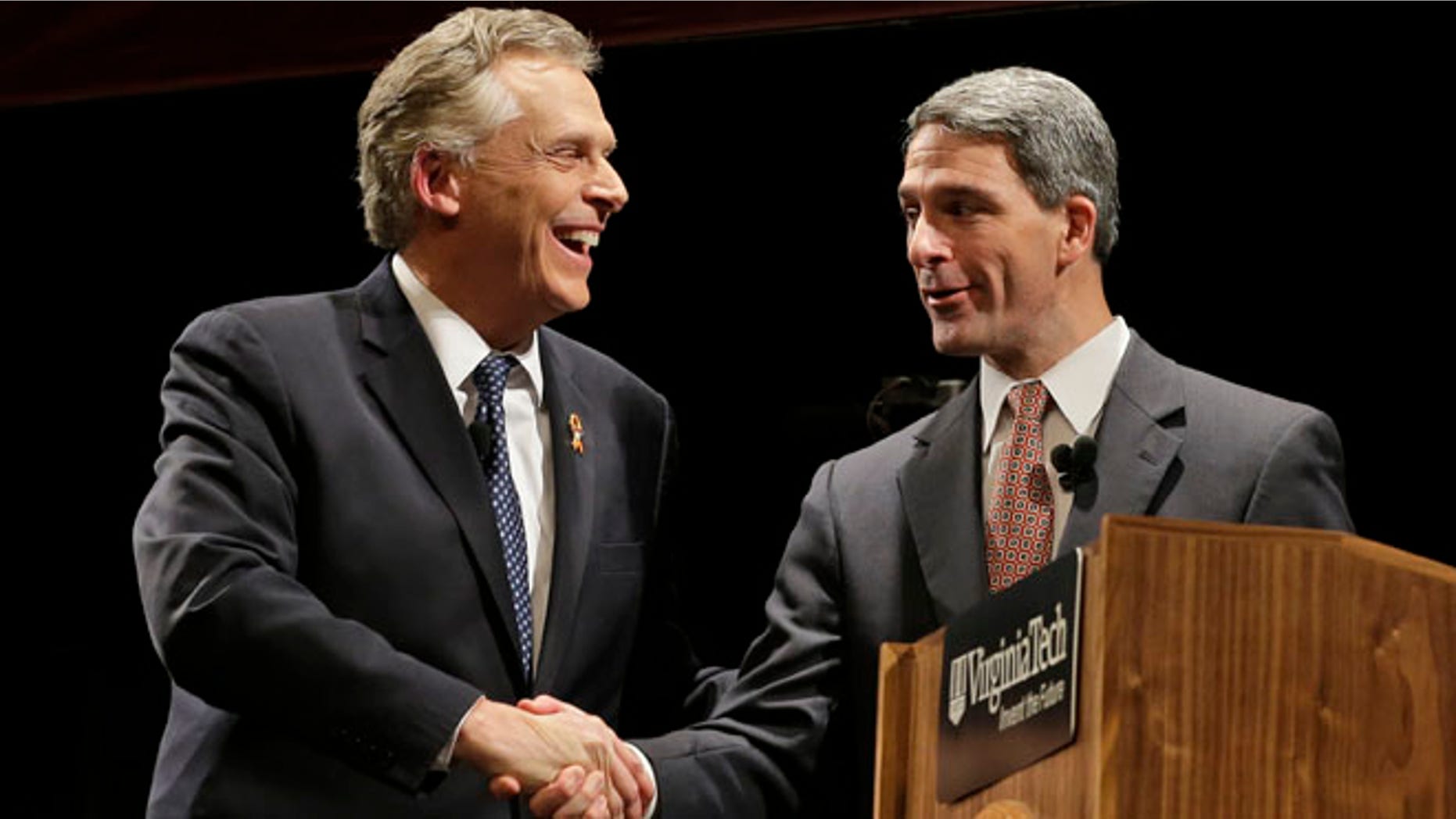 WINCHESTER, Va.  – Eyes around the nation will turn to the Virginia gubernatorial race Tuesday as the contentious electoral battle between Republican Ken Cuccinelli and Democrat Terry McAuliffe comes to an end, capping one of  the biggest races in the 2013 election cycle.
The final day of campaigning in the Virginia gubernatorial race marked the candidates' decidedly vast differences in the race, with Cuccinelli relying on a visit from fellow Tea Party-backed lawmaker Sen. Marco Rubio and a final attack on ObamaCare before polls opened at 6 a.m. ET on Tuesday.
Democratic nominee Terry McAuliffe called on Vice President Joe Biden, another fellow party establishment member, to close the race and portray conservatives as out of touch with the rest of America.
"This is the first election in America since the full impact of ObamaCare has been felt," said Rubio, who is weighing a presidential bid in 2016. "The whole country is waiting for your choice."
Biden told voters, "There's only one place the Tea Party can compete with us, and that is they do turn out their base. Don't take this for granted, man."
Cuccinelli raced from stop to stop, trying to overcome a deficit in the polls, a crush of negative ads and a lingering wariness among fellow Republicans about his deeply conservative views.
McAuliffe, during his last-minute visit from Biden, pledged to use ObamaCare to give 400,000 Virginians health care coverage.
Their approaches capture the essence of the race: Cuccinelli, the current attorney general, turned to hand-to-hand campaigning to motivate his most loyal supporters.
McAuliffe, flush with cash and ahead in the polls, leaned on television ads and turned to top national Democrats to perhaps give him his first job in elected office.
Neither, really, had much of an alternative.
Cuccinelli is out of cash and hoping voters' frustrations with the federal health care law will energize his conservative base. McAuliffe is ahead in the polls and just trying to run out the clock.
"I'm scared of what ObamaCare is doing to Virginia," Cuccinelli told Fox News. "And Terry McAuliffe should be worried about how ObamaCare is hurting Terry McAuliffe."
McAuliffe, too, tried to inspire his supporters to vote Tuesday.
"We will work our hearts out for you over the course of the next four years," McAuliffe said at an Annandale rally with Biden.
From the start, the campaign shaped up to be a barometer of voters' moods and a test of whether a swing-voting state like Virginia could elect a Tea Party-style governor. As one of just two races for governor nationwide, political strategists eyed the race for clues about what would work for 2014's midterm elections when control of Congress is up for grabs.
Republicans bet a deeply conservative candidate would be their best shot, passing over a lieutenant governor for a crusader against the federal health care law. Democrats chose a loyal partisan who once led the Democratic National Committee and recruited pals Bill Clinton and Hillary Rodham Clinton to raise millions for him and rally the party faithful.
The race is going to be decided by the few Virginians who choose to vote. The state Board of Elections chief says turnout could be as low as 30 percent of registered voters, and the campaigns see 40 percent turnout as the goal.
The lower the turnout, the better Cuccinelli's chances.
McAuliffe planned to vote before dawn and visit campaign offices to help sustain his lead in the polling. His Republican competitor, meanwhile, scheduled his own campaign visits as he held out hope his conservative supporters would fuel a come-from-behind win.
Negative advertising has been the norm, and McAuliffe enjoyed a 10-to-1 advantage on the air in the campaign's final weeks. He raised $35 million to Cuccinelli's $18 million.
The lopsided nature continued with outside groups, too.
Millions of dollars poured in to criticize the candidates on gun rights, abortion and climate change. It led to a muddled mess.
That gave McAuliffe an opportunity to fill in the blanks against his opponent. He criticized Cuccinelli's record on abortion rights and women's health, blasted his ties to Washington Republicans who sparked the partial government shutdown and sought to tie him to the ethics scandal that has enveloped Gov. Bob McDonnell, who was all but silent in the campaign to replace him.
Cuccinelli tried to fight the criticism but found himself without money to pay for ads. He talked constantly with reporters, trying to raise questions about McAuliffe's record as a party fundraiser, businessman and Clinton confidant. He never settled on one story line, though, and the disparate efforts never really jelled.
Cuccinelli was expected to rally later Monday with former Rep. Ron Paul, a Texas Republican who is beloved among the party's libertarian wing. Paul's support, in particular, was sought to help Cuccinelli sway voters who were eyeing third-party candidate Robert Sarvis. Cuccinelli also campaigned last week with Sen. Rand Paul, a Kentucky Republican who inherited his father's affinity among libertarians.
McAuliffe, too, turned to outside help. President Barack Obama joined him Sunday, First Lady Michelle Obama recorded a radio ad and appeared in an online ad for him, and Biden started his week in a backyard near Washington.
Offering generic praise for McAuliffe as smart, tough and grounded, Biden reserved his fervor for Cuccinelli, whom he lambasted as the "loudest voice in America" opposing women's access to health care.
But in another corner of the state, Biden's visit provided fodder for Cuccinelli as he sought to make Tuesday's election for governor a referendum on Obama's health overhaul.
The Associated Press contributed to this report.