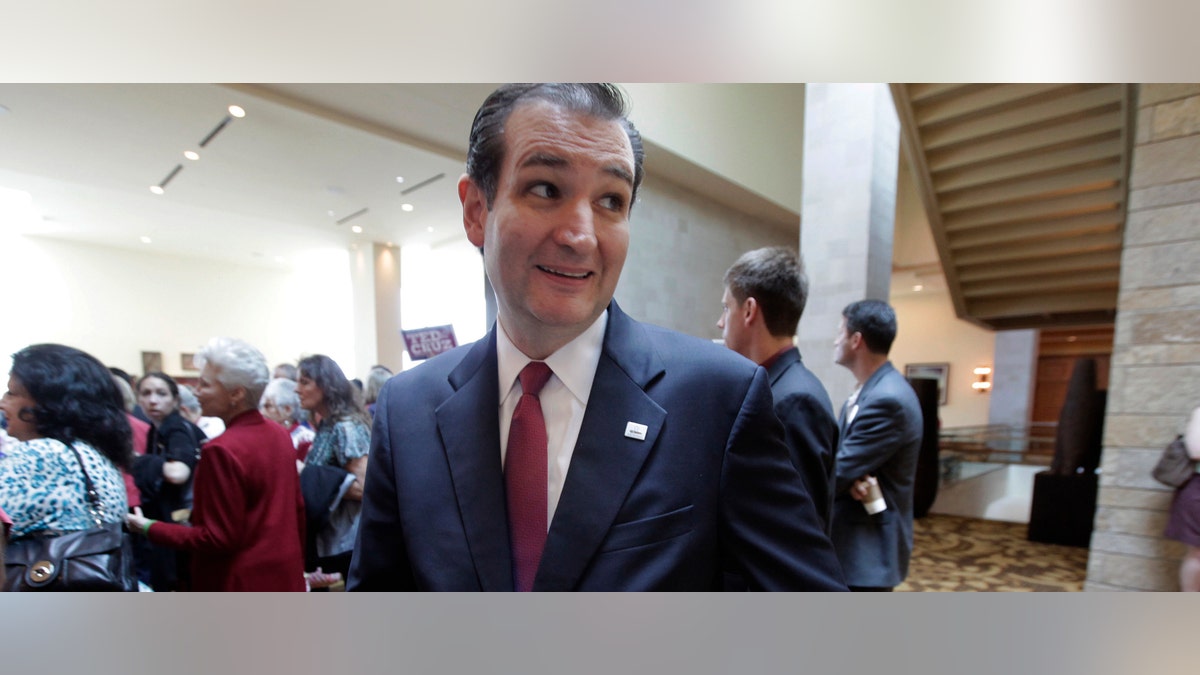 Sen. Ted Cruz said Sunday that the U.S. should honor a treaty obligation to supply weapons to Ukraine to thwart Russian-back separatists -- a plan with little support among European leaders trying to broker a cease-fire deal as early as Wednesday.
"When it comes to Russia and Ukraine, the path we're on doesn't make any sense," Cruz, R-Texas, told ABC's "This Week" while at the Munich Security Conference. "We need to be providing defensive arms to the people of Ukraine."
He was in Germany as part of a bipartisan congressional delegation attending the conference that also met with Ukrainian President Petro Poroshenko.
"We have a treaty obligation to stand with them," Cruz said. "And right now, unfortunately, the Obama administration is not honoring that obligation. We need to come together and provide defensive arms so that [Ukraine] can stand up against this Russian aggression."
The three-day meeting took place as Russian-backed separatists gain ground in eastern Ukraine.
Leaders of Germany, France, Russia and Ukraine announced Sunday at the conference plans for four-way talks Wednesday.
The proposed meeting in the Belarusian capital of Minsk emerged from a phone call between German Chancellor Angela Merkel, French President Francois Hollande, Russian President Vladimir Putin and Poroshenko.
The aim is to revive the much-violated peace plan both sides agreed to in Minsk last September, and end a war that has now killed more than 5,300 people, according to United Nations estimates.
Although the United States won't be at the negotiating table, a growing clamor in Washington to arm Ukraine will be on the minds of those present in Minsk.
U.S. officials have said President Obama is rethinking his previous opposition to sending weapons to Ukraine, despite fears of triggering a proxy war between Washington and Moscow.
While senior diplomats from the four countries meet in Berlin to prepare for the summit, Merkel is expected to brief U.S. officials in Washington on Monday during a previously scheduled trip.
Secretary of State John Kerry, who also is in Munich, on Sunday tried to dispel the notion of a trans-Atlantic rift on supply arms, saying U.S. and its European allies are "united in our diplomacy" on Ukraine.
"There is no division, there is no split," he said. "I keep hearing people trying to create one. We are united, we are working closely together."
Merkel is squarely opposed to the U.S. providing weapons, which would include anti-tank and ant-mortar systems, suggesting the outgunned Ukraine has no way to defend itself.
German Foreign Minister Frank-Walter Steinmeier, speaking alongside Kerry, said he considers delivering weapons "not just highly risky, but counterproductive."
Sen. John McCain, R-Ariz., the chairman of the Senate Armed Services Committee, was also in Munich and said the U.S. must provide defensive arms to Ukraine.
"If we help Ukrainians increase the military cost to the Russian forces that have invaded their country, how long can Putin sustain a war that he tells his people is not happening?"
Aside from the military cost, Russia has also been struggling with the economic impact of Western sanctions and low global oil prices.
While Poroshenko raised the possibility that Wednesday's summit could provide a breakthrough after months of futile diplomacy, Putin insisted Sunday that the four-way meeting would only happen if they agree on key points beforehand.
"We will be aiming for Wednesday, if by that time we are able to agree on a number of the positions that we recently have been discussing intensely," he told journalists in Sochi during a meeting with the president of Belarus.
Details of the proposals have not been revealed, but the main sticking points have emerged in the leaders' recent comments.
One is enforcing a peace deal. In Munich, Poroshenko expressed opposition to any peacekeeper force, apparently reflecting concern that sending Russian peacekeeping troops into eastern Ukraine could result in a de-facto occupation.
However, key to a real settlement is some mechanism for monitoring the Ukraine-Russia border to ensure that Russia is not sending troops or equipment to the separatists. Ukrainian officials would have the Organization for Security and Co-operation in Europe conduct such monitoring.
The status of the eastern regions remains contentious. Ukraine passed a law last year proposing what it called significant autonomy for the east, but rebels dismissed it as vague and meaningless. Russia has pushed for "federalization" of Ukraine, which would presumably give the east significant independence, but Ukrainian authorities oppose any federalization.
How to separate the belligerents also remains unclear. The Minsk agreement in September foresaw each side pulling back its heavy weapons 15 kilometers (more than 9 miles) from the lines of engagement. But the rebels have taken control of more territory since then, implying that a new buffer zone would have to be mapped.
Kiev is refusing to allow the separatists a place at the top-level talks. Instead, their representatives would join a parallel meeting, to be held by Wednesday in Minsk, between the signatories to last September's accord.
The Associated Press contributed to this report.