Cruz has rough night on debate stage, as Rubio and Bush shine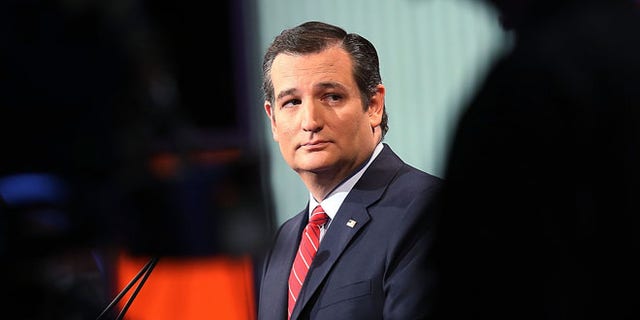 With the absence of Donald Trump from the Republican debate stage on Thursday night, much of the attention and criticism was focused squarely on the no-show's closest rival in Iowa: Ted Cruz.
The Texas senator, who trails Trump in Iowa somewhere between seven and eight points in the latest polls, was hoping to use the absence to pick up support among undecided voters. Analysts and pundits, however, say that the often-contentious Texas senator came off as defensive on issues like immigration and ethanol subsidies and that his squabbles with Fox News hosts Chris Wallace, Bret Baier and Megyn Kelly, worked to his disadvantage.
"His entanglement with the moderators was one of the worst moments for a candidate in any of the debates," a New Hampshire Republican told Politico. "His opposition to ethanol was also highlighted on the eve of the Iowa caucuses."
Another voter said, "He did not explain his switch on immigration policy very well."
Cruz also faced sharp questions on national security and, perhaps most importantly, whether he was trustworthy. "TrusTed" is the theme of the fiery conservative's campaign, and several candidates questioned his authenticity.
"Ted, throughout this campaign, you've been willing to say or do anything in order to get votes," Florida Sen. Marco Rubio said.
Cruz fought back by accusing Rubio of bending to the will of donors on immigration, but it was hardly a decisive victory.
While observers say that Cruz didn't do irreparable damage to his chances of winning the Hawkeye State on Monday, he will need to ramp up his ground game if he hopes to overtake Trump in the election season's first contest.
While Cruz was struggling in the center podium, analysts say another Cuban-American senator made big strides.
Separate surveys taken by Politico and political consultant Frank Luntz said that Rubio had the strongest debate performance, with one New Hampshire Republican voter calling him "the most articulate of the candidates on a variety of issues, and the most aspirational of the Republicans onstage."
One surprise was the performance of former Florida Gov. Jeb Bush.
Bush was once considered a shoo-in for the GOP nomination, but his prospects fell as those of Trump rose, and his debate performances sharing the stage with Trump have been fair to lousy.
But Thursday, Bush had arguably his best debate performance of the presidential season. He appeared more comfortable onstage without the presence of Trump, analysts said, and that while his debate performance may not help him in Iowa, it may be beneficial farther down the primary road.
"Given his previous performances, few would believe that Jeb Bush would [come] out of one of these debates as the winner," a New Hampshire Republican told Politico. "Yet he stood and delivered in a strong way. It may not help him in Iowa, but it comes at an opportune time for him as he sees a surge in New Hampshire."
Bush currently sits middle of the pack in polls nationally and in Iowa and New Hampshire at around 4 percent.
The Associated Press contributed to this report.
Like us on Facebook
Follow us on Twitter & Instagram