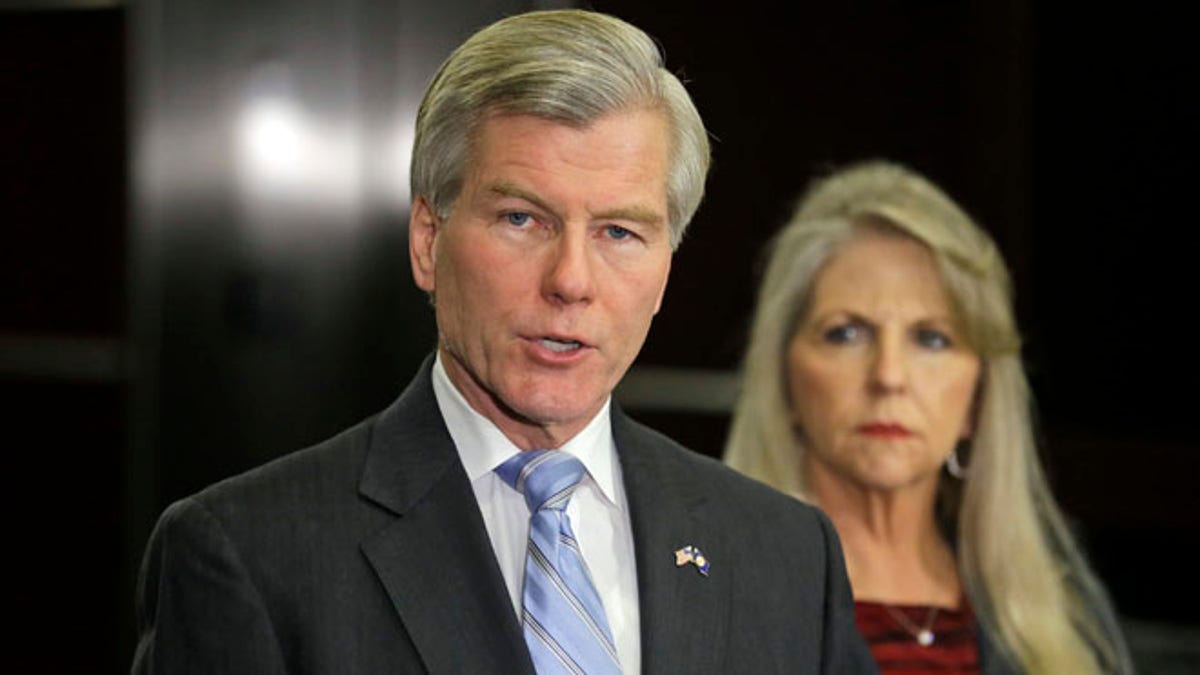 RICHMOND – Former Virginia Gov. Bob McDonnell and his wife Maureen mounted a deeply personal defense at the start of their corruption trial in Richmond on Tuesday, with the attorney for the former first lady saying she was taken advantage of by a wealthy businessman whom she had a "crush" on.
The McDonnells are charged with 14 counts ranging from conspiracy to commit wire fraud to lying on banking forms, and if found guilty could be sentenced to decades in prison. During opening statements on Tuesday, federal prosecutors repeatedly accused the couple of engaging in a "quid pro quo," trading political favors for gifts and loans from former Star Scientific CEO Jonnie Williams.
Defense attorneys for Maureen McDonnell, though, said that there could be no conspiracy because at the time of the alleged wrongdoing, the marriage between Bob and Maureen McDonnell had "broken down" and they were "barely on speaking terms."
According to the former first lady's attorney William Burck,everyone on the first lady's staff "knew how much she liked [Williams]." Burck described him as a frequent visitor and Maureen's "favorite playmate" -- describing many private visits and over 1,200 emails and texts between them over a two-year period.
Bob and Maureen McDonnell sat separately in court and had very little interaction.
Federal prosecutors presented communications from both Bob and Maureen McDonnell asking Williams for loans. They also showed the jury pictures of the former governor driving Williams' Ferrari during a family vacation weekend at Williams' Smith Mountain Lake house.
Prosecutors told the jury McDonnell and his sons also played golf at Williams' country club twice and racked up bills of $2380 and $1400, which Williams paid.
The government alleges that in exchange for these loans and gifts, the then-governor gave extra attention to Williams' vitamin supplement company by "hooking him up"with state health officials and hosting an official event at the governor's mansion.
Defense attorney John Brownlee spoke on behalf of the former governor and lauded his time in office, saying McDonnell worked 14-16 hours a day and traveled nearly half the time he was in office. Brownlee said that the one thing McDonnell overlooked was his marriage and that Williams swooped in.
Defense attorneys say there is nothing in writing that spells out any kind of quid pro quo between Bob McDonnell and Williams. Williams has also secured an immunity deal where he will not be charged with a previous stock fraud count over a transaction that netted him $10 million.
Defense attorney Brownlee revealed that Bob McDonnell will take the stand in his own defense.
Later in the day, the prosecution called McDonnell's daughter, Cailin McDonnell Young, to the stand.
While asking her about the $15,000 catering bill for her wedding reception, whichWilliams paid, the prosecution also admitted photos of the wedding into evidence.
At that point Cailin broke down and began sobbing. The judge called for a 10-minute break and in subsequent questioning, she explained that it is "extremely painful" to look back on her wedding. "It's like there's a black cloud over it.. I wish we could have just danced in the back yard with our family and friends," she said.
The former governor exited the federal courthouse to a phalanx of reporters. He said he thought the first day went "positive" but "I love all my children and that hurt."