Could Rosenstein recuse? Deputy AG's role in question as Trump turns up heat
NEWYou can now listen to Fox News articles!
Deputy Attorney General Rod Rosenstein's role overseeing the special counsel probe of Russian interference in the 2016 campaign came into question Friday as President Trump openly suggested the top DOJ official is conflicted and a new report said Rosenstein has discussed the possibility of recusal.
Senior Justice Department officials pushed back on the ABC News report, saying Rosenstein has not at this point requested any official opinion on the matter from career ethics attorneys in the department.
"He may have brought up the possibility" in discussions with DOJ colleagues, a senior DOJ official said. "But it's only that, a possibility. ... There is an official process, and it has not started."
On the record, Justice Department spokesman Ian Prior said: "As the Deputy Attorney General has said numerous times, if there comes a time when he needs to recuse, he will. However, nothing has changed."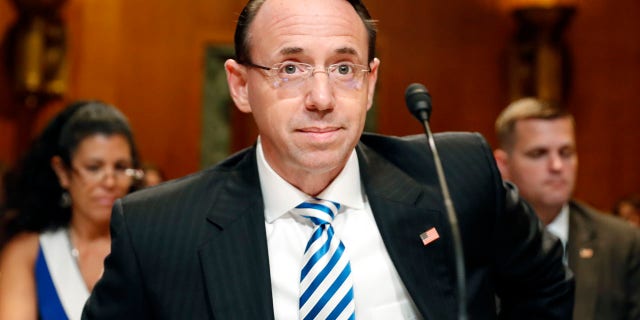 The recusal question has surfaced before, amid speculation Rosenstein could become part of the Robert Mueller probe given his role in the firing of former FBI Director James Comey. Rosenstein told the Associated Press earlier this month that if that were to happen, he would recuse himself.
During a June 13 hearing, Rosenstein specifically was asked by Sen. Brian Schatz, D-Hawaii, about the possibility he could have a conflict of interest if he becomes a witness in the probe.
Rosenstein said he would not answer "hypothetical questions" while insisting he's working with "career professionals" who know the rules and assuring the senator they would "do the right thing."
Trump seemed to prod Rosenstein over such a conflict in a tweet Friday.
"I am being investigated for firing the FBI Director by the man who told me to fire the FBI Director! Witch Hunt," Trump wrote.
A source close to Trump's legal team said he was not confirming he's under investigation in that tweet but rather referring to a Washington Post story earlier this week – however, a source told Fox News the latter half of the tweet was indeed a reference to Rosenstein.
Rosenstein penned a detailed memo laying out the case for Comey's firing last month; the Trump administration released the memo in announcing the president's decision to oust the head of the FBI. Rosenstein, in the document, largely cited Comey's handling of the Hillary Clinton email probe, though Trump has since suggested other factors may have been at play.
Comey himself maintains he was fired because of the Russia investigation.
ABC News reported Friday that, according to sources, Rosenstein raised the possibility of his recusal in a meeting with Associate Attorney General Rachel Brand.
Further, Rosenstein reportedly told Brand she'd take over those responsibilities if he took that step. Brand was confirmed to the third-ranking DOJ position last month.
Democrats raised alarm at that prospect. In a written statement, Democratic National Committee spokesman Daniel Wessel said, "Rod Rosenstein has no choice but to recuse himself from this investigation, but it would be unacceptable for him to simply hand over control to another Trump appointee."
Fox News' Jake Gibson, John Roberts and Brooke Singman contributed to this report.