Cotton says 'no regrets' about letter warning Iran about nuclear deal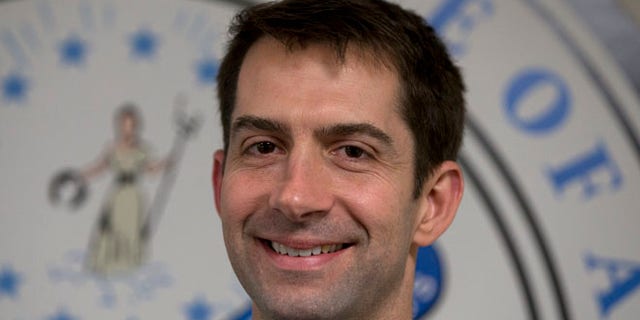 NEWYou can now listen to Fox News articles!
Arkansas Sen. Tom Cotton on Sunday stood behind the letter he and fellow Senate Republicans sent to Iranian leaders about their nuclear negotiations with the United States, amid criticism that it undermined Obama administration efforts.
"It's so important we communicated this message straight to Iran," the freshman senator and member of the Senate Foreign Relations Committee told CBS News' "Face the Nation." "No regrets at all."
The letter signed Monday by Cotton and 46 other GOP senators begins as a primer to Iran leaders about the Constitution. Then it suggests that any international deal to limit Iran's uranium-enrichment efforts toward a nuclear weapon without a congressional vote could be modified by a future Congress or revoked with "the stroke of a pen" by whoever replaces President Obama in January 2017.
Democrats and other critics argue the letter breached foreign policy by putting it behind partisan politics, while supporters argue congressional Republicans are trying to stop the president from making a bad deal and that they have otherwise exhausted their options for trying to get a vote on a final agreement before one gets Obama's signature.
Earlier this month, Israeli Prime Minister Benjamin Netanyahu spoke on Capitol Hill, at the invitation of House Speaker John Boehner, about the dangers of Obama agreeing to bad deal.
The invitation was sent without notifying the White House or State Department, which roiled administration officials, who have asked Congress to delay action, including efforts to impose more sanctions on Iran, until a deal is in hand.
"It's a simple fact of our Constitution that if Congress does not approve that deal, then it may not last," Cotton said.
After years of stalled negotiations, the world leaders have set a March deadline to agree on a framework for a final deal in June.
"The Iranians frequently bluff to walk away from the table," Cotton said. "If they bluff this week, call their bluff. The Congress stands ready to impose much more severe sanctions."
Secretary of State Jon Kerry told CBS on Sunday that Cotton's gambit was an "unconstitutional, un-thought-out action by somebody who has been in the United States Senate for 60-something days."
His remarks follow Obama accusing the senators of "wanting to make common cause with the hardliners in Iran."
Cotton suggested Obama is not negotiating for the best deal and said he was surprised by Kerry's remarks, which included that future presidents and Congresses couldn't change the deal, considering Kerry testified last week on Capitol Hill that the deal would not be legally binding.
He also took issue with Iranian Foreign Minister Mohammed Zarif calling the letter a "propaganda ploy" and suggesting that Obama sidestep Congress and take a final executive agreement to the United Nations.
"He thinks international law can override our constitution," Cotton said.