Conway says she misspoke on Iraqi terrorists, calls some critics 'haters'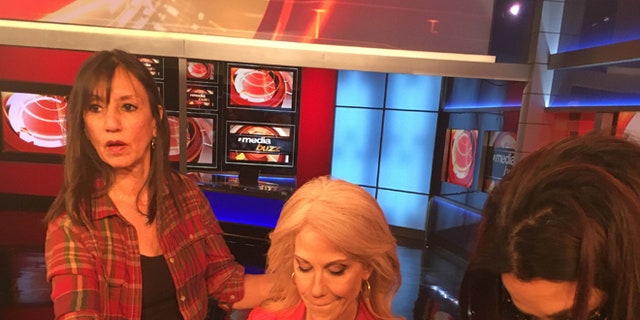 Kellyanne Conway admits she made a mistake in talking about a Kentucky massacre that never took place. But that's not all she has to say about it.
In an interview airing Sunday on "Media Buzz," President Trump's counselor called some of her critics "haters" and said she corrected her error as soon as she learned about it. The misstatement has drawn substantial media attention, given Conway's high profile.
(The wide-ranging interview also covered the president's leaked phone calls to foreign leaders, the Supreme Court nomination, the firing of the acting attorney general and plenty of questions about the coverage of the new administration.)
On MSNBC's "Hardball," Conway was defending the president's temporary ban on refugees and on any travel to the United States from seven countries, including Iraq. She said that after former President Obama greatly restricted the flow of refugees from that country, "two Iraqis came here to this country, were radicalized, and they were the masterminds behind the Bowling Green massacre" -- which, she said, "didn't get covered."
"They're masterminds, I had said that before," Conway told me. "I should have said plot or I should have just called them terrorists. … I clarified immediately. I should have said terrorists and not massacre." Still, she said, "I'm sure it will live on for a week."
She encouraged people to read a 2013 ABC News article on how the two Iraqis in Bowling Green were later convicted of sending weapons to al Qaeda in Iraq to kill American soldiers. She also said MSNBC and host Chris Matthews did not catch the error.
Conway added: "I misspoke one word. The corrections in the newspapers that are attacking me are three paragraphs long every day."
When I asked whether the White House should be equally forgiving of mistakes by journalists, she said: "That is not what the president means when he says fake news on his Twitter. He is talking about things that are invented and just inaccurate."
Chelsea Clinton jumped into the fray, tweeting about the "(completely fake) Bowling Green Massacre" and saying, "please don't make up attacks."
Conway responded: "She should leave me out of it. She and her network should have called me." Conway was referring to Clinton's previous employment by NBC News, which she said "breathlessly apologized" for running a story on her mistake without asking her for comment.
Conway also had quite an acerbic line about women's magazines weighing in on such matters. You can see that on Sunday.