Conservative Group Removes Slavery Language From Marriage Pledge Amid Controversy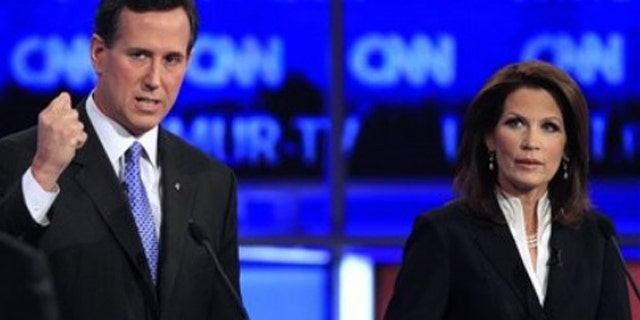 Responding to a growing controversy, an Iowa-based conservative group has removed a passage in a marriage pact signed by two GOP presidential candidates that suggested black families were in better shape during slavery.
"After careful deliberation and wise insight and input from valued colleagues we deeply respect, we agree that the statement referencing children born into slavery can be misconstrued, and such misconstruction can detract from the core message of the Marriage Vow: that ALL of us must work to strengthen and support families and marriages between one woman and one man," said Bob Vander Plaats, head of The Family Leader.
"We sincerely apologize for any negative feelings this has caused, and have removed the language from the vow, " added Vander Plaats, who is known as a king maker in Iowa.
Rep. Michele Bachmann of Minnesota and former Pennsylvania Sen. Rick Santorum signed the two-page document entitled "The Marriage Vow - A Declaration of Dependence Upon Marriage and Family," on Thursday, but their campaigns emphasized that the "candidate vow" portion of the pledge that they put their stamps of approval on didn't mention slavery. Instead, it condemned gay marriage, abortion, infidelity and pornography.
The most controversial passage was in the opening statement on the first page of the document, which compared the state of the black family in the slave era to today.
"Slavery had a disastrous impact on African-American families, yet sadly a child born into slavery in 1860 was more likely to be raised by his mother and father in a two-parent household than was an African-American baby born after the election of the USA's first African-American President," the opening statement reads.
It's not clear whether Bachmann was aware of the slavery passage on the first page. Alice Stewart, a spokeswoman for the Bachmann campaign, had told FoxNews.com that the Minnesota congresswoman had no second thoughts about signing the "candidate vow" portion that doesn't mention slavery.
"She stands by the points that are outlined in the pledge," she said. "Particularly the ones for strong marriage. She's been happily married for 32 years. That's the focus of the pledge."
But some commentators focused their criticism on the slavery passage.
"Given that families were broken up regularly for sales during slavery and that rape by masters was pretty common, this could not be more offensive," Cheryl Contee wrote on her blog, Jack and Jill Politics, which offers a middle class African-American take on politics.
"When will Republicans inquire with actual Black people whether or now we're ok with invoking slavery to score cheap political points?" she added. "It has to stop. It is the opposite of persuasive and is another reason Republicans repel. It's hard to believe that Michele Bachmann would be foolish enough to sign this pledge."
It's not clear whether Santorum was aware of the slavery passage when he signed the pledge. But he has invited controversy before by linking slavery to abortion.
In January, he questioned why Obama is denying civil rights to fetuses by supporting abortion rights. He told the Christian Broadcasting Network that for decades, slavery allowed blacks to be treated like property. He said fetuses are denied the right to life because they are considered property.