Conservative Group Launches Ad Criticizing Failed Solyndra Loan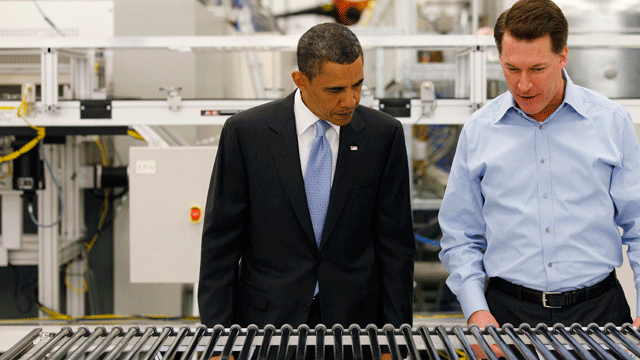 WASHINGTON – A Republican-leaning group will begin airing a major advertisement this week critical of the Obama administration's investment into a now-defunct solar-energy company, The Associated Press has learned.
Crossroads GPS will spend $500,000 on three cable network ads that hit President Barack Obama for "crony" government spending in his administration's half-billion-dollar loan guarantee to Solyndra.
The Fremont, Calif.-based solar-panel maker filed for Chapter 11 bankruptcy protection in September and was the first renewable-energy company to receive a loan under a stimulus-law program to encourage green energy.
The "nationwide ad by Crossroads GPS is aimed at exposing this ugly underbelly of Obama's vision," according to a memo from Crossroads president Steven Law. It calls the Solyndra case "a powerful cautionary tale about big-government hubris and the cronyism it invariably invites."
The Crossroads ad, reviewed by the AP Sunday, is among the group's first sharply pointed ads aimed at President Barack Obama's record and in part highlights support for a company backed by a major Obama supporter. An AP review of government records this fall found the administration restructured the Solyndra loan so that private investors would be repaid before taxpayers in case of a default.
But the administration has defended the loan restructuring, saying that without an infusion of cash earlier this year the company would have faced immediate bankruptcy. Obama officials have said investment in renewable energy is critical for the nation's future.
"The Republican presidential candidates support a budget plan that wipes out investments in clean energy -- they'd cede the market to China -- so it's no surprise that their special-interest-funded allies are attempting to keep America dependent on fossil fuels at any cost," Obama campaign spokesman Ben LaBolt said Sunday.
In recent weeks, Crossroads and other "super" political action committees have targeted ad spending in key primary states like Iowa and New Hampshire. Crossroads has spent more than $180,000 on broadcast and cable networks in Iowa this month, records show, and super PACs like Make Us Great Again -- supportive of Texas Gov. Rick Perry -- will spend nearly $1 million there ahead of the Iowa causes in January.
Crossroads GPS is the sister group of Karl Rove-backed American Crossroads, a super PAC that has promised to raise millions this election to defeat Obama.