Congressman Steve King: Keep DREAMers Out, They're Drug Mules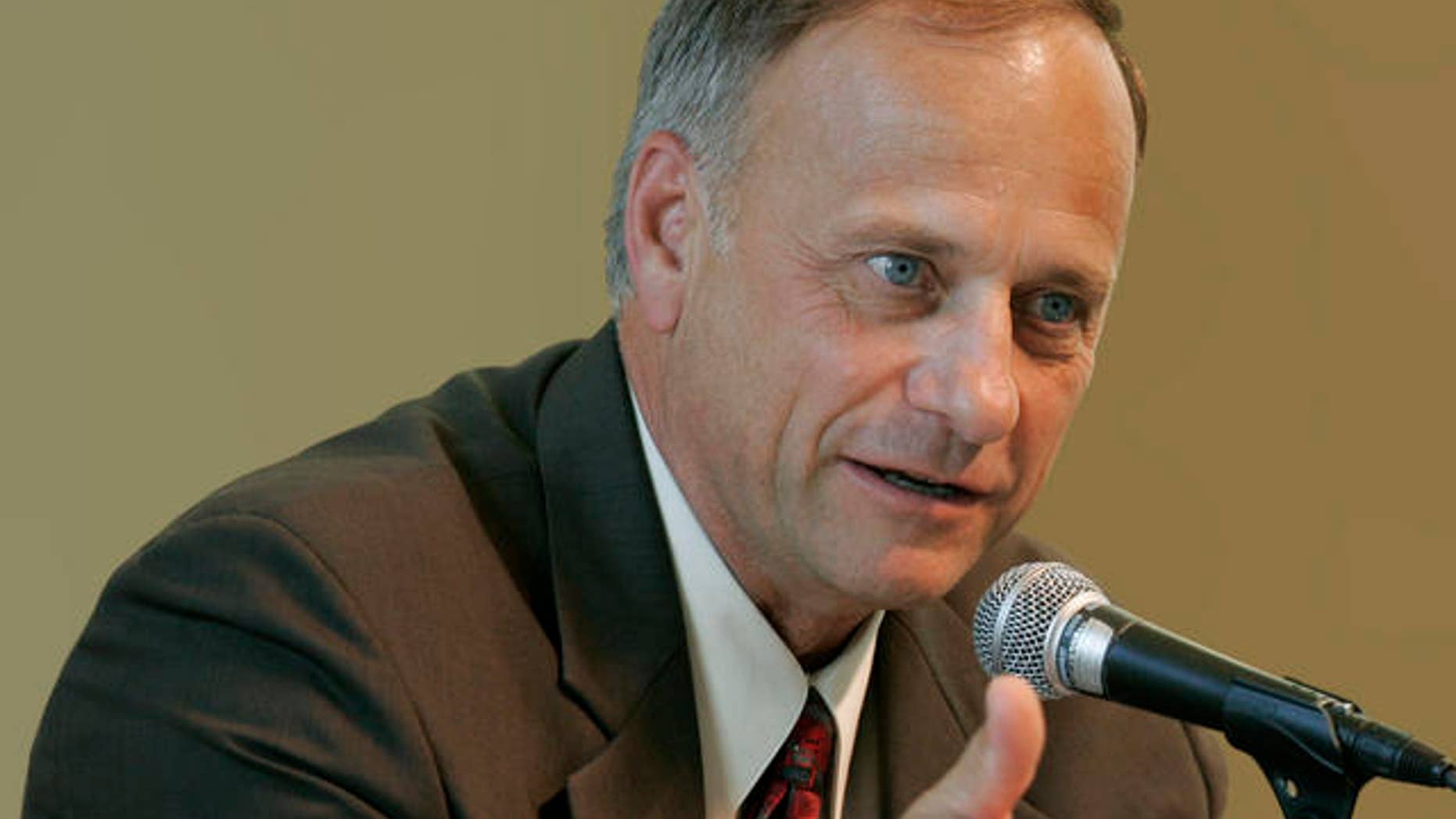 Criticism rained down this week on Rep. Steve King, the Iowa Republican who is known for making incendiary comments about immigrants, for his assertion that many undocumented youth are drug mules and should not get be able to legalize their status.
In an interview last week with conservative news outlet Newsmax widely distributed on Tuesday, King said that while some undocumented immigrants brought as minors may be exemplary members of U.S. society, more of them work for dangerous Mexican drug cartels that undermine the rule of law.
"For everyone who's a valedictorian, there's another 100 out there that weigh 130 pounds and they've got calves the size of cantaloupes because they're hauling 75 pounds of marijuana across the desert," King said. "Those people would be legalized with the same act."
For everyone who's a valedictorian, there's another 100 out there that weigh 130 pounds and they've got calves the size of cantaloupes because they're hauling 75 pounds of marijuana across the desert. Those people would be legalized with the same act.
King. who was elected to Congress in 2002, made his comments as the House of Representatives is considering providing a pathway to legalization for some undocumented immigrants brought to the United States as minors by their parents, or who fell out of status when their parents overstayed visas -- commonly known as "DREAMers."
The bill, being crafted by Majority Leader Eric Cantor and Rep. Bob Goodlatte, chairman of the House Judiciary Committee, both Republicans from Virginia, would be one of several in the House addressing immigration reform.
King's comments drew attention Tuesday after they were raised by Rep. Joe Garcia, a Florida Democrat, in a hearing in the House on providing undocumented immigrants who came as children an opportunity to legalize their status.
He was swiftly and widely criticized, even from the top Republican in the House.
John Boehner, an Ohio Republican and Speaker of the House, said: "There can be honest disagreements about policy without using hateful language. Everyone needs to remember that."
And Cantor noted: "I strongly disagree with his characterization of the children of immigrants and find the comments inexcusable."
In the hearing, Garcia read King's comments, labeling them inflammatory and unbecoming of a member of Congress.
"When members of this committee, when members of this House, use inflammatory language, use offensive language, it does not help the process," said Garcia, who did not mention King's name while addressing the comment.
Despite the harsh reaction, King still stood by his controversial comments.
In an interview late Tuesday with Radio Iowa, he said he was only stating the facts about undocumented immigrants who were brought as minors.
"It's not something that I'm making up," he said. "This is real."
"We have people that are mules, that are drug mules, that are hauling drugs across the border and you can tell by their physical characteristics what they've been doing for months, going through the desert with 75 pounds of drugs on their back," he told the radio station.
"If those who advocate for the DREAM Act, if they choose to characterize this about valedictorians, I gave them a different image that we need to be thinking about because we just simply can't be passing legislation looking only at one component of what would be millions of people," King added.
King often has drawn fire for his no-holds-barred views of immigrants.  He does not apologize for his more prickly comments, saying simply that liberals take them out context in order to demonize him.
He has compared immigrants to dogs, saying that the United States must pick the best of the litter, something he later defended as a compliment in a previous interview with Fox News Latino. 
He has said that there should be an electrified fence along the U.S.-Mexico border, and wants to deny birthright citizenship for immigrants who have children here. He has likened illegal immigration to a "slow-motion terrorist attack" and a "slow-motion holocaust."
And he has often said that while he understands the sympathy many have for DREAMers, he will not give in to efforts to sugarcoat a serious concern with sympathetic-sounding stories about well-meaning youngsters.
"They say things that tug at our hearts," King said in an interview a year ago with Fox News Latino. "They say [immigrants] weren't aware they were breaking the law. But it was their parents that made the poor choices for their children. It's not our moral obligation to make up for the poor decision to bring them illegally from their countries."
Many immigrant advocacy groups, including those focused on helping DREAMers, said that King, who started a construction company in Iowa in 1975 that his son now runs, perpetuates a mindset common among lawmakers who have a hardline view of foreigners.
"The congressman's comment were completely out of line and represent a small segment of the population that are racist," Diego Sanchez, a DREAMer who was singled out by President Obama during a speech about immigration earlier this year, told Fox News Latino. "It is sad to see a congressman use such a derogatory comment towards our community."
Sanchez, 22, graduated from St. Thomas University, a Florida college where he was student body president and was named Student of the Year.
"We hope that in his next election he is voted out. He is no leader and does not deserve to be in public office."
Follow us on twitter.com/foxnewslatino
Like us at facebook.com/foxnewslatino