Congressional Calendar September 21, 2010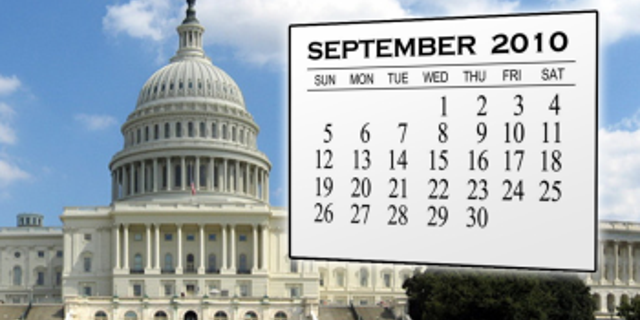 The Senate is set for an afternoon battle as Majority Leader Harry Reid, D-Nev., plans to call a vote to proceed to the Department of Defense Authorization bill. Many Senate Republicans have major issues with the inclusion of a provision rescinding the military's "Don't Ask, Don't Tell" sexual orientation policy. Also attached to the funding measure is the DREAM Act, which would grant legal status to illegals who came to the U.S. as minors and enrolled in college or the military. Republicans say that it is wrong to attach these political items to a bill designed to fund the military.
In an attempt to counter that argument, Senate Democrats led by Richard Durbin of Illinois plan to hold an 11:30 a.m. ET presser to push for adoption of the bill to "ensure that our military reflects our nation's values."
Before the vote, Senate leaders will hold their weekly policy luncheons and media availabilities. The Republicans start the show a little after 2:00 p.m. ET, with Democrats to follow shortly thereafter.
A bipartisan group of Senators led by Jeff Bingaman, D-N.M., and Sam Brownback, R-Kan., will introduce a bill to introduce a Renewable Electricity Standard bill at a 2:30 p.m. ET news conference. The legislation would require sellers of electricity to obtain a certain portion of their supply from renewable sources. Earlier this year the Senate attempted to reach an agreement on comprehensive energy legislation but fell short of the sixty-vote threshold needed to overcome a filibuster.
The Senate Intelligence Committee holds a hearing on the nomination of David Buckley to become Inspector General at the Central Intelligence Agency at approximately 2:20 p.m. ET.
We'll have all these stories and more covered, so stay with Fox News for the latest.