Comey memos reportedly had classified info; Trump says 'That is so illegal'
President Trump on Monday accused former FBI Director James Comey of having illegally leaked classified material, on the heels of a report saying more than half the memos Comey wrote detailing Russia-related conversations with the president contained such information.
The Hill, quoting "officials familiar with the documents," reported overnight that Comey penned a total of seven memos describing his talks with Trump on the Russia case earlier this year – and four of them had markings indicating they contained classified material at the "secret" or "confidential" level.
COMEY ADMITTED SINGLE TRUMP LEAK, BUT WERE THERE OTHERS?
According to the report, the memos recently were shown to Congress -- and the FBI claimed they were all government documents, despite Comey's description of his notes as personal.
Trump seized on the news Monday morning.
"James Comey leaked CLASSIFIED INFORMATION to the media. That is so illegal!" the president tweeted.
The claims in The Hill regarding Comey's memos are a throwback to the same kind of allegations against former Democratic presidential candidate Hillary Clinton, whom Comey's team investigated for mishandling classified material on her private server and email.
JUDICIAL WATCH SEEKING DOCUMENTS 'UNLAWFULLY REMOVED' BY COMEY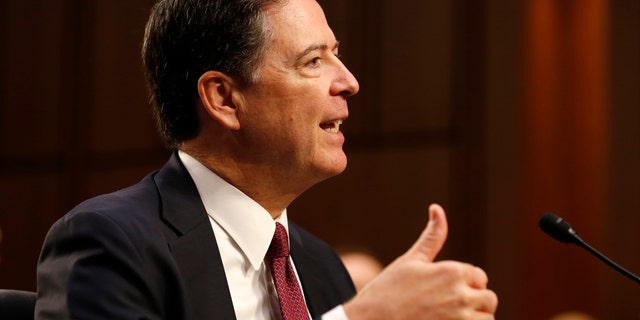 The report comes as Trump and his family separately are grappling with a New York Times report that Donald Trump Jr. and other members of the president's inner circle met last summer with a Russian lawyer with the expectation of getting "damaging information" on Clinton – information that, according to Trump's son, did not materialize.
A special counsel has been tasked with investigating Russian meddling in the campaign and possible collusion with Trump associates, ever since Trump fired Comey earlier this year.
On the heels of that firing, Comey first admitted in congressional testimony that he had used an old friend at Columbia University to get his notes leaked to The New York Times about his discussions with Trump.
The testimony sparked Congress' interest in obtaining the memos.
But asked about the latest claims, Columbia University professor Daniel Richman -- the Comey friend who leaked part of one memo to The New York Times -- told Fox News on Monday that "this is a non-story."
"No memos were given to the press, and no memos were classified at the time I received them," Richman told Fox News, explaining that the "substance" of one memo was given to the press but not the physical document.
"That was not classified at the time, and remains unclassified," he said.
Richman told Fox News he received four memos from Comey, all of which were not marked. Richman questioned the White House claims.
"It's kind of interesting that the White House is now suggesting they're true," Richman said.
Special Counsel Robert Mueller's office declined to comment on the ongoing investigation, when asked about the report in The Hill.
But White House Counselor Kellyanne Conway called the latest report an "incredible bombshell" and said Monday that Comey was at least violating FBI rules if the account is true.
"The boy scout, choir boy defense doesn't hold up here because if it contains classified information, he is apparently violating, at the very least, what all FBI members sign -- they sign a document saying you will not do something like this. He was the director of the entire bureau," Conway told "Fox & Friends." "The irony to me, anyway ... is that this is exactly the problem that Hillary Clinton had with her illegal server -- the handling of classified and confidential information that Jim Comey was meant to investigate, if not prosecute."
Conway added that Comey was "admitting under oath, handing over classified information through 'private recollection' -- it doesn't matter that he calls it, it matters what it is."
Conway recalled Comey's testimony, when the fired FBI director admitted leaking his notes to a close friend with the intent to trigger an appointment of a special counsel.
"If people go back and listen to him under oath, he is admitting what his intent was," Conway said. "You couple that with the fact that this was classified information, I think this is what the story should be – not all this nonsense about Russian collusion and what not."
Fox News' Brooke Singman contributed to this report.