Comey blasts Kavanaugh probe deadline, says FBI shouldn't have 'shot clock'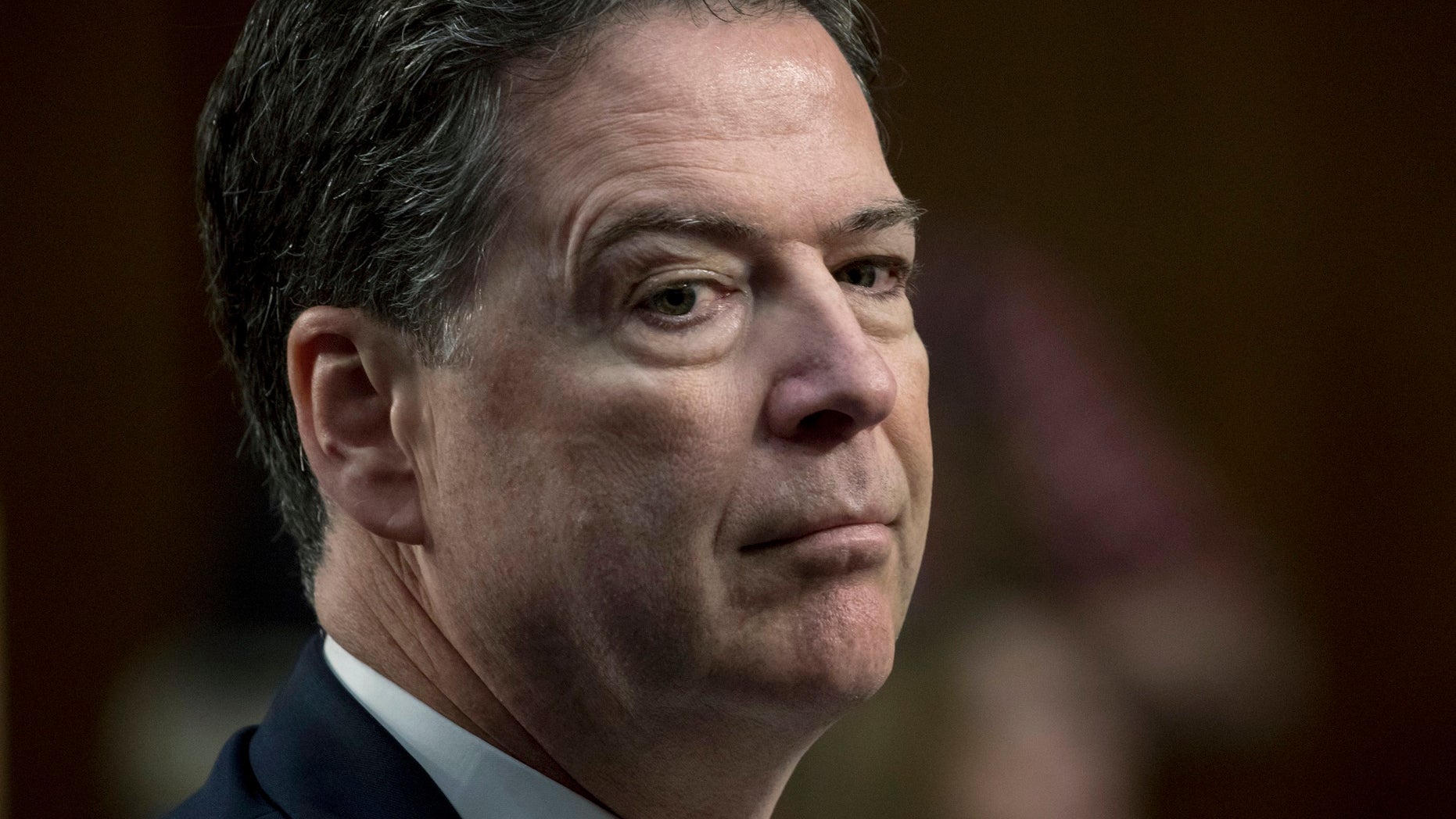 Former FBI Director James Comey criticized the time frame of the bureau's ongoing review into Supreme Court nominee Brett Kavanaugh's background Sunday, writing in a New York Times op-ed that "it is idiotic to put a shot clock on the FBI."
Comey, who was fired by President Trump in May 2017, conceded that an investigation that must be wrapped up by Friday was better than no investigation at all. But he also wrote that "the process is deeply flawed, and apparently designed to thwart the fact-gathering process."
"If truth were the only goal, there would be no clock, and the investigation wouldn't have been sought after the Senate Judiciary Committee already endorsed the nominee," Comey wrote. "Instead, it seems that the Republican goal is to be able to say there was an investigation and it didn't change their view, while the Democrats hope for incriminating evidence to derail the nominee."
Meantime, Sen. Dianne Feinstein, D-Calif., the top Democrat on the Judiciary Committee, on Sunday evening asked the White House and FBI to clarify the scope of the investigation. "Given the seriousness of the allegations before the Senate, I am writing to request that you provide the Senate Judiciary Committee with a copy of the written directive sent by the White House to the FBI. In addition, if the FBI requests any expansion beyond the initial directive, please provide the names of any additional witnesses or evidence," she wrote.
Comey's piece was published as the White House denied it was "micromanaging" the review of sexual misconduct allegations made against Kavanaugh, which Trump ordered on Friday.
Some Democratic lawmakers claim the White House is keeping investigators from interviewing certain witnesses and have questioned how thorough the probe can and will be. Trump tweeted Sunday that Democrats' only goal was to "Obstruct and Delay" an up-or-down vote on Kavanaugh's confirmation and that any investigative time frame "would never be enough."
"The White House isn't intervening. We're not micromanaging this process. It's a Senate process. It has been from the beginning, and we're letting the Senate continue to dictate what the terms look like," White House Press Secretary Sarah Sanders told "Fox News Sunday."
Also Sunday, The Associated Press reported that FBI agents had interviewed Deborah Ramirez, who claimed that Kavanaugh exposed himself to her during a party at Yale University in the early 1980s. The AP reported that Ramirez detailed her allegation, which was first reported last week by the New Yorker, and provided investigators with the names of others who she said could corroborate her account.
Meanwhile, attorneys for Christine Ford, a California professor who said Kavanaugh sexually assaulted her when they were in high school, told Fox News their client had not been contacted by the FBI.
KELLYANNE CONWAY SPEAKS OUT: 'I'M A VICTIM OF SEXUAL ASSAULT'
A third woman, Julie Swetnick, accused Kavanaugh and high school friend Mark Judge of excessive drinking and extremely inappropriate treatment of women in the early 1980s, among other accusations. Kavanaugh has called her accusations a "joke." Judge has said he "categorically" denies the allegations.
Kavanaugh has denied all allegations of sexual misconduct.
Senate Judiciary Committee member Jeff Flake, R-Ariz., requested an FBI investigation last Friday — the same day he and other Republicans on the panel voted along strict party lines in favor of Kavanaugh's confirmation — as a condition for his own subsequent vote to put Kavanaugh on the Supreme Court.
Despite the compressed time frame, Comey expressed confidence that investigators would help settle a debate that has further polarized a deeply divided country.
KAVANAUGH SOUNDED LIKE HE WAS 'WRONGLY ACCUSED' AT HEARING, FLAKE SAYS
"Yes, the alleged incident occurred 36 years ago. But F.B.I. agents know time has very little to do with memory," Comey wrote. "... They also know that little lies point to bigger lies. They know that obvious lies by the nominee about the meaning of words in a yearbook are a flashing signal to dig deeper."
"It is one thing to have your lawyer submit a statement on your behalf. It is a very different thing to sit across from two F.B.I. special agents and answer their relentless questions," the former director went on. "Of course, the bureau won't have subpoena power, only the ability to knock on doors and ask questions. But most people will speak to them. Refusal to do so is its own kind of statement."
Fox News' Chris Wallace and The Associated Press contributed to this report.