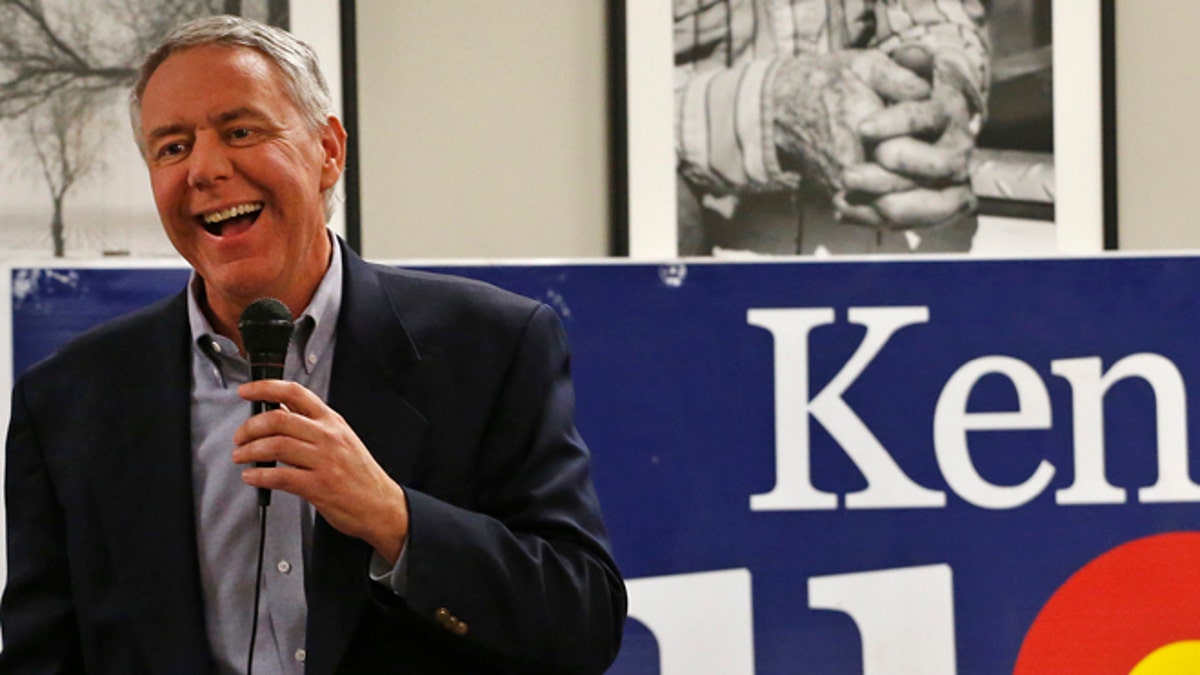 The U.S. Senate race in Colorado this year is drawing national attention to see whether Republicans can avoid mistakes that kept them from taking control of the Senate for the past two elections.
In 2010, Republican prosecutor Ken Buck became a symbol of the Tea Party movement's power when he defeated the Washington establishment candidate in the GOP primary.
However, he lost the general election to Democratic candidate Michael Bennet, whose campaign pounded Buck for statements that angered some gays and women.
Bennet's surprise victory became a 2012 template for Democrats, including President Obama, who went after their challengers' statements on reproductive health and women's rights.
This time, the GOP needs a net gain of six seats to take control of the Senate. And Buck is back, having survived a bout with cancer and now the front-runner in the Colorado GOP's June primary to challenge Democratic Sen. Mark Udall, a situation that concerns at least one party leader.
"I fail to see how somebody who lost the winnable election in 2010 is the face of the future for this party," state GOP Chairman Dick Wadhams said. "The same issues are going to come back."
At a recent meeting of the Teller Tea Party Patriots, Buck seemed aware of the bigger picture when he answered an audience question about which federal agencies he would close.
"We have to talk responsibly," Buck told the crowd inside a Denny's. "The minute a Republican candidate says we need to do away with the Department of Education, the Democrats are running commercials saying Republicans don't like school lunches."
The shadow of 2010 hangs over Buck and the state party.
For much of the country, that was a banner year for Republicans. They rolled up more House seats than in any election in seven decades, netted six governorships and won at least 675 state legislative seats.
But Colorado was a different story. Buck lost what analysts considered a winnable Senate seat.
Other races across the country that year resulted in similar outcomes.
In Delaware, Tea Party-backed candidate Christine O'Donnell upset establishment candidate Rep. Mike Castle in the GOP primary for an open U.S. Senate seat. However, campaign missteps and a revelations about O'Donnell's personal finances largely resulted in her losing the general election race for the seat, vacated by then-Democratic Sen. Joe Biden and projected to be taken by Castle.
In Alaska, Republicans nearly lost the Senate seat held by incumbent Sen. Lisa Murkowski. Tea Party-backed candidate Joe Miller won the party primary, only to lose to Murkowski as a write-in candidate in the general election.
This year, the most high-profile challenge to a GOP establishment candidate appear to be Tea Party-backed Matt Bevin's primary run against incumbent and Senate Minority Leader Mitch McConnell.
However, the most recent polls show McConnell with a sizable lead.
Buck and his backers argue he won't have to go through such a bruising primary, knows what Democrats will throw at him and is ready to shift the debate back to economic issues that they believe help the GOP.
"People will get to know me this time and they will understand that material in perspective," Buck said in an interview.
The Associated Press contributed to this report.