Clinton's overlapping world of politics, philanthropy has her critics on guard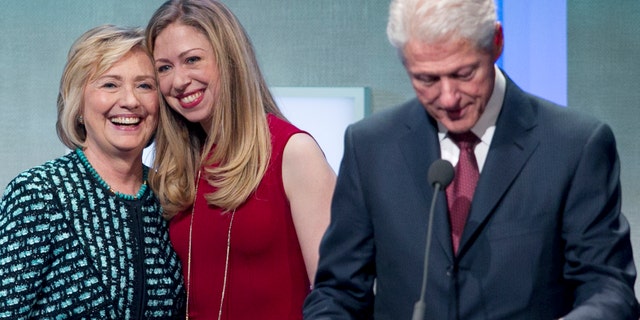 NEWYou can now listen to Fox News articles!
WASHINGTON – As Hillary Clinton transitions from her life at the State Department to life at her husband's foundation, it may be hard to tell where her philanthropic work ends and her potential presidential campaign begins.
But one thing's for sure. The former first lady and secretary of State is back in the spotlight.
Clinton announced last week that she'll be helping to lead an effort to evaluate the progress of women empowerment around the world. It's part of her new portfolio, as she begins working side-by-side with her husband, former President Bill Clinton, at the newly renamed Bill, Hillary & Chelsea Clinton Foundation.
It's a smart move, said Cary Covington, a political science professor at the University of Iowa. Covington told FoxNews.com that having the former secretary of State at the foundation will keep her relevant and in the news.
But while her work at the foundation provides a global platform to champion causes close to her like women's rights, it also exposes her to ethical questions and criticism about her role at the nonprofit should she choose to enter the 2016 race.
"The mismanagement and conflicts of interest within the foundation are indicative of how the Clintons operate and is part of the baggage tied to Hillary," Kirsten Kukowski, a spokeswoman for the Republican National Committee, said in a statement. Kukowski says Clinton's work at the foundation – which largely centers on fundraising and wooing corporate donors – would be fair game in a political fight.
The foundation is a non-profit 501(c)(3) tax-exempt organization. In order for the foundation to maintain its status, it cannot engage in political campaigning. However, the organization can conduct voter registration and get-out-the-vote drives if they are done in a neutral non-partisan manner. That means, Clinton's political cadre can shout from the foundation's rooftop that people should vote. They just can't shout that people should vote for her.
Clinton will move her core group of political advisers to the foundation's offices in New York. The move doesn't violate any law because she has not announced that she will run for office. The situation gets stickier if/when she does decide to run. Clinton would have to separate her campaign from the foundation or risk violating election laws.
Though there has been no formal announcement of Clinton jockeying for a White House run, there have been subtle hints. The prospect was revived, again, last week by an unexpected source -- Pakistani education activist Malala Yousafzai, the 16-year-old girl who was shot in the face by members of the Taliban. During her acceptance speech in New York for the Leadership in Civil Society Award, Yousafzai touched on having a possible woman president in the U.S.
"Even in America, even in America, people are waiting for a woman president," she said. Her comments were met with cheers and applause.
In the coming weeks, Clinton and her personal crew of seven, which includes Huma Abedin, wife of controversial and unsuccessful New York City mayoral candidate Anthony Weiner, will soon be moving from D.C. into their shiny new digs in midtown Manhattan.
Clinton's team, which has guided her through political firestorms in the past, will be paid to help strategize and coordinate her packed schedule of paid speeches and appearances at trade groups across the country.
During that time, they will have to tread carefully in the tangled worlds of politics, philanthropy and favors.
It won't be easy.
"There are charges and allegations of financial impropriety in the Clinton Foundation that people who have differences with her will look into," Covington said.
Regardless of intention, the Clintons have a complicated history of blending friendships and political relationships along with corporate and nonprofit endeavors that will keep her critics busy, political expert James Moore recently said. Moore argues that the Clintons could be dealing with an ethical landmine in the coming months.
"The Clintons have offered up the Clinton Foundation, a ponderously complex institution that looks like it might be troubled by internecine squabbles, naked ambition, a touch of greed and an almost impossible to identify set of operational boundaries," Moore said in an op-ed.
Recently, the family-run foundation has been going through some growing pains that could be hard to shake off for Clinton should she mount a bid to become the Democratic nominee for the White House.
Reports of in-fighting, fiscal mismanagement and cash-for-access have hit the foundation hard, forcing the former president to publicly defend the organization and those who lobby on its behalf.
Bill Clinton's comments came after tough articles in both The New York Times and New Republic on Doug Band, one of his top aides who reportedly brokered deals that gave wealthy foundation donors access to the president.
As for the foundation itself, tax records show it ran a $40 million deficit during 2007 and 2008. While things have gotten better the foundation still ran an $8 million deficit last year. (Bill Clinton disputes the accuracy of those numbers.)
According to a recent report in the New York Times, the foundation found itself competing against Hillary Clinton's 2008 presidential campaign. Millions of dollars that were collected and supposed to be used as seed money for the foundation were dispersed elsewhere, raising eyebrows for some.
During a 2009 Clinton Global Initiative gathering in Texas, the foundation reportedly bought a first-class ticket for Natalie Portman. There were other examples that foundation money, which was raised to create awareness on global humanitarian issues, was spent on pricey trips for Clinton's group of growing Hollywood buds.
But loyalists say linking the former secretary of State to the global philanthropic organization is a good thing, and argue that it would be unfair to tie her to problems at the organization before she got there.
"Right now, she's so popular and highly regarded, and like it or not, she's the front-runner," Joe Trippi, Fox News contributor and Democratic strategist, told FoxNews.com. "Any problem that existed before, she wasn't a part of, and if there are any fixes to the foundation when she's there, she can take credit for. It's a win-win."
Calls to the foundation for comment were not returned.