Clinton says Congressional leaders fuel populist anger by refusing to 'do their job'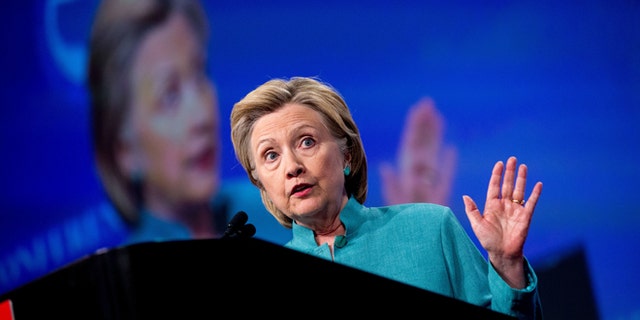 NEWYou can now listen to Fox News articles!
INDIANAPOLIS (AP) – Presumptive Democratic presidential nominee Hillary Clinton chastised Republican lawmakers on Sunday for a "paralyzed" Congress, saying they've fueled populist anger by refusing to "do their job."
Clinton ticked off a list of items that GOP congressional leaders have refused to schedule for a vote. They include a proposed immigration overhaul, holding confirmation hearings to fill a Supreme Court vacancy, and strengthening background checks and banning firearms sales to people on the government no-fly list.
Her remarks come as voter unrest has fueled the outsider candidacies of presumptive Republican presidential nominee Donald Trump, as well as her Democratic primary opponent, Vermont Sen. Bernie Sanders.
"Leaders in Congress refuse to act on a wide range of issues that really matter to American working families," Clinton said during an address to the U.S. Conference of Mayors in Indianapolis.
"I know we can respect the Second Amendment and make common-sense reforms," she said. "Yet Congress is paralyzed. Not a filibuster in the Senate, not a sit-in in the House could convince the leadership to move forward. I really believe the American people deserve better."
Clinton was referring to an effort by Democrats in the Senate and House to advance gun control legislation in the aftermath of the deadly Orlando nightclub shooting. The National Rifle Association opposed the measures. Senate Democrats held a 15-hour filibuster over the issue, while those in the House held a 25-hour sit-in that ground proceedings nearly to a halt last week.
She also touched on the Senate's refusal to hold confirmation hearings for President Barack Obama's nominee for the Supreme Court, Merrick Garland.
"They could vote down Judge Garland but instead they refuse to act," Clinton said. "I think that is part of what is driving the frustration on the part of so many Americans. Let's have a vote. We're a democracy. Either vote somebody up or vote somebody down."
Clinton also contrasted Republicans in Congress with the mayors in the audience.
"Mayors show up. You do your job. The American people show up and do their job. We should expect nothing less from the United States Congress," Clinton said. "Instead of solving problems, Washington is too often making them worse."