Circuit court remands terrorism case on grounds FBI withheld info of al-Awlaki investigation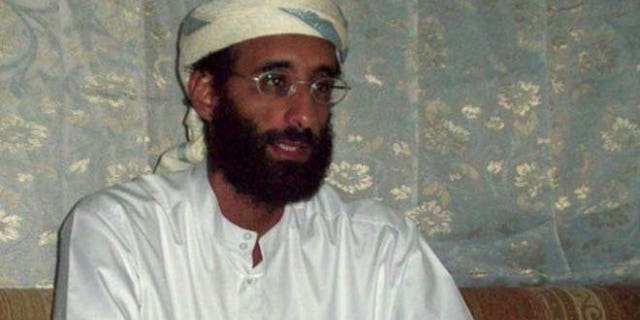 The United States Court of Appeals for the Fourth Circuit has remanded a post 9/11 terrorism case on the grounds that the FBI withheld evidence of its 2002 investigation into the first American on the CIA's kill or capture list, Anwar al-Awlaki, as well as into a northern Virginia Islamic scholar, according to recently released federal court document.
Anwar al-Awlaki was killed in Yemen by a drone strike in 2011.
The case focused on allegations that Dr. Ali Al-Timimi -- a cancer researcher and self-described Muslim scholar - inspired a group of young men from Virginia to travel to Pakistan to join Lashkar-e-Taiba, one of the largest terror organizations in South Asia.
Timimi was convicted on 10 felonies and received a life sentence in 2005.
The Fourth Circuit remand is based on new evidence uncovered from the National Archives by Defense Attorney Jonathan Turley and his team, as well as the findings of an ongoing Fox News investigation that showed that details of al-Awlaki's re-entry to the US on Oct. 10, 2002 and the role played by an FBI agent who facilitated his re-entry were withheld from the defense, and also withheld during his appeal.
What makes the October 2002 incident all the more strange is that the FBI allowed al-Awlaki to go free, apparently without surveillance, while scores of young Muslim men with no known connection to the 9/11 hijackers were held on material witness warrants.
Earlier that same year, the bureau had used the "SSG" or special surveillance group, reserved for the highest priority cases, to track the cleric and his frequent use of prostitutes, some of them underage.
The FBI has never publicly explained why its handling of al-Awlaki changed so dramatically.
On his website, Turley said his public comments were limited by the ongoing litigation, adding "On behalf of Dr. Al-Timimi and the entire defense team, we are deeply appreciative to the Fourth Circuit and look forward to presenting this matter to Judge Brinkema in the United States District Court for Northern Virginia."
On October 10, 2002 al-Awlaki was held at New York's John F. Kennedy International airport by customs, based on an outstanding warrant for his arrest. The customs documents were first reported by author Paul Sperry.
Fox News made the direct connection, in a series of reports beginning in 2010, that FBI agent Wade Ammerman instructed custom agents to let al-Awlaki go despite the active warrant for his arrest.
Agent Ammerman was also the lead investigator in the Timimi case. Within days of the cleric's re-entry, al-Awlaki showed up, unannounced, at Timimi's northern Virginia home.
The warrant, for passport fraud, was generated by the "JTTF" or joint terrorism task force in San Diego as a holding charge because of Awlaki's connection or direct contact with four of the five hijackers on Flight 77 that slammed into the Pentagon in the 2001 attack.
Former Diplomatic Security agent Ray Fournier told FOX that he determined the cleric had lied on his application for a social security number, wrongly listing his place of birth as Yemen and not New Mexico, as part of a fraud to obtain $20,000 in US AID scholarship money for study at the University of Colorado that he was not entitled to as an American citizen.
As part of its reporting for the 2010 special "The American Terrorist," Fox News obtained through the Freedom of Information Act the cleric's original social security applications in which he lied about his place of birth.
On the morning of October 10, 2002, FBI agent Ammerman told customs agents at JFK to let al-Awlaki go and within days, Awlaki showed up at Timimi's Virginia home, reportedly asking him to help recruit young Muslim men for jihad.
Timimi's defense attorneys say their client turned him down, and during the trial, sought recordings of the conversation between al-Awlaki and Timimi, as the defense attorneys alleged al-Awlaki was wearing a wire.
Subsequent documents obtained by Judicial Watch through a Freedom of Information lawsuit strongly suggest that FBI leadership, including then-director Robert Mueller as well as the then-attorney general, John Ashcroft, knew the cleric was returning to the US, indicating Ammerman had not gone rogue, and that the decision to pull back the warrant was known at senior levels.
In a 2010 phone interview with Fox News chief intelligence correspondent Catherine Herridge, Ammerman said, "I don't think anyone wants me talking 'bout what I was involved in."
While key portions of the new documents from the National Archives are redacted, they clearly show the intersection between the FBI's ongoing investigations of Timimi and al-Awlaki, which conflict with statements by FBI agent Ammerman and Assistant U.S. Attorney Gordon Kromberg to the court.
Ammerman "...affirmatively testified at trial that the investigation of Dr. Al-Timimi began in February 2003," the documents said.
But the FBI memo dated Oct. 23, 2002, 13 days after al-Awlaki's re-entry, was written by the head of FBI agent Ammerman's unit, and shows ongoing investigations of Timimi and al-Awlaki, and that their association was under scrutiny.
According to Timimi's trial attorney, Edward MacMahon Jr., knowledge of a previous government investigation "would have had a profound impact on his strategy and examinations."
During a 2013 interview, as he was leaving office, then FBI Director Mueller was pressed on the October 2002 incident, and whether there was an effort to work with or cultivate al-Awlaki as an intelligence source.
Mueller did not dismiss it. " I am not personally familiar with any effort to recruit Anwar al-Awlaki as an asset -- that does not mean to say there was not an effort at some level of the Bureau (FBI) or another agency to do so," Mueller said.
Three documentaries by Fox's investigative unit chronicled al-Awlaki's life in the U.S. (2010 "The American Terrorist,") His contacts with the 9/11 hijackers (2012 "Secrets of 9/11,") as well as his relationship with Fort Hood shooter Major Nidal Hasan (2012 "The Enemy Within,").
The four-year investigation included the first on-the-record interviews with Penttbom investigators Jim Bush, Bob Bukowski, Diplomatic Security agent Ray Fournier, whose work was the basis for the arrest warrant, as well as customs agent David Kane, who had first hand knowledge of the Oct. 2002 incident.
In addition, Fox interviewed author Paul Sperry, Intelwire's John Berger, the executive director of the 9/11 Commission Phil Zelikow, Senator Bob Graham and Eleanor Hill of the joint congressional inquiry, among others.
A new book chronicling al-Awlaki's life by New York Times reporter Scott Shane called "Objective Troy," re-interviews many of the same subjects without citing the network's original enterprise reporting.
FOX's reporting was submitted as part of the Fourth Circuit appeal.