Chile's Former Leader Poised To Regain The Presidency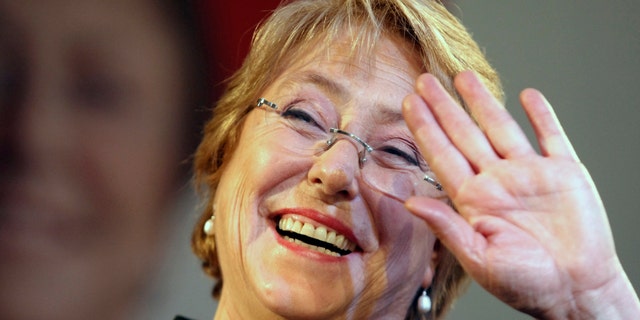 It will be former President Michelle Bachelet against former Economy Minister Pablo Longueira in Chile's November's presidential election.
Chileans chose the candidates on Sunday in the country's first-ever presidential primary.
Bachelet won 73 percent of the votes and will lead the center-left New Majority coalition. She is the daughter of a general tortured to death for opposing dictator Gen. Augusto Pinochet's 1973 military coup. Bachelet herself was arrested along with her mother.
Longueira, who was close to Pinochet, won 51 percent of the vote to lead the center-right Alliance for Chile bloc.
Bachelet, 61, spent the past two years heading the U.N. agency for women after ending her 2006-2010 presidency with high popularity ratings. She is the frontrunner in the Nov. 17 presidential election and vows to use a second term to fight Chile's income inequality, change the Pinochet-era constitution and reform taxes and education.
"Today's triumph is not the victory of one person, but of millions of Chileans," Bachelet said in a speech after the results were announced. "It's a project where the voices of citizens are vital. It's the triumph of the demand for education that is free, dignified and of quality for every child."
Longueira, 55, is a civil engineer and one of the founding members of the conservative Independent Democratic Union that supported Pinochet's dictatorship. He entered the presidential race two months ago when Laurence Golborne, a charismatic businessman seen as the center-right's best hope for holding onto power, was forced out by a financial scandal.
"If in just two months we won the primaries, in five months, we'll win the presidential elections," Longueira said.
He seeks to follow in President Sebastian Pinera's footsteps.
Pinera, a billionaire and former airline magnate, has overseen a period high economic growth with low unemployment and inflation rates. But he has been troubled by widespread protests.
Chile, the world's largest copper producer, is respected for its fast-growing economy and stable institutions. But it also has the worst inequality rate among the 34 countries of the Organization for Economic Co-operation and Development.
The next president will have to tackle growing social demands and protests demanding a better distribution of Chile's copper wealth, the preservation of the environment and free education.
Based on reporting by The Associated Press.
Follow us on twitter.com/foxnewslatino
Like us at facebook.com/foxnewslatino