Chicago Tries Again to Enforce Gun Restrictions After High Court Ruling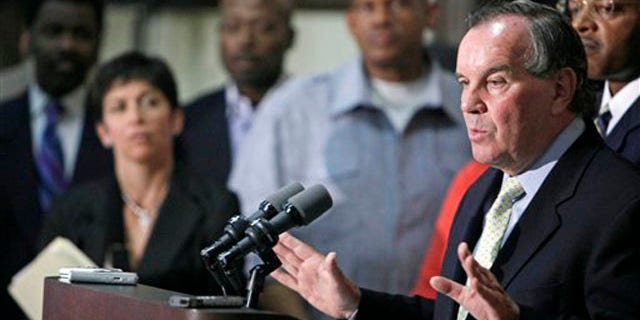 The Chicago government is taking another shot at enforcing sweeping handgun restrictions, bringing a new law into effect Monday meant to comply with the Supreme Court's landmark ruling last month while still regulating firearms purchases.
The new ordinance was drafted in response to the Supreme Court ruling that extended gun rights across all 50 states and effectively struck down the city's decades-old handgun ban. City leaders described the ordinance as necessary to prevent gun violence from breaking out across Chicago.
Though the new law has already been challenged in two federal lawsuits, it imposes a number of tough restrictions on gun ownership.
Among them, the policy would:
-- Limit each person in each home to one "assembled and operable" firearm.
-- Restrict residents from having firearms outside their home, even on their porch or in their backyard.
-- Mandate training program attendance.
-- Prohibit the sale of firearms inside city limits.
Mayor Richard Daley called the measure a "reasonable and responsible ordinance" in the wake of the Supreme Court ruling.
"When the wrong people have access to guns -- whoever they are -- whether they're gang bangers and drug dealers or abusive parents or sons or daughters, needless violence is more likely to happen, whether it's on our streets or in our homes," he said in a written statement.
But the new policy could represent the next phase of the gun rights legal battle, which so far has resulted in two big victories for the gun lobby -- first the 2008 high court decision permitting Washington, D.C., residents to keep guns at home and then the decision last month.
One lawsuit was filed by four city residents and a gun rights group. According to MyFoxChicago, the four residents have multiple guns kept outside the city but want to keep more than one inside Chicago. The Illinois Association of Firearms Retailers, the other plaintiff in the suit, wants its members to be able to sell guns and maintain shooting ranges inside Chicago limits.
A separate suit was filed by a man who wants to open a gun store inside the city.
The National Rifle Association is supporting the court challenge, claiming the city's new gun law violates the high court's ruling.
"An individual right is no right at all if individuals can't access it," NRA Executive Vice President Wayne LaPierre said in a written statement.
An overview by The Second Amendment Foundation praised the city for acknowledging with the legislation that "its ability to regulate is not unlimited," but called several provisions into question, including the ban on gun sales.
The NRA complained that it would be "impossible" for residents to receive range training since shooting ranges inside Chicago would be outlawed.