Cassidy says Senate victory is 'exclamation mark' on Americans' dissatisfaction with Obama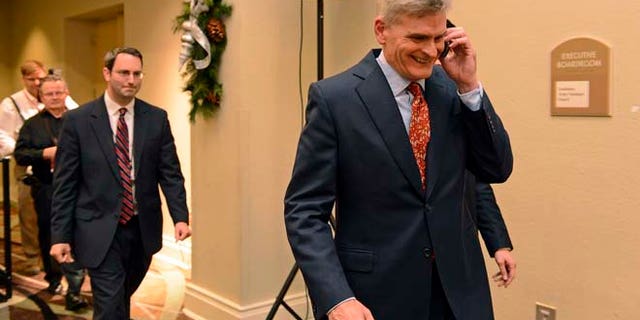 Republican Rep. Bill Cassidy, who defeated three-term Sen. Mary Landrieu in the Louisiana Senate runoff race this weekend, said Sunday that his victory was an "exclamation mark" on the November elections in which voters rejected President Obama's policies.
"It was an exclamation mark on a message the American people sent Nov. 4," Cassidy told "Fox News Sunday." They "don't like the effects President Obama's polices are having on America."
Cassidy on Saturday defeated Landrieu, a Democrat, with a campaign that focused in large part on her voting in favor of the president's agenda 97 percent of the time.
The congressman said that upon taking office in January, when Republicans also take control of the Senate, that he will continue his push to develop the state's natural energy supply.
"We are a working-family region," Cassidy said. "The Republican Party is the party of the working people."
He also said changes need to be made to ObamaCare but suggested he will wait until the Supreme Court rules on the constitutionality of the health care law's insurance subsidies.
"I'm a doctor," he told Fox News. "And clearly ObamaCare is pounding the American people."
He said the high court finding the subsidies are unconstitutional "crashes" the law in roughly 30 states.
Cassidy declined to say whether he will be more aligned to incoming Senate Majority Leader Mitch McConnell, whose role is largely to build consensus among his caucus, or Texas GOP Sen. Ted Cruz, who advocates shutting down the government as a political bargaining tool.
"I represent the people of Louisiana," he said. "I don't necessarily align myself with somebody."