Car Crash Involving Mass. Lawmaker, Suspected Illegal Immigrant Heats Up Debate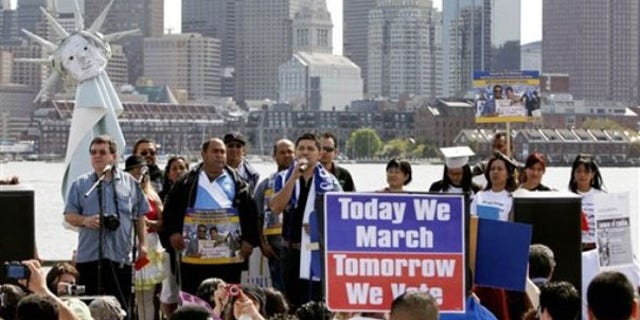 The immigration debate is heating up in Massachusetts after a suspected illegal immigrant allegedly crashed into a state lawmaker's car while driving drunk last week.
MyFoxBoston obtained police reports that show suspect Isaias Naranjo was arrested after crashing into state Rep. Mike Moran's car at 60 miles per hour and then bragging to police that they couldn't punish him.
According to the report, the suspect "just laughed, slurring that he was going to go back to 'my country' Mexico. 'Nothing is going to happen to me, man.'"
Though the suspect is being held after his blood alcohol content registered at .25, Massachusetts State Police spokesman David Procopio told FoxNews.com that state policy prohibits police from looking into the suspect's immigration status.
That's after Massachusetts Gov. Deval Patrick rescinded an order three years ago by his predecessor Mitt Romney that empowered state police to enforce immigration law.
Republican State Rep. Jeffrey Perry said the governor should reconsider that decision in light of the accident -- and he said the crash should also bring renewed attention to a measure he sponsored that would prohibit illegal immigrants from receiving taxpayer-funded benefits.
"I feel sad that there had to be a car accident for this to happen," Perry told FoxNews.com.
Perry's benefits proposal was narrowly defeated in the Massachusetts House several weeks ago, but he said voter "pressure" could drive the Senate to reconsider.
"Massachusetts is just kind of ignoring the problem," said Perry, who is running for Congress.
Massachusetts is one of a host of states considering new immigration proposals after Arizona's legislature approved a controversial policy in April requiring state law enforcement to check the immigration status of people they suspect of being in the country illegally. The proposal has divided lawmakers across the country -- some have moved to impose boycotts on Arizona in protest of the law, while others have pledged to draft bills that replicate the law.
In the case of Naranjo, the suspect was charged with driving under the influence, driving without a valid license and leaving the scene of an accident, according to MyFoxBoston.
Patrick's aides defended the governor's decision to rescind Romney's immigration order, saying corrections officials can still pursue the immigration violation, according to MyFoxBoston.