Capitol Attitude: Break Out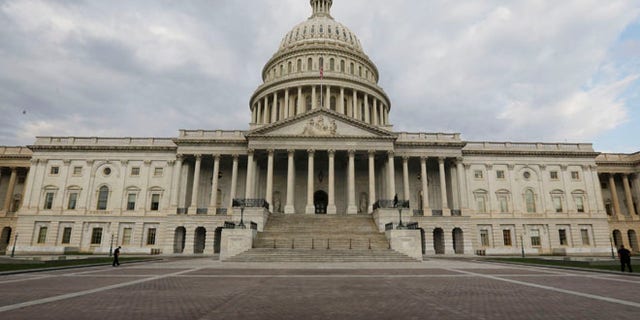 NEWYou can now listen to Fox News articles!
This week is a little better for the visage of House Natural Resources Committee Chairman Rob Bishop, R-Utah.
"Last week, my face broke out," he said with a laugh.
You can understand why. The Utah Republican struggled last week to craft a bill to help Puerto Rico avoid a catastrophic bankruptcy. Bishop hoped to advance the measure through his committee before everything melted down. He scrapped a scheduled "markup" session where lawmakers forge final legislative language. That's because he just didn't have the right vote mixture of Democrats and Republicans to move the plan out of committee and onto the House floor.
Things are far from settled. But this week, Bishop's outlook (for both his complexion and legislation) seems clearer.
It's unclear if benzoyl peroxide, less junk food or perhaps diminished stress contributes to Bishop's improved countenance. But there was sure a lot of chatter about the legislation at the Capitol Wednesday. Puerto Rico is hurtling toward a major, May 1 payment deadline. A second, more important deadline looms in July.
House Speaker Paul Ryan, R-Wis., convened a confab with the Congressional Hispanic Caucus Wednesday. The Speaker was supposed to conduct a general meeting with the CHC on a host of issues a few weeks ago. But the Congressional schedule upended those plans. The discussion centered nearly exclusively on Puerto Rico when Ryan sat down with CHC members Wednesday afternoon.
Meantime, key leadership staff from both sides of the aisle met with Treasury officials in an effort to bridge the impasse.
There were no breakthroughs. But House Minority Leader Nancy Pelosi, D-Calif., emphasized that time was of the essence.
"We're a little bit behind schedule," Pelosi, who secured a compact with Ryan in December to settle the Puerto Rico issue in the first quarter of this year. That deadline is long gone with staggering financial payments casting a shadow over the island and in the halls of Congress.
"Major deadlines are coming," said Resident Commissioner Pedro Pierluisi, D-Puerto Rico, the commonwealth's non-voting representative to Congress when he emerged from the Ryan meeting. "There is a sense of urgency."
Rep. Luis Gutierrez, D-Ill., doubted the chances for Congress to approve legislation to assist Puerto Rico by May 1. But the Illinois Democrat was willing to blow that deadline in exchange for something positive.
"I want to see them do it right," said Gutierrez, who is of Puerto Rican descent. "This is not just a test for (Ryan) but for the Congress of the United States."
Puerto Rico isn't the only test for Ryan and Congress these days. Ryan now presides over a stagnant legislative agenda. It's reduced most floor traffic to "messaging" bills or measures which don't have a chance of becoming law. Meantime, efforts to approve major issues are stalled. That slate includes a budget, extra money to combat Zika, reauthorizing the Federal Aviation Administration and a call to help Flint, MI fix its drinking water system.
Pelosi convened a meeting with reporters Wednesday morning where she blamed Republicans for the legislative cul-de-sac on Zika, the budget and Flint.
"They're so consumed by their radical ideology, so disconnected from reality that even the pleas of expectant mothers and poisoned children fall on deaf ears," said Pelosi. "I like to always make the distinction between a reason and an excuse."
But it's noteworthy that Pelosi didn't specifically mention Puerto Rico in her list of grievances with the GOP. Plus, she sidestepped a question if Ryan was to blame.
"Wherever the buck stops, the fact is, Congress is not doing its job," said Pelosi.
Pelosi may be unwilling to call out the Puerto Rico issue because she sees an immediate, dire impact on the commonwealth. Plus, one Congressional aide indicated it would be counterproductive to badmouth the process when there were active talks about Puerto Rico.
That's not to say the other issues aren't critical in the minds of Democrats. They sure gave Republicans an earful on their grievances Wednesday.
"There is no action. There is no plan," complained Rep. Rosa DeLauro, D-Conn., when asked about Congressional Republicans refusing to write a $1.9 billion emergency spending bill to fight Zika. "While they are fiddling, lives are at risk."
DeLauro serves as the leading Democrat on the House Appropriations subcommittee which funds public health. Rep. Tom Cole, R-Okla., chairs that panel.
"The question is, do you need it now?" asked Cole of the special spending request.
House Appropriations Committee Chairman Hal Rogers, R-Ky. contends "the administration continues to delay response efforts by refusing to provide basic budgetary information to Congress on their Zika funding request."
DeLauro dismisses that charge.
"There has been more information (on Zika) then we had on going to war in Iraq where we found no weapons of mass destruction," said the Connecticut Democrat. "Is this the message we want to send to women? Don't get pregnant?"
Cole said this week he believes the government has the money it needs to handle Zika right away. But he conceded that Congress may have to tuck additional funds into a catch-all spending measure later this year specifically for Zika.
Rep. Dan Kildee, D-Mich., represents Flint and frets about the water disaster. He wants Congressional GOPers to grapple with the issue and quit with well-wishes.
"It's almost as though it's their obligation to send Flint a get-well card," said Kildee. "The Republican Congress turns a blind eye and fails to act. We are better than this."
Wednesday marked the 17th anniversary of the massacre at Columbine High School in Littleton, CO. A small group of lawmakers used the occasion to call for a change to House rules. It's customary for the House to pause in its legislative agenda for a moment of silence to recognize the dead after mass shootings. But some Democrats want more. They'd like to require to compel a Congressional committee to hold a hearing on gun violence after each moment of silence following a mass shooting.
"We just can't Tweet our condolences or stand on the House floor," said House Democratic Caucus Vice Chairman Joe Crowley, D-NY. "It's like 'Our work is done here. Please carry on the business of the day.'"
The full House would have to vote to approve the rules change – to say nothing of securing the blessing of the House Republican brass.
Don't hold your breath.
And don't hold your breath on the Puerto Rico bill either. Lawmakers are skeptical that Natural Resources Committee Chairman Rob Bishop will be ready to call another markup session before Congress leaves for recess at the end of next week.
When asked when the markup might be, Bishop jokingly suggested "Sunday morning. Be here at 9:00."
Keep in mind that Puerto Rico may be the issue with the best chances of resolution right now. That's not saying much.
But it's enough to cause lots of stress on Capitol Hill.
And cause faces to break out.