Cancelled Award Ceremony Highlights Obama's Difficult Dance on Transparency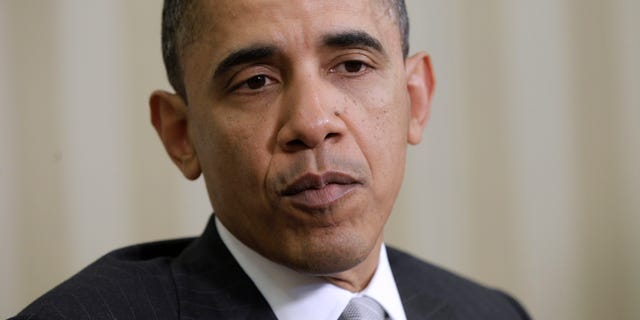 NEWYou can now listen to Fox News articles!
When the White House abruptly cancelled an event at which President Obama was slated to receive an award for promoting government transparency, no reason was offered beyond "changes to the president's schedule."
The oblique explanation highlights what has become an increasingly difficult balancing act for the Obama administration: claiming the moral high ground on opening up the government while preserving the secrecy that gives every president the room to maneuver.
The timing of the award, given during "Sunshine Week" by a cadre of good-government groups, was already a little awkward, coming just days after a new report showed that the administration isn't quite living up to its openness pledge.
An Associated Press analysis out Monday revealed that Freedom of Information Act (FOIA) requests were up last year, but the administration actually took on fewer cases. It also found that the federal agencies took longer to hand out records.
There were also little nuggets of irony – like this, "The Obama administration even censored 194 pages of internal e-mails about its Open Government Directive that the AP requested more than one year ago," the AP reported.
Areas where they did improve include less frequently invoking the "deliberative process" exemption for behind-the-scenes decision-making.
A George Washington University study also found that there are backlog problems in the administration, some of which were found under previous presidents, but that many agencies were not listening to the guidelines set out by the president and Attorney General Eric Holder and haven't implemented FOIA changes outlined in memos sent to them.
Tom Fitton, president of Judicial Watch appeared before the Senate Judiciary Committee Tuesday airing his grievances and noted he thinks the Obama administration is actually worse than his predecessor's when it comes to issues of openness.
"We have filed over 325 FOIA requests with the Obama administration. And we have filed 44 FOIA lawsuits in federal court against this administration. Administratively, agencies built additional hurdles and stonewalled even the most basic FOIA requests. The Bush administration was tough and tricky, but the Obama administration is tougher and trickier," Fitton said.
Obama famously pledged on the campaign trail that he'd make his administration the most transparent and open ever. And the White House has argued it is freely giving up more information, so formal requests don't necessarily reflect all that they're doing, like releasing visitor records.
Those visitor records, though, have provoked transparency complaints of their own. Obama aides have come under fire for holding meetings with lobbyists in nearby coffee chops and government offices off the White House campus, places where no records of visitors are kept. The White House says the meeting locations are due to space constraints, but open-government advocates are skeptical.
At the daily press briefing Wednesday, held before the transparency award ceremony was cancelled, White House Press Secretary Jay Carney said Obama was a deserving recipient because he has "demonstrated a commitment to transparency and openness… greater than any administration has shown in the past."
The Obama team points to gains at several agencies, like the Department of Homeland Security's "Virtual USA," which allows safety officials to share information in real time. In conjunction with the Department of Justice, the White House also created a website called FOIA.gov which provides information on how citizens can file requests and also what the government is doing on all levels with inquiries.
Rep. Darrell Issa, R-Calif., the chairman of the House Oversight and Government Reform Committee, compared Obama receiving an award for transparency to the president receiving the Nobel Peace prize after being in office 12 days.
"This president is less transparent, less willing to accommodate data transparency which the committee fought for on a non-partisan basis," said Issa, whose requests for information haven repeatedly thwarted by the White House. "This administration has not been willing to cooperate."
Ironically, the cancelled event was offered to the press only as a "pool spray" – media speak for a limited number of journalists allowed to enter a room for a short amount of time to record video and take pictures -- as opposed to allowing open media access.