Can Washington agree on anything? Yes, the Nats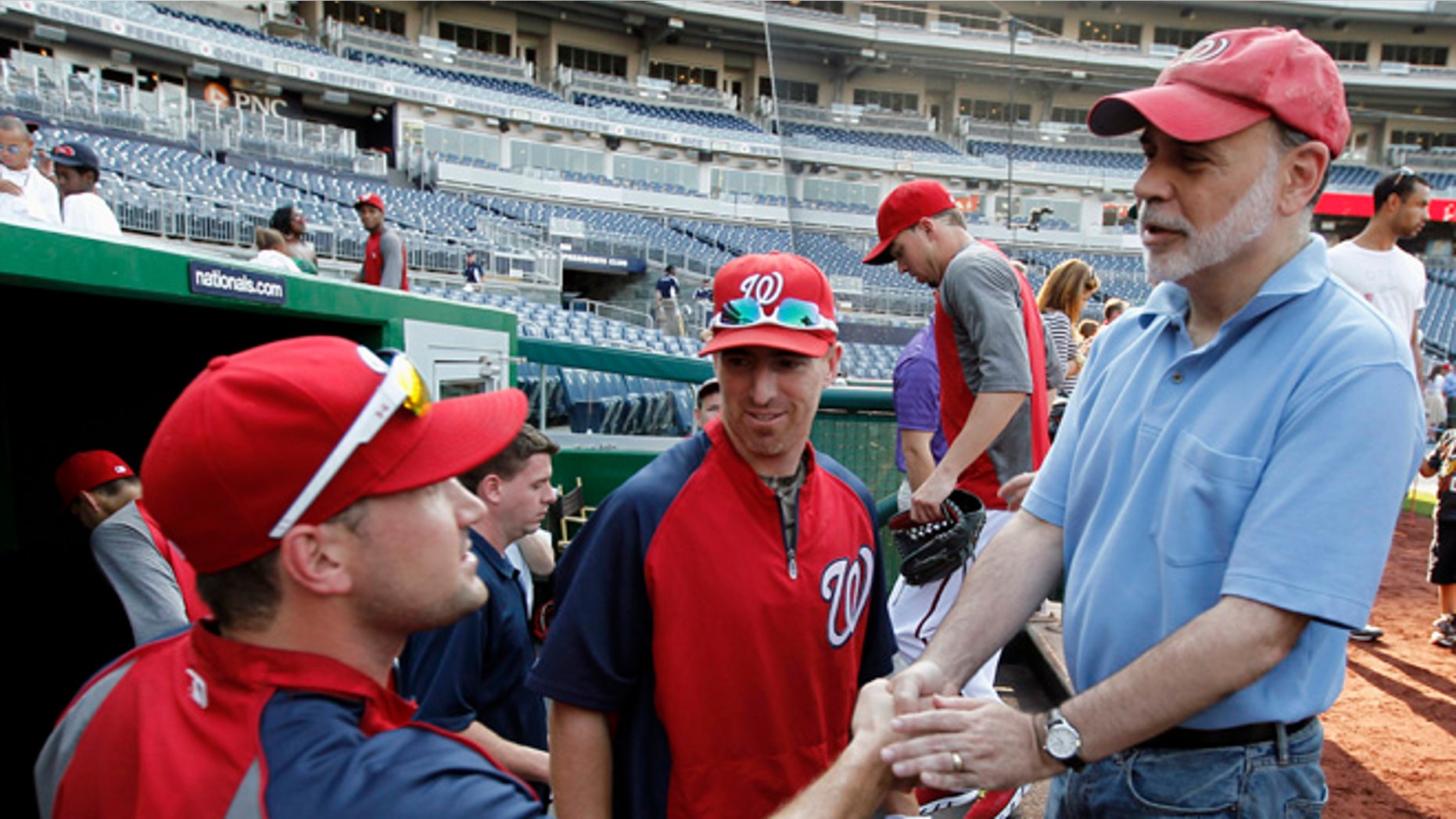 Other ballclubs may stake the claim to "America's team," but when it comes to the nation's political class, it's the Washington Nationals in a landslide.
On their way to Washington's first postseason baseball appearance since 1933, the Nationals last year won the affection of many politicians, policymakers and pundits. In a city where squabbling sides can't seem to agree on anything, the Nationals united the likes of Harry Reid, Mitch McConnell, Ben Bernanke, Charles Krauthammer and James Carville in common cause.
McConnell, the Republican Senate leader from Kentucky, is a self-described Nats "fanatic," who compared the team's crushing playoff loss last year to a death in the family.
"It affected me for days. It had a huge impact," he said. While fellow Republican Mitt Romney's loss in the presidential election was worse, McConnell added with a laugh, the Nats' defeat "was a close second."
"Mitch and I watch virtually every Nationals game," said Reid, the Senate Democratic leader from Nevada. "We don't watch them together, but we talk about it quite often."
Reid even credits their shared interest as fans with helping the parties get along a little better: "It's obvious it hasn't helped very much, but it's helped. Any time you have something that creates conversation, that's good. And that's created a lot of conversation."
Conversations between Reid and McConnell have taken a turn for the worse this year, and so have the Nats, who are under .500 and a long shot to make the playoffs after many experts predicted they'd be a World Series team this season.
A recent blowup between the two Senate leaders could as easily have taken place on the diamond. Prompted by Reid's threat to change the Senate's rules if Republicans continued to block votes on several of President Obama's presidential nominees, the row stopped just short of them going nose to nose like a manager and umpire over a questioned call.
"If we don't pull back from the brink here," McConnell said, "my friend the majority leader's going to be remembered as the worst leader of the Senate ever." Tempers cooled and with coaxing from other senators, the two sides reached an agreement for allowing votes to fill the several vacancies.
Carville, the Democratic political consultant and sometimes TV pundit, calls himself "deep, deep, deep, deep, deep way into the Nats," but he recognized the team isn't going to solve political gridlock in Washington.
"I think we can ascribe too much to baseball. Freud once said a cigar is just a cigar," he said with a laugh. "Maybe sometimes a baseball game is just a baseball game."
Still, you can add the Nationals to the shortlist of causes that members of both parties support in Washington, such as motherhood and the American flag.
Bob Stevenson, a Washington lobbyist and former Senate GOP leadership spokesman, said all political stripes and creatures are represented at Nationals Park: "Liberals, conservatives, tea party activists, socialists, progressives, independents, Democrats, Republicans, lobbyists, lawyers, reformers, New Dealers, Reaganites, Clintonistas, etc. -- and it's one of the few places you can witness them all pulling for the same team."
Washington lost two teams called the Senators in the 20th century -- first to Minnesota and then to Texas -- leaving the city devoid of baseball from 1972 to 2004. Bob Schieffer, CBS News' chief Washington correspondent, said that during that drought, Washingtonians wondered how the city could be the capital of the free world and not have a baseball team.
"We needed one, came to believe we deserved one, and saw it as a matter of credibility, maybe even national security -- how could Washington be Washington, an example to the world, without a ballclub?" said Schieffer, a Texas native who came to D.C. in 1969. "I actually heard people take that line, and they sounded like they believed it. I more or less believed it myself."
Now, members of the city's political establishment can often be seen at the local ballpark.
Last season, Vice President Joe Biden attended a Nationals game, as did House members, senators, Cabinet members, military leaders and Supreme Court justices. Federal Reserve Chairman Ben Bernanke is sometimes spotted at the stadium, eschewing his suit for jeans, a short-sleeve shirt and a worn-out red Nats cap. Before the 2012 season, he was one of the few experts -- albeit not a baseball one -- to accurately predict the team's success.
"This is the year. We're very optimistic," he told ABC News in March of last year.
Then, on the eve of the playoffs, Bernanke wrote a Wall Street Journal opinion piece holding the Nationals out as an example for Washington to follow. "People decry the absence of leadership in Washington these days. My response: Look no further than the home-team dugout at Nationals Park," Bernanke wrote.
President Barack Obama calls the Nationals his second-favorite team, after his hometown Chicago White Sox. In 2010, while marking the 100th anniversary of presidential first pitches in Washington, he took the mound in a Nationals jacket and a White Sox cap. Last year, at a campaign event the day after the Nats clinched a playoff berth, Obama congratulated the team for bringing postseason baseball back to Washington and predicted, incorrectly as it turned out, a Nationals-White Sox World Series.
When the Nationals hosted this city's first postseason baseball in 79 years, Major League Baseball scheduled the game for a weekday afternoon -- prompting many Washingtonians to play hooky, or at least leave the office early.
"For me, what stood out was the number of people who had clearly just bailed on work," recalled Fox News analyst Juan Williams, a season-ticket holder. "Because much like me, they had the baseball cap or a jacket or something, but you could see from the shoes and the pants they had taken off the suit jacket."
The next day's game coincided with the vice presidential debate between Biden and Rep. Paul Ryan, so many politicians and pundits had a conflict. Krauthammer, a conservative columnist and Nats season-ticket holder, caught the beginning of the game but left in the fifth inning to get to Fox News for his television appearance that night. At the studio, he watched the Nats bring in Tyler Clippard in the eighth inning of a 1-1 game against the St. Louis Cardinals.
"Now I'm kind of a nervous Nellie when it comes to Clippard, 'cause I've been there for two of his meltdowns," Krauthammer recalled. So before he went on the air, the already miked Krauthammer said to no one in particular, "I think I'm going to be the first person on live television to have a heart attack on the air."
In Danville, Ky., the site of the vice presidential debate, Fox News host Bret Baier heard Krauthammer's comment in his earpiece during a commercial break, and asked, "Charles, are you all right?"
The Nats wound up winning on a ninth-inning home run by Jayson Werth, but lost the fifth-and-deciding game the next night after blowing a 6-0 lead.
Baseball has been a draw for Washington politicians for more than a century. Back in 1924, after the Senators won their first pennant, President Calvin Coolidge honored the team at an event near the White House. Coolidge mentioned a request he had received from Rep. John F. Miller of Washington state to call a special session of Congress that Saturday so lawmakers could sneak out and watch the first game of the World Series.
"Mr. Miller has such judgment and his sense of public psychology is so accurate that I do not need to say what party he represents," Coolidge said of his fellow Republican.