Can Gowdy deliver the goods?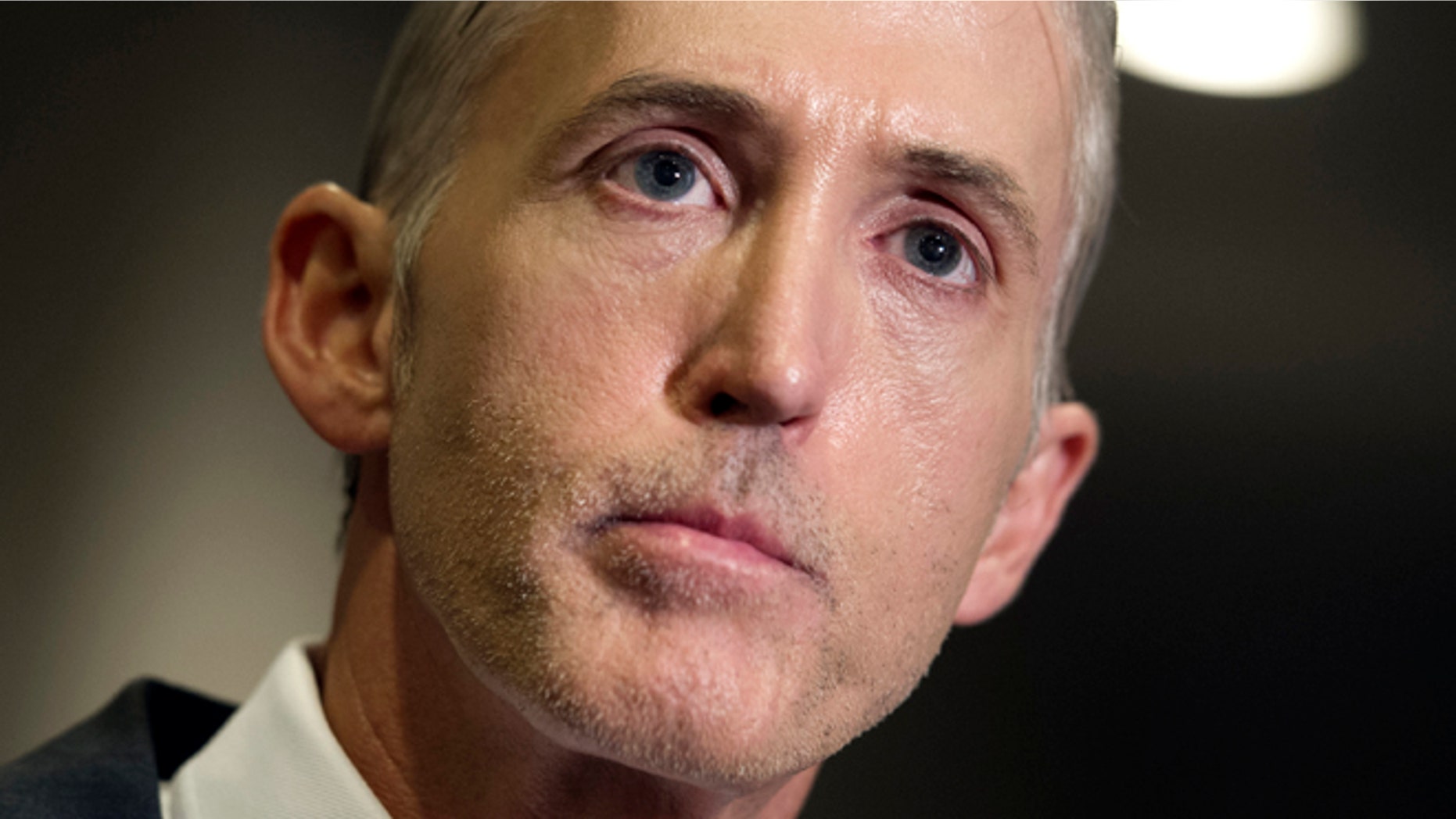 **Want FOX News First in your inbox every day? Sign up here.**
Buzz Cut:
• Can Gowdy deliver the goods?
• Bernie banging on the back door
• Carson topples Trump in Iowa
• Rubio takes podium spot away from Jeb
• But wait until you see the smoking lounge!
CAN GOWDY DELIVER THE GOODS?
Congressional hearings are usually a lot like dinner theater. Both the sustenance and the spectacle are damaged by their proximity.

Nattering congressmen or senators trying to generate sound bites for the local news and fundraising emails ask impossibly ponderous questions with what they consider to be Perry Masonic flair. Instead, they end up sounding more like Monty Python, and get results about as good.

Meanwhile, witnesses coached within an inch of their lives may drone or stammer, but they know to cling to the talking points for dear life. They may sweat through their shirts, but they don't make news.

The House panel investigating the deadly Sept. 11, 2012 raid by Islamist militants on a U.S. diplomatic outpost in Benghazi, Libya – and the doctored talking points about it that flowed from the Obama administration – may fall into the same trap today. But there's a chance something of substance could emerge.

Former Secretary of State Hillary Clinton, who is now the presumptive Democratic presidential nominee, will testify before the committee, and she will certainly be rehearsed and is definitely smart enough to avoid making news under normal circumstances. This is a woman who has taken and given more depositions in her life than most.

And her fellow Democrats who sit on the committee will be ready to help her any way they can to delegitimize the hearing (to whatever degree that Kevin McCarthy did not already so do).

But what could make this one different is that Chairman Trey Gowdy is not only better at this business than anyone in recent memory, he has also taken great pains to keep the six other Republicans on the panel from slobbering into the microphones. Insiders promise a disciplined, lawyerly probe from the former South Carolina prosecutor and his fellows.

There may not be much shouting, they suggest, but they may make some news. Stay tuned…

Watch Fox - For full coverage of Hillary Clinton's testimony the Fox News team you covered: Chief Congressional Correspondent Mike Emanuel is outside the hearing room on Capitol Hill for the latest on what's expected to be a multi-hour testimony with an able assist from Correspondent Rich Edson. Chief White House Correspondent Ed Henry gets the latest from the Democratic frontrunner's campaign.

[WSJ gives a guide on what to look for during Clinton's testimony today, including context for the hearing and the key players.]

Gates pounds Hillary's Libya plan: 'Playing it by ear' - Daily Beast: "In 2011, as the United States considered intervention, then-Secretary of State Hillary Clinton was among those who pushed for intervention—without resolving just how Libya would be governed after Gaddafi, according to a senior defense official who was part of the decision-making process. … As then-Secretary of Defense Robert Gates, who opposed the U.S. intervention, frustratingly explained to The Daily Beast: 'We were playing it by ear.'"

The Judge's Ruling: Here's how to question Hillary - Wouldn't you love to see how Judge Andrew Napolitano would question Hillary Clinton today? Fox News' senior judicial analyst brings his legal acumen (as well as his gift for courtroom drama) to the task. Read here.

BERNIE BANGING ON THE BACK DOOR IN IOWA
DMR: "Both Hillary Clinton and Bernie Sanders have grown in popularity in Iowa, and the gap between them has slimmed to 7 percentage points, 48 percent to 41 percent, without Joe Biden in the race, a new Des Moines Register/Bloomberg Politics Iowa Poll shows. Clinton, long the presumptive nominee, was 8 points ahead of Sanders in the Iowa Poll in late August. Her support among likely Democratic caucusgoers has climbed 5 points since then."

DNC gives police protesters a town hall - WaPo: "The Democratic National Committee on Wednesday gave its blessing to two of the most prominent activist groups associated with the Black Lives Matter protest movement – the #BlackLivesMatter network and Campaign Zero – to host a presidential town hall focused on issues of racial justice, but stood firm in its stance that there will be no additional debates on the 2016 campaign schedule."

Cash-rich RNC belittles 'dead broke' DNC - After a big cash-haul month in September, the Republican National Committee is ready to taunt its struggling Democratic counterpart. The Democratic National Committee reported just $5.5 million cash-on-hand, and more than $6.7 million in debt. By comparison, the RNC has $19.4 million and $1.8 million in debt. In a memo set to be released today, RNC chief of staff Kate Walsh says, "One cannot overstate the gravity of the problem this creates for embattled front runner Hillary Clinton, who will finally know what it means to be 'dead broke' when she completes her takeover of the DNC."

WITH YOUR SECOND CUP OF COFFEE…
National Geographic: "A hot, dense white dwarf star, no bigger than Earth but with as much mass as the sun, has been caught in the act of ripping an asteroid-like object to shreds. Soon it will begin swallowing up the pieces. 'Lots of people suspected this kind of thing must be happening,' says Andrew Vanderburg of the Harvard-Smithsonian Center for Astrophysics, 'but this is the smoking gun.' Vanderburg is lead author of a paper describing the discovery in the latest issue of Nature. … 'We weren't really looking for white dwarfs in the Kepler observations,' says Vanderburg. That's because a white dwarf is a cosmic zombie, the corpse left behind after an aging, sun-like star swells into a red giant, sloughs off its outer layers, and collapses into a tiny, intensely hot ember. The Kepler mission focuses mostly on stars that are haven't gone through this catastrophic process, since life-friendly planets are most likely to be found orbiting them."

Got a TIP from the RIGHT or the LEFT? Email FoxNewsFirst@FOXNEWS.COM

POLL CHECK
Real Clear Politics Averages
Obama Job Approval: Approve – 45.2 percent//Disapprove – 50.0 percent
Directions of Country: Right Direction – 26.1 percent//Wrong Track – 63.4 percent

CARSON TOPPLES TRUMP IN IOWA
For the first time since June, Donald Trump is not the frontrunner in Iowa, according to the latest Quinnipiac University poll. The survey puts Ben Carson 8 points ahead of Trump among likely Iowa Republican caucus goers. In the last Q poll in Iowa, which was taken six weeks ago, Carson trailed Trump by 6 points. At the end of June the two men were tied at 10 points apiece. The other big mover in the survey was Sen. Marco Rubio, R-Fla., who jumped 5 points since the last survey and into third place. Sen. Ted Cruz, R-Texas, stayed steady with a 10-point, fourth-place finish. Eight other candidates finished considerably behind.

Trump cancels on Kimmel - Time: "Donald Trump was supposed to make an appearance on Jimmy Kimmel Live on Tuesday night but had to cancel because of an "major political commitment," according to a representative for the presidential hopeful. That didn't stop Kimmel, who said Trump's team was 'cryptic' about the scheduling conflict, from having some fun at Trump's expense anyway."

[Trump's billionaire backer Carl Icahn is starting a super PAC with a $150 million pledge. Icahn says the intent is to pressure Congress to change the tax code.]

Rubio takes podium spot away from Jeb - Tampa Bay Times: "CNBC, which is hosting the third Republican primary debate next week, released its candidate lineups Wednesday, and there's a change for Jeb Bush and Marco Rubio: Bush will no longer stand next to frontrunner Donald Trump -- Rubio will. The reason: The polls CNBC averaged to rank candidates show Rubio in third place, after Trump and Ben Carson and before Bush."

Alrighty then - At a policy forum in Las Vegas Wednesday Jeb Bush was asked who his favorite Marvel superhero was. Bush said he saw an ad for the new CBS show 'Supergirl' and that, "She looked kinda…she looked pretty hot. I don't know which channel it's on, but I'm looking forward to that."

TAKE FIVE:  JUMP BALL IN THE BUCKEYE STATE
Just half of a point separates Republican incumbent Sen. Rob Portman and former Gov. Ted Strickland, D-Ohio, in the RealClearPolitics average of polls. As tons of cash pore into this key battleground, what will give either candidate a leg up? In the latest round of "Power Play with Chris Stirewalt" former Sen. Evan Bayh, D-Ind., dissects the matchup and shares his picks of the top five GOP-held seats Democrats are trying to flip to win control of the Senate. Bayh ranks Ohio third behind Wisconsin and Illinois, with Pennsylvania and Florida rounding his list. With the Buckeye State ground zero in the presidential race and Portman and Strickland both popular and well-funded, Bayh sees voter turnout and coattails as the keys to victory. WATCH HERE.

Your picks - The current tally of Fox News First reader votes on the top five battlegrounds for control of the Senate: 1) Illinois; 2) Wisconsin; 3) Pennsylvania; 4) Ohio; 5) Florida.

Strickland goes to school on Hillary - In an appearance earlier this week opposite his Democratic primary opponent, former Ohio Gov. Ted Strickland took a page from Hillary Clinton's debate book, the Cincinnati Enquirer reports. "We ought not to be fighting." [Strickland said] "I have not said a negative word about my opponent. P.G. Sittenfeld is not my enemy. Rob Portman is my enemy and the enemy of those of us who hold Democratic values."

What about it? - We want your votes and your view of the hottest Senate contests out there as Republicans and Democrats struggle for control.

Share your top five picks. Email them – just five, please – to FOXNEWSFIRST@FOXNEWS.COM or tweet @ChrisStirewalt.

BUT WAIT UNTIL YOU SEE THE SMOKING LOUNGE!
MedPage Today: "The University of North Carolina (UNC) is renaming its Raleigh-based children's clinic the Krispy Kreme Challenge Children's Specialty Clinic, the school has announced. The Krispy Kreme Challenge is an annual charity event consisting of a 5-mile race, during which participants run 2.5 miles, eat a dozen Krispy Kreme donuts, and run back. The organization promised to donate a total of $2 million to the outpatient clinic -- nearly $1 million has been raised since the race's inception as a charity event 9 years ago. The remaining $1 million will be raised by 2020, according to a recent clinic press release. … 'Shame on my colleagues for not finding a way to accept funds without providing free advertisement for junk food,' wrote Barry Popkin, MD, a professor of nutrition and economics at UNC, in an email to MedPage Today."

AND NOW A WORD FROM CHARLES…
"I think [Hillary Clinton] has the nomination. I think the race ended in the debate when Bernie Sanders said, 'we're tired of hearing about your damn emails.' That was a concession speech. He handed over his sword, it was over. It remains over. And Biden understood that." – Charles Krauthammer on "Special Report with Bret Baier."

Chris Stirewalt is digital politics editor for Fox News. Want FOX News First in your inbox every day? Sign up here.