California's Republican Latinos say Trump is undoing their efforts to turn state red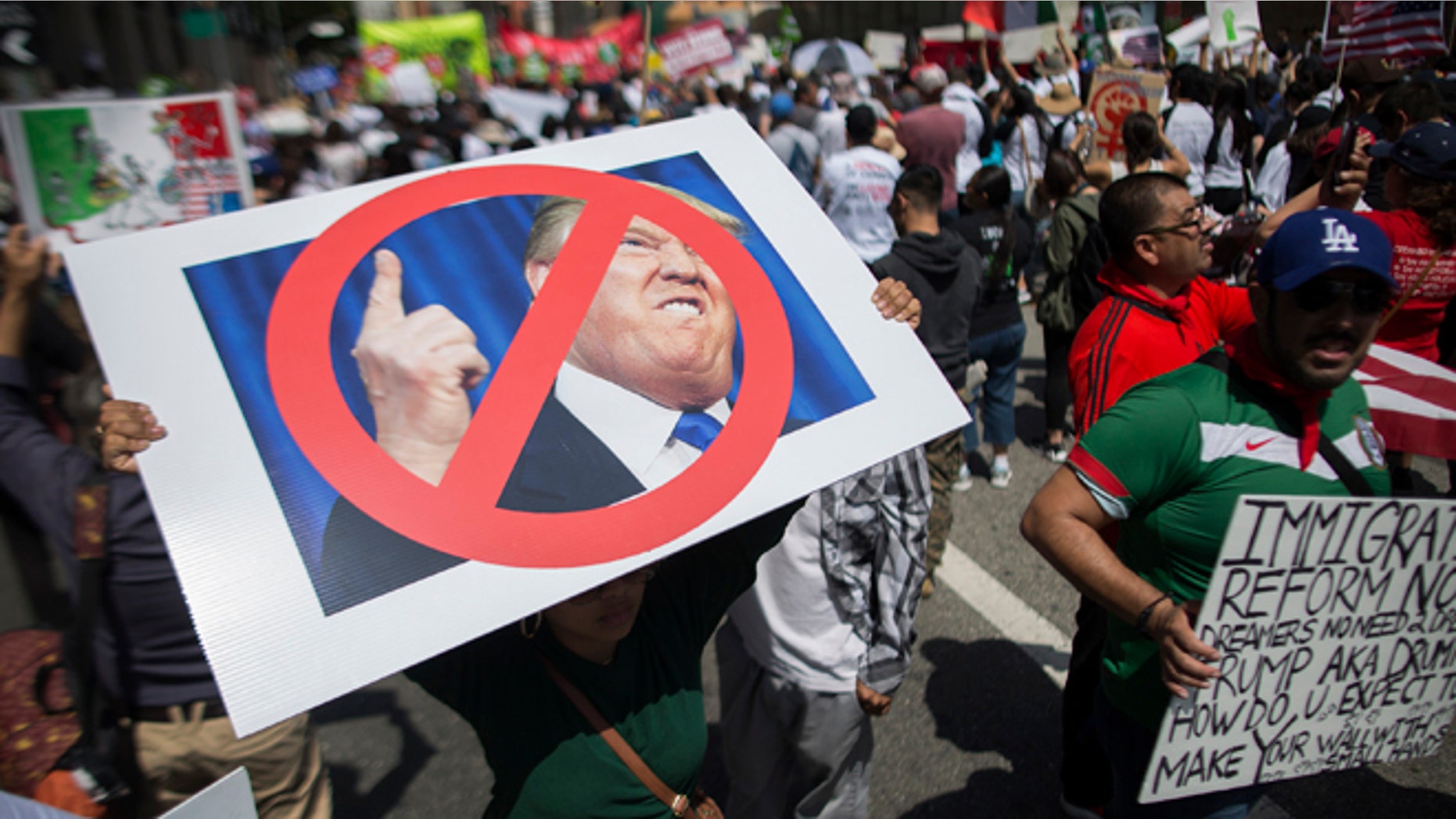 Over 20 years ago, the Republican Party in California lost a generation of Latino voters after it backed a successful ballot initiative that sought to deny undocumented immigrants access to taxpayer-funded services like non-emergency health care and public education.
Since the Proposition 187 measure, members of the state's GOP have worked hard to win over Hispanic voters, including softening its stance on immigration and calling on lawmakers to pass comprehensive immigration reform with a path to citizenship.
But now many Latino Republican leaders in the Golden State are concerned that the prolific rise of Donald Trump to the position of Republican standard-bearer – and the popularity of his hardline stance of immigration – could derail these efforts and set the party back to square one.
"The damage is already done," Mike Madrid, a GOP political consultant with GrassrootsLab and an expert on Hispanic voter behavior, told Fox News Latino. "Just as we were starting to turn the corner and get back in the game with Latino, there comes this generational figure like Donald Trump."
Madrid argued that unlike Pete Wilson – the California governor closely tied with Proposition 187 – Trump is creating a rift between the Latinos and Republicans not just in California but on a national stage.
Trump says repeatedly that Latinos love him, and there are some who do support him. But he's also angered Hispanics. He's called for the deportation of all 11 million undocumented immigrants and the construction of a wall along the U.S.-Mexico border. He's also campaigned alongside of some of the most fervent anti-immigration figures in the country, including Maricopa County Sheriff Joe Arpaio and former Arizona Gov. Jan Brewer.
A recent poll from Fox News Latino found that among Hispanic voters Democratic front-runner Hillary Clinton would best Trump in a head-to-head match-up by pulling in 62 percent of the vote to the real estate mogul's 23 percent. The poll also found that 74 percent of Latinos held an unfavorable view of Trump.
Besides the numbers, the business baron's rallies in California have been besieged by disruptions and protests, with one in Anaheim at the end of April deteriorating into a mess of tear gas, fistfights and clashes with local police.
"The protests we're seeing have become much more violent and much more nationalistic than we have seen before," Madrid said.
The animosity that many Latinos feel toward Trump also bucks Republican efforts to rebrand themselves with the voting bloc. After Mitt Romney won only 27 percent of the Latino vote compared to President Barack Obama's 72 percent in the 2012 election, the GOP performed an autopsy where it acknowledged it had to change its tone with Hispanics. On Wednesday, Ruth Guerra, the GOP's chief of Hispanic media relations, quit and sources told the New York Times it was because she was uncomfortable working for Trump.
Some of the 2016 Republican candidates made efforts to directly appeal to the Latino community – including former Florida Gov. Jeb Bush and Florida Sen. Marco Rubio – but this did little to win over voters who preferred Trump thanks in part to his tough talk on immigration.
"This is not a guy who appears to be popular with anyone other than that somewhere between 40 and 50 percent of Republicans who just go for him all of the time," Reed Galen, a Republican strategist told FNL. "That makes it very difficult for him to expand his base in a general election. And certainly given his incredibly strident language on immigration generally and on the wall it'll be very difficult to see how Latino voters could come his way at all."
Nowhere is this more felt than with Hispanic Republicans in California who since Proposition 187 have been working to change their party's message with Latinos and win back those they lost in the 1990s.
The state GOP last September voted to soften its language on immigration in its party platform and California legislators have pressured their Washington D.C. counterparts to pass comprehensive immigration reform with a path to citizenship for the undocumented. There are now more than 100 Latino Republicans holding local elected office in the state.
Now, some Hispanic Republicans say that is all in jeopardy with Trump as the presumptive nominee.
"There are, and I count myself as one, Latino Republican leaders who have worked diligently to get Latino Republicans to find their place in leadership positions, getting elected to municipal offices," Luis Alvarado, a Latino Republican Consultant in Los Angeles told FNL. "How does a Latino Republican defend Trump to other Latinos when we are trying to cross over the vote?"
Alvarado added: "Donald Trump is not somebody who favors all the work that has been done to make Republicans inclusive to not only Latinos but all minority communities."
Marcia Facundo contributed reporting from Los Angeles for this story.