California withholding assistance as National Guard troops begin arriving at US-Mexico border
National Guard members have begun arriving at the U.S.-Mexico border as requested last week by President Trump, but California's Democratic Gov. Jerry Brown is still mum on whether his state will participate in the deployment.
California has frequently fought with the Trump administration over illegal immigration, with one San Diego lawmaker saying that it's now a "rogue state."
Meanwhile, the Republican governors of Texas, Arizona and New Mexico on Monday committed 1,600 Guard members to the border, giving the White House many of the troops it requested to fight what Trump has called a "crisis at our southern border."
But Gov. Brown has not announced whether troops from his state's National Guard will participate. Brown's spokesman, Evan Westrup, said only that California officials still are reviewing Trump's troop request.
Even as California officials remain silent, some commentators have said Trump's measure doesn't go far enough.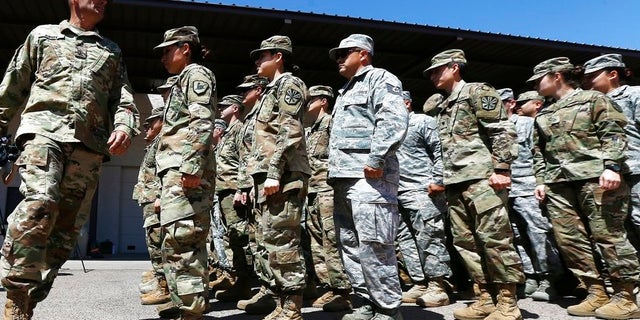 "Donald Trump said he would control the border," retired Army Col. Douglas MacGregor told Fox News' Tucker Carlson on "Tucker Carlson Tonight."
"It's time to put the military on the border," MacGregor said. "The National Guard is nice, but the National Guard is not experienced in this. The regular Army is."
Under the federal law Trump invoked in his proclamation calling for National Guard troops, governors who send troops retain command and control over their state's Guard members and the U.S. government picks up the cost.
MOST BORDER-STATE GOVERNORS BACK TRUMP'S NATIONAL GUARD PLAN
Trump said last week he wants to send 2,000 to 4,000 National Guard members to the border, issuing a proclamation citing "the lawlessness that continues at our southern border."
"We may be in this for the long haul."
Arizona Gov. Doug Ducey told a group of soldiers preparing to deploy from a Phoenix military base that their "mission is about providing manpower and resources" to support agencies on the border and denied that there was a political motive.
"I don't think this is a partisan issue or an identity issue," he said. "You show me somebody who is for drug cartels or human trafficking or this ammunition that's coming over a wide-open and unprotected border here."
Texas Gov. Greg Abbott told San Antonio radio station KTSA that he would add about 300 troops a week until the total number reaches at least 1,000 troops.
Some Guard members will be armed if they are placed in potential danger, Abbott said, adding he wanted to downplay speculation that "our National Guard is showing up with military bayonets trying to take on anybody that's coming across the border, because that is not their role."
CALIFORNIA LAWMAKER SAYS BORDER IS INCREASINGLY DANGEROUS
There is no end date for the deployment, Abbott said: "We may be in this for the long haul."
New Mexico Gov. Susana Martinez's office said that more than 80 troops would deploy later this week. They will be the first of an expected 250 Guard members from New Mexico to serve on the border.
Trump has said he wants to use the military at the border until progress is made on his proposed border wall. Defense Secretary James Mattis last Friday approved paying for up to 4,000 National Guard personnel from the Pentagon budget through the end of September.
Mexico's foreign relations secretary said his government is evaluating its cooperation with the United States.
The country's Senate passed a resolution last week saying Mexico should suspend cooperation with the U.S. on illegal immigration and drug trafficking in retaliation for Trump's move.
The Associated Press contributed to this report.