California protesters arrested after allegedly climbing on Columbus statue they say hails genocide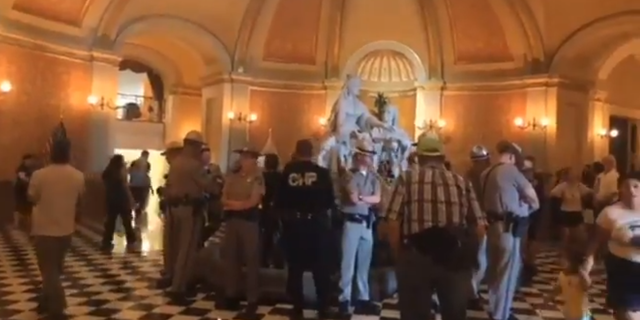 NEWYou can now listen to Fox News articles!
Authorities arrested over a dozen protesters on Tuesday demanding the removal of a statue of Christopher Columbus from the rotunda at California's capital they said is "hailing genocide."
"During the protest, several members from the group encircled the statue located in the capitol rotunda and began to act in an unlawful manner by attempting to climb on the statue in an effort to hang banners and flags," the California Highway Patrol press release said.
Thirteen demonstrators, part of a group calling themselves the California Poor People's Campaign: A National Call for Moral Revival, were granted a permit to protest near the Capitol, the Sacramento Bee reported.
But the group, which says on its website that it takes peaceful action to promote awareness of a variety of issues such as systemic racism, wasn't allowed to take their demonstration in the Capitol, prompting the authorities to react.
The activists posted videos of the arrests.
"Police have arrested the first peaceful moral witness. While a statue hailing genocide sits at the center of our capitol, we are removed from the building," the group said on its Twitter page.
The CHP told the Bee that the activists were arrested for resisting an arrest, disobeying a lawful order and vandalism.
Last month, 18 protesters from the same group were arrested after holding a sit-in for six hours and refusing to leave the capitol after it closed for the day.