California Lawmakers Push for First-in-the-Nation State Boycott of Arizona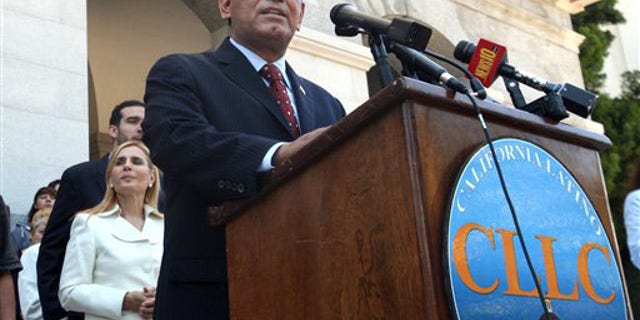 Dozens of California lawmakers are pushing to make their state the first in the nation to impose an across-the-board boycott on Arizona over its immigration law -- though the state's largest city just voted to selectively scale back its boycott after local lawmakers realized it could backfire.
The Democratic state lawmakers on Wednesday unveiled a resolution that would impose several restrictions against Arizona. The measure calls for California to issue a travel advisory on visits to its eastern neighbor, halt state investment there and urge Major League Baseball to reconsider letting the state host the 2011 All-Star Game.
Though dozens of cities and organizations have voiced their opposition to Arizona's law by instituting bans on employee travel, canceling conventions in the state and threatening to pull contracts, California would be the first state to do so.
Sen. Gil Cedillo, a Democrat from Los Angeles who introduced the proposal, said the Arizona law "undermines fundamental civil rights and civil liberties."
He said it poses a "special threat to people of color" who live and travel through Arizona.
Though Arizona officials argue that the boycotts do little to change policy and only hurt businesses and workers in the state, proponents of the policies say they passed them out of concern over racial profiling.
However, the Los Angeles City Council -- one of the cities leading the charge against Arizona -- just backed off part of its boycott because it didn't want to cut ties with an Arizona-based company that operates enforcement cameras at Los Angeles intersections and generated $6 million for the city last year.
The metropolis had previously banned most city travel to Arizona, as well as future contracts with Arizona companies. That kind of policy has since been replicated by other city governments.
But council members decided to make an exception on Wednesday, voting to extend a lucrative contract with red-light camera operator American Traffic Solutions, based in Scottsdale.
"The boycott never intended to impede public safety," Los Angeles Councilman Richard Alarcon said during a meeting Wednesday.
The Associated Press contributed to this report.