California guv scrambles to save bullet train, floats cap-and-trade scheme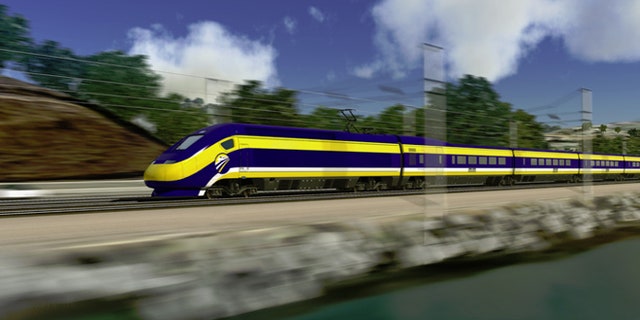 California Gov. Jerry Brown is scrambling to keep a pricey high-speed train project from being derailed by raiding millions of dollars from the state's cap-and-trade program -- in what critics are calling a "desperate" ploy to save the beleaguered plan.
The state's cap-and-trade program puts a cap on greenhouse gas emissions, but lets companies buy "allowances" to pollute more. In it, the Golden State governor sees a funding source that could help resurrect one of the state's most ambitious, and controversial, projects -- a $68 billion, 500-mile rail line from Los Angeles to San Francisco.
"California is still the generator of dreams and great initiatives," Brown told reporters, in calling for $250 million to be allocated toward the project. "And I think high-speed rail is worthy of this state."
But the governor, who's been hit from all sides on the project over the past year, stoked criticism with his new funding plan. And it's ultimately unclear whether the state can secure enough funding to put the train back into gear.
On the left, environmentalists complained that the cap-and-trade money really should be used toward cleaning up California's air -- while Brown argues the train will help reduce greenhouse gases, critics note the benefits wouldn't be felt for years.
Republicans, meanwhile, blasted the governor for pursuing what they argue is a dead-end idea.
"We need to halt all new spending on high speed rail, and it is particularly inappropriate to waste $250 million in cap & trade funds on this doomed project," Assembly Budget Committee Vice Chairman Jeff Gorell said in a statement.
State Republican Sen. Andy Vidak said that "hijacking" the funding is "clearly a desperate measure."
California voters initially approved the plan in 2008, but at the time they were told the project would cost about half its current estimate.
The blows to the project have come at a rapid pace over the last year.
In November, California Superior Court Judge Michael Kenny rejected a request from the California High-Speed Rail Authority to sell $9 billion of the $10 billion in bonds approved by voters more than five years ago.
Kenny's ruling came on the heels of another decision by the federal government to suspend their review of a massive loan for a separate California-to-Vegas train.
As for the bullet train, its federal funding is contingent on stable state funding. U.S. House Majority Whip Rep. Kevin McCarthy, R-Calif., has said in the past that he would work with his colleagues in Congress to deny any federal funding for the train.
Over the summer, Kenny also ruled that California had failed to comply with requirements of the voter-approved money that would fund the project's initial phase. The measure basically included provisions that prohibited the state from building if it had not secured all the capital needed to create a fully operational and self-supporting first section of the line.
Since then, Brown has been under pressure to come up with ways to pay for the project. Last week, he introduced the plan that would commit $250 million in cap-and-trade funds for initial track-laying in the San Joaquin Valley.
Cap-and-trade programs work by setting an industry-wide limit, or cap, on emissions. Businesses are required to either cut emissions to cap those levels or buy allowances through the auction from other companies who have not met their limit.
Selling state lawmakers on the merits of using cap-and-trade money won't be easy. Cap-and-trade funds legally must be spent on projects that help reduce greenhouse gas emissions to 1990 levels by 2020. Brown's camp argues that the bullet train will eventually reduce pollution, but there has been pushback from environmental groups who question the probability.
As the governor tries to sway the legislature on the merits of his plan, he faces another challenge from Gorell, who is trying to get a measure on the November ballot that would ask voters to reject further bond sales for the high-speed rail.
Before he can get the measure on the ballot, though, Gorell first must collect 504,760 signatures via petition. Gorell's bill is similar to measures introduced in 2012 by Rep. George Radanovich and then-state Sen. Doug La Malfa. Both of their measures failed to qualify.