California gas tax hike prompts fierce backlash from the right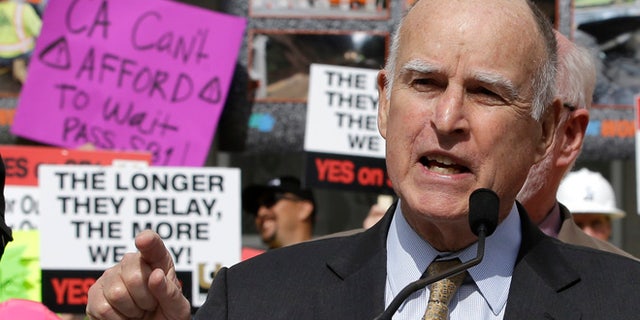 NEWYou can now listen to Fox News articles!
A 12-cent gas tax hike recently approved by California's Democratic leaders has prompted a huge backlash on the right, with a grassroots coalition vowing to ensure it never takes effect.
A combination of AM-radio talk show hosts, a consumer advocacy group and a GOP assemblywoman have joined forces to battle the measure – set to kick in this November – that would give California the dubious honor of the second-highest gas tax in the nation at 73.2 cents per gallon. Only Pennsylvania residents will pay more, with a 77.7-cent tax.
California isn't alone in the gas tax money grab. The Institute for Energy Research says a dozen states are considering similar hikes. On Jan. 1, another seven states saw an increase: Michigan, Pennsylvania, Nebraska, Georgia, North Carolina, Indiana and Florida.
The California tax ​– which also increases yearly vehicle registration fees – was pushed along by Gov. Jerry Brown to raise an additional $52 billion for road repairs from a newly created fund.
The tax does not have a ceiling and could skyrocket from there, said Republican state Assemblywoman Melissa Melendez. And critics question the benefit – complaining the ​taxes currently go into the ​general fund​, which has backed questionable items like a $100 billion high-speed rail project in the desert.
"We are building a broad-based coalition, people are just fed up," said former San Diego city councilman and GOP political activist Carl DeMaio, who hosts a local radio show. "This is rushed through and will hit working families pretty hard. It will cost an extra $300 to $500 per driver every year … This is the final straw."
DeMaio has joined forces with talk show hosts John and Ken on Los Angeles' KFI. The duo was instrumental in recalling former Gov. Gray Davis in 2003 over several issues, including tripling the car tax and giving drivers licenses to illegal immigrants.
The three hosts plan on using their public platform to try recalling Orange County Democratic Sen. Josh Newman, who was elected ​to his first term ​last year by a narrow margin. He helped pass the gas tax, which was approved by state lawmakers with the exact number of votes required.
Newman is seen as the most vulnerable target in a bid to roll back the plan.
"Once he is recalled, we will issue an ultimatum: either you rescind the tax or we will go after you," DeMaio said.
​Newman's office ​verified that he had been served last week with a recall notice.
Other foes include the Howard Jarvis Taxpayers Association, which led a successful 1978 ballot measure to cap property tax increases, and Melendez, who says she has been overwhelmed with bipartisan complaints from her Southern California constituents.
The Howard Jarvis group is looking at a ballot measure for next year that would restrict gas​ price increases beyond the national average, said organization president Jon Coupal.
He complained that only 20 cents of every gas tax dollar goes toward repairing the state's crumbling roads and bridges, while the other 80 cents goes to the general fund to pay for California's skyrocketing pension system.
"You can call it a transportation tax, education tax or health care tax. At end of day the money will find its way into public employee compensation," Coupal said.
Melendez is working the legal channel. She has accused Gov. Brown of offering to dole out transportation dollars to legislators who voted for the measure – which passed the Legislature ​along party lines ​on April 6​ with the exception of one Republican, Sen. Anthony Cannella of Northern California.
Melendez was incensed to learn that Cannella and t​hree​ other lawmakers will receive millions for projects in their districts. One ​of the companion bills reviewed by Fox News is dated Jan. 11 and shows an amendment on April 5 to include language devoting funds to Cannella's district.
​Melendez has asked Attorney General Xavier Becerra, a Democrat, to conduct ​"an investigation of apparent quid pro quo-inspired vote trading." Her letter named ​Brown and two other legislators as ringleaders without specifying the lawmakers who benefitted. She later pointed to Cannella and three Democrats.
Cannella, though, has admitted to lobbying for the funds and says he didn't do anything wrong. Fox News requested comment and was sent a press release​ discussing the gas tax as a solution for repairing roads.
​While Brown hasn't announced when he will sign the bill and the amendments, he is one of the backers and his signature is guaranteed, Melendez said.
​Brown did not agree to an interview for this story; however, spokeswoman Deborah Hoffman provided Fox News with recent ​ comments the governor made on the bribery allegations, which he called "preposterous."
"When somebody says, 'here, here's $10,000, I want your vote,' you've got bribery, it's illegal," Brown said. "When someone says, 'you know, I think this bill would be better if you include these projects or these ideas or these rules,' we listen. That's democracy, that's openness and that is the compromise spirit that makes democracies work."