Cal State Fullerton on edge before Milo speech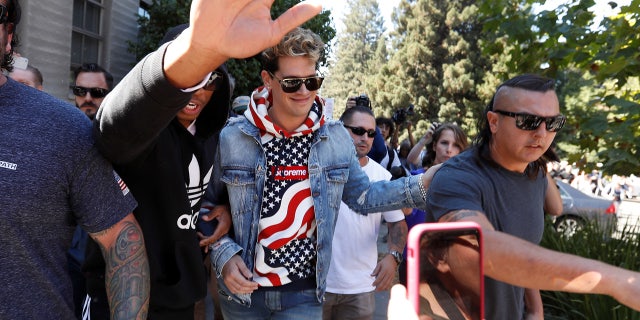 NEWYou can now listen to Fox News articles!
Campus police prepare for violence, ahead of a scheduled appearance by right-wing provocateur, Milo Yiannopolous' at a Southern California college campus this evening.
An estimated 800 people are expected to attend the speech with an unknown number of protestors. Cal State Fullerton Campus police have prohibited masks and face paint, allowing only ticketholders to get in to the event.
The event comes after a series of cancelled appearances by Yiannopolous in Arizona, and the University of California Berkeley last month.
Last February, Cal-Berkeley police canceled Yiannopoulos' scheduled speech on campus just before it was to begin, citing safety concerns. A large crowd had gathered outside and the peaceful demonstration turned violent when dozens of black-clad anarchists appeared and attacked some demonstrators and later vandalized some businesses near the campus.
Unlike Cal-Berkeley, Cal State Fullerton (where Yiannopolous is scheduled to speak) isn't known as a hotbed of political activism. Nevertheless, there has been a considerable increase in demonstrations and rallies over the last year.
College Republicans decided to invite Yiannopolous in order to draw attention to free speech and the presence of politically conservative students on campus.
"We really just felt left out of the conversations on campus as conservatives and bringing him has really started this conversation about free speech," said Brooke Paz, a spokeswoman for the group.
The Associated Press contributed to this report