Boxer, Citing Don't Ask Don't Tell, Compares U.S. to Iran, N. Korea and Pakistan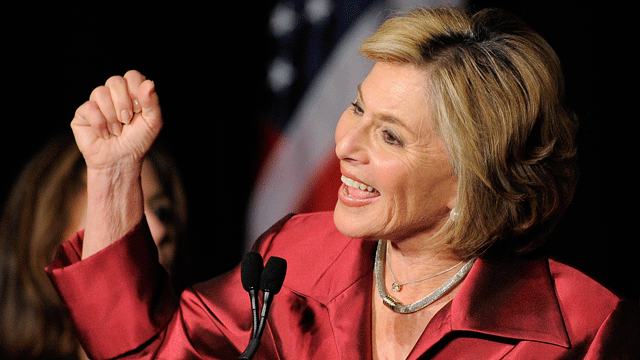 Sen. Barbara Boxer, no stranger to controversy, compared the United States to Iran, North Korea and Pakistan this week, saying America's Don't Ask Don't Tell policy puts it on a par with those three countries.
Appearing with Connecticut Sen. Joseph Lieberman at a news conference on Thursday, Boxer, D-Calif., suggested the military's policy banning gays from openly serving in the military puts the U.S. in the same camp as countries notorious for their human rights violations. Democrats are pushing to repeal Don't Ask Don't Tell during the lame duck session.
"We now stand -- with this rule -- with countries like Iran, North Korea and Pakistan in banning gays and lesbians from military service," Boxer said as Lieberman, an independent who aligns himself with Democrats, nodded his head.
"Now our brave young men and women fight alongside allies like Australia, the United Kingdom and others who allow gays and lesbians to serve openly," she said. "Let's not stand with Pakistan, and with North Korea and Iran. It's just wrong. This is the moment to move our country forward."
Boxer's office declined to comment further. Lieberman's office did not reply to a request for comment.
California Rep. Duncan Hunter, a Republican who served in Iraq and Afghanistan, was stunned when he was told about Boxer's comments.
"Wow," he told FoxNews.com. "I can probably think of few people less qualified to comment on our military than Ms. Boxer."
He said Boxer's comments perform an "extreme disservice to our men and women" in the armed forces and "our military tradition, which I don't think Ms. Boxer understands."
Hunter, who opposes lifting the ban, said Boxer's comments were a "distraction" from what's important as the U.S. prosecutes two wars abroad.
Senate Democrats are planning a vote on legislation that would allow gay troops to acknowledge their sexual orientation and continue to serve. But the repeal of the current law would take effect only after President Obama and his top military advisers certify that doing so would not hurt the military's ability to fight.
This isn't the first time Boxer's comments have clashed with military traditions.
Last year, Boxer scolded an Army brigadier general for calling her "ma'am" during a Senate hearing.
"You know, do me a favor," Boxer asked Brig. Gen. Michael Walsh of the U.S. Army Corp of Engineers. "Could you say 'senator' instead of 'ma'am?
"It's just a thing, I worked so hard to get that title, so I'd appreciate it."
Boxer worked hard to keep that title early this month, when she beat back a challenge from businesswoman Carly Fiorina.