Bolivian President Evo Morales Declares Israel A 'Terrorist State,' Renounces Treaty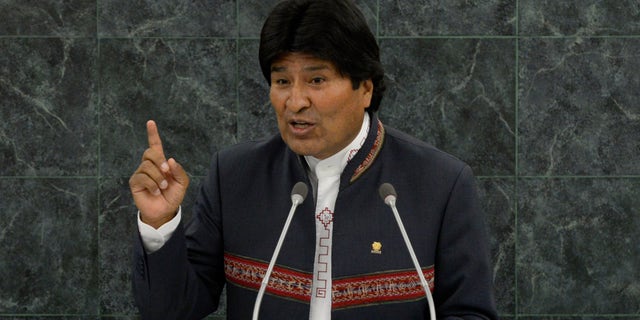 NEWYou can now listen to Fox News articles!
Bolivian President Evo Morales, speaking with educators in the Andean city of Cochabamba, announced Wednesday that his government was renouncing a 1972 treaty with Israel that allows citizens of each country to travel to the other without a visa.
The reason? The violence in Gaza.
The Israeli offensive there, Morales stated, shows "that Israel is not a guarantor of the principles of respect for life and the elementary precept of rights that govern the peaceful and harmonious coexistence of our international community."
In other words the announcement means, Morales said, "we are declaring [Israel] a terrorist state."
Latin American Leaders Weigh In On Gaza Strip Attacks
According to the AFP news service, in three weeks of the offensive around 1,300 people have died and 6,000 have been wounded. The most recent incident to shake the international community was the unintentional Israeli shelling of a United Nations school, which caused 16 fatalities.
On Tuesday, three Latin American countries – El Salvador, Peru and Chile – all recalled their ambassadors from Tel Aviv, following the lead of Brazil and Ecuador, who did the same last week.
The Chilean Foreign Ministry issued a statement recalling ambassador Jorge Montero that read, "Chile notes with great concern and dismay that such military operations, which at this stage of development are subject to a collective punishment against the Palestinian civilian population in Gaza, do not respect fundamental rules of international humanitarian law."
On the same day, at a summit in Caracas, four of the five members of the Mercosur trade bloc – Argentina, Brazil, Uruguay and Venezuela, but not Paraguay – issued a statement condemning Israel for its "disproportionate use of force" in Gaza.
On Wednesday, a spokesman for the Israeli Foreign Minister, Yigal Palmor, expressed the country's "deep disappointment" over the diplomatic moves, saying, "This step constitutes encouragement for Hamas."
"Israel expects countries that oppose terrorism to act responsibly and not to hand terrorists a prize," he added.
Bolivia's Morales has not made a secret of his disapproval of Israel's policies. In 2009, the country broke off diplomatic relations over a previous military operation in the Gaza Strip.
And two weeks ago, he filed a request asking the U.N. High Commissioner for Human Rights to prosecute Israel for crimes against humanity.
Follow us on twitter.com/foxnewslatino
Like us at facebook.com/foxnewslatino