Boehner seeing his premiums double, deductibles triple under ObamaCare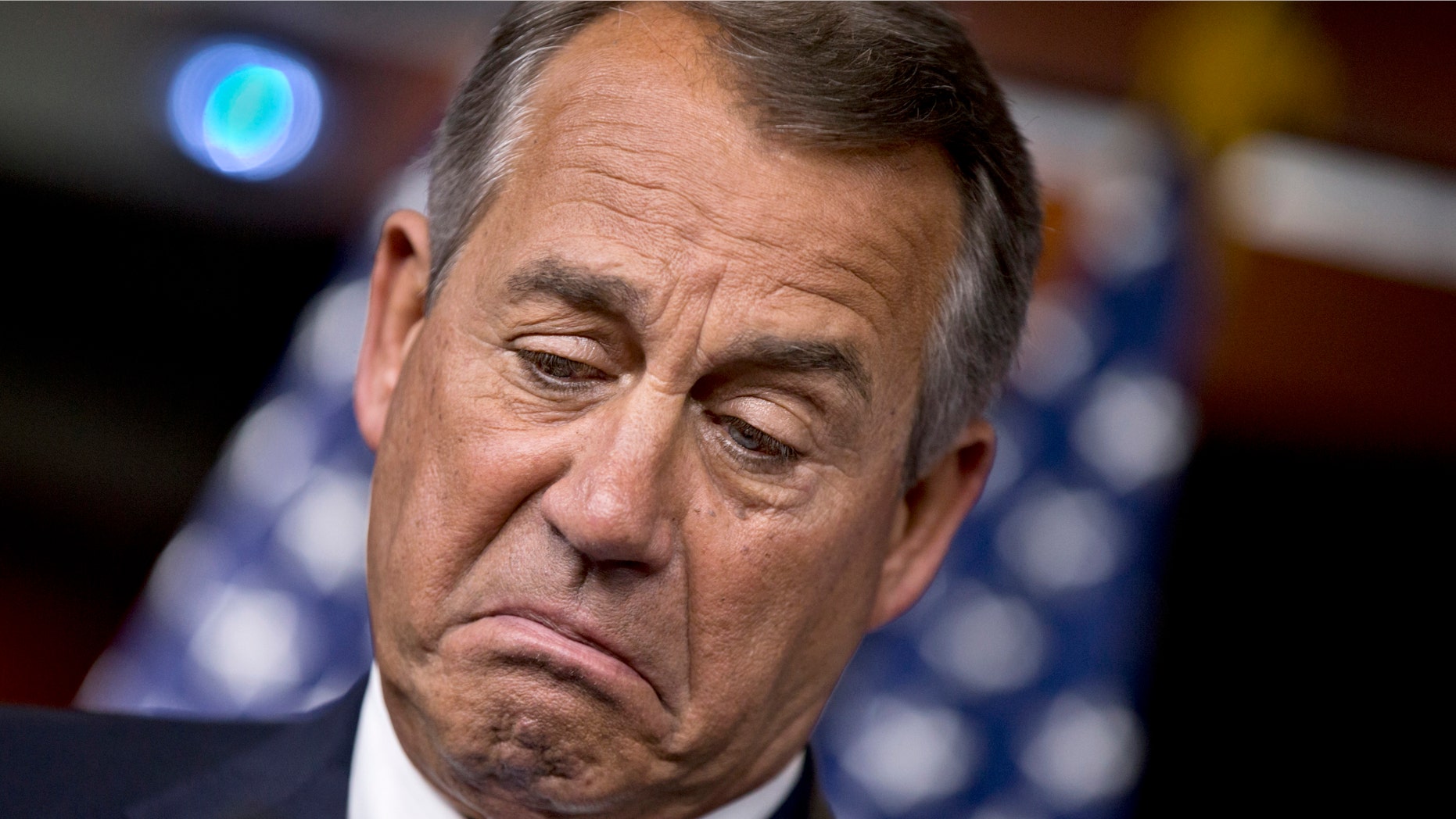 WASHINGTON – House Speaker John Boehner is finding out first hand some of the costly side effects associated with ObamaCare. The Ohio Republican signed up for coverage under the Affordable Care Act -- only to find his premiums would double and his deductibles would triple.
Boehner, along with congressional colleagues and aides, are transitioning to coverage via the Washington, D.C., exchange – called DC Health Link -- from the Federal Employees Health Benefits system as part of ObamaCare.
A spokesman for Boehner on Monday described his experience trying to sign up him and his wife for coverage. Turns out, under the new coverage, Boehner, 64, will be forced to fork over thousands of dollars more per year.
According to his office, Boehner compared options available and initially chose a plan similar to the one he and his wife currently have. The figures came out to $802 per month in premiums with a $2,000 deductible. The monthly premium calculates to an increase of 85 percent, his office said. Under their previous plan, the Boehners had a $433 monthly premium and a $700 deductible.
So the couple kept shopping around.
Because Boehner's wife Debbie will become Medicare-eligible next month, she had already applied for Medicare Part A, which is the program's premium-free hospital care program. However, to qualify for full coverage, she'd have to also enroll in Medicare Parts B and D or in Medicare Advantage, which groups together all Medicare benefits into one plan. Because of the Boehners' income, she'd have to pay up to $400 per month in Medicare premiums on top of additional deductibles, his office said.
The Boehners are still shopping around for the right Medicare plan, but have decided that Debbie Boehner should enroll in Medicare while the speaker has chosen an individual policy. The individual plan hiked Boehner's monthly premium to $449 and his deductible to $1,000.
Together with his wife's Medicare coverage, it still means the family is paying double for premiums and triple for their deductible.
Last week, Boehner took to social media to describe his issues with the D.C. exchange. However, Boehner was ultimately able to log on successfully and enroll and was contacted by a representative from the exchange an hour after he complained.
While the Boehners took their health care hunt public, his office has stressed the couple released the information only to show how expensive ObamaCare can be.
"Of course, the speaker and Mrs. Boehner are fortunate enough to be able to afford these higher costs," Brendan Buck, Boehner's spokesman said in a written statement. "They're not asking anyone to feel sorry for them. We stress that. We are only providing this information for the sake of transparency."