Boehner makes opening move in shutdown chess match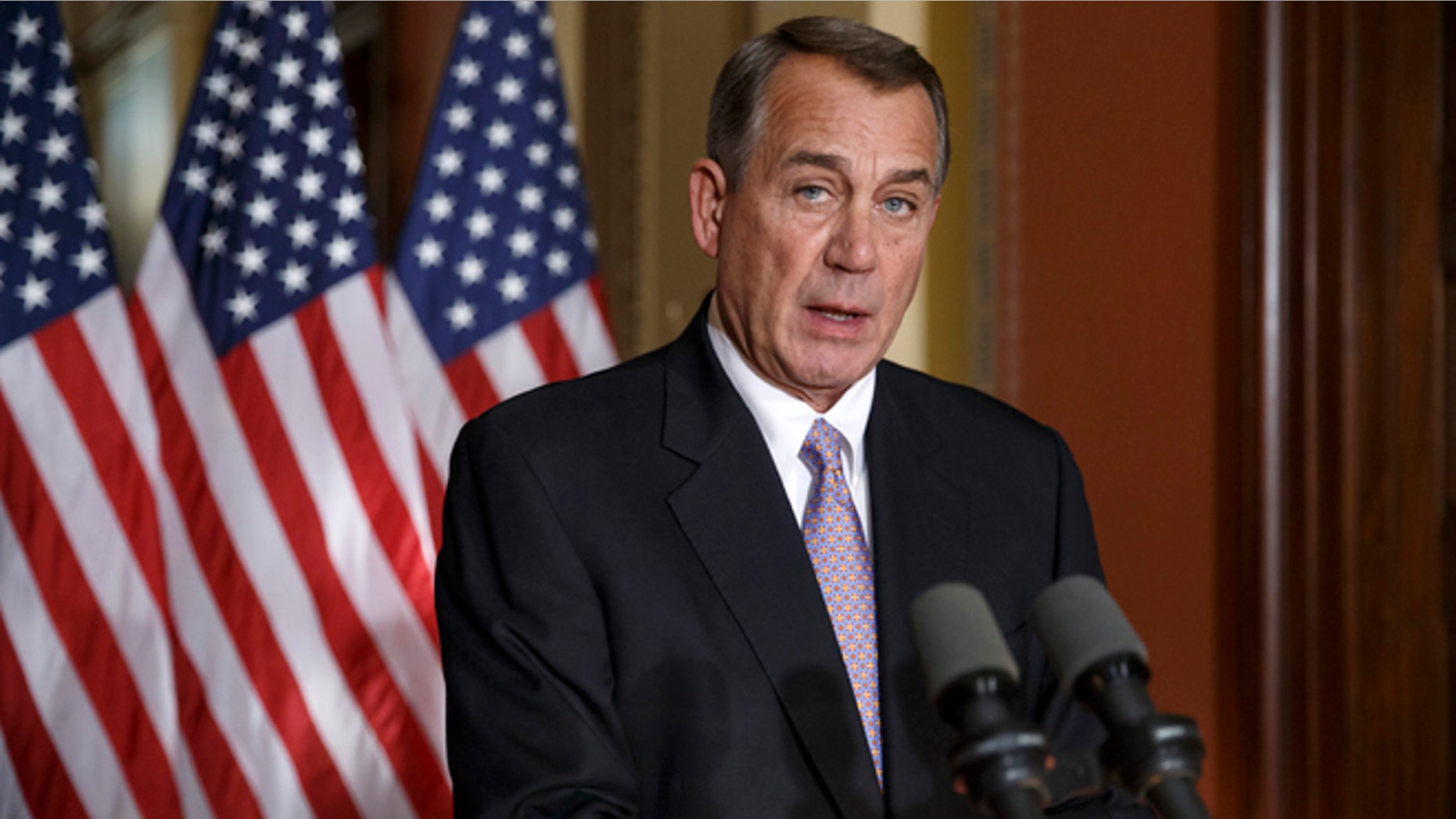 **Want FOX News First in your inbox every day? Sign up here.**
Buzz Cut:
• Boehner makes opening move in shutdown chess match
• Rand starts tricky tango on Senate, presidential runs
• Landrieu runs separate, unequal campaigns
• Baier Tracks: A contrast in coverage
• Make sure it's not occupied
BOEHNER MAKES OPENING MOVE IN SHUTDOWN CHESS MATCH
House Republicans huddle today to hear the plan from Speaker John Boehner and his team for how to block President Obama's move to grant temporary amnesty and work permits to an estimated 5 million illegal immigrants. The only tool at hand for the GOP is the budget process, which is chugging its way toward the next fiscal cliff on Dec. 11, when the current emergency funding measure expires. So how do Republicans block or blunt Obama's executive power play but not shut down most of the government? The plan, as leaked, is to have the House pass a 10-month extension of current spending levels for everything but the Department of Homeland Security, which would get a short-term extension, setting up a fight on that topic alone early next year. But there are lots of questions, one thorny one in particular: Why would the Senate, still in Democratic hands for the rest of the year, or President Obama go along with that?

["This has got to be one of the largest unconstitutional power grabs by any president ever. And leaving aside the immigration policy, which I think is horrific, the actual assault on the Article 1 powers of the Congress under the Constitution can't go unchallenged."  – House Judiciary Committee Chairman Bob Goodlatte, R-Va., on "The Kelly File" Watch here.]

What's next? - When it comes to shutdowns, the Democrats' view is "the worse the better." Limiting the scope of the fiscal freakout to just one portion of the government.is entirely counter to that doctrine, and Democrats clearly continue to see shutdowns as working to their political advantage. An administration that hurried to repel veterans from war memorials in the 2013 shutdown seems unlikely to embrace the idea of limited budget warfare, especially now that the president has staked so much on his executive action on immigration. But that's if the spending bill ever got to his desk. More likely, outgoing Senate Majority Leader Harry Reid & Co. would simply slam the door on the House-passed measure. Sure the GOP could just let the final 19 days of the year tick off and wait for Mitch McConnell to take the reins in the Senate, but that doesn't sound like a very merry Christmas for party leaders who have promised to keep the government open. Because of all that, what Boehner really will be offering today is an opening move in a nine-day chess match. His caucus' support for the plan will therefore depend on what his proposed counter measures would be.

[Homeland Security Secretary Jeh Johnson is testifying before the House Homeland Security Committee today.]

For auld lang syne: Reid offers a final Christmas threat - The Hill: "Senate Majority Leader Harry Reid warned senators that they might have to stay in session through the week of Dec. 15.  In comments on the floor, Reid said he hoped the Senate could avoid staying at work the week before Christmas, but warned an additional week of work was possible. 'We have a lot to do and not a lot of time to accomplish it,' Reid said. 'We might have to be here the week before Christmas, however Mr. President, not into the Christmas holiday.'"

STOPGAP TAX DEAL EMERGES AFTER OBAMA VETO THREAT
The Hill: "The House moved on Monday toward a vote to restore a slew of expired tax breaks, though only through the end of this year. The vote on a short-term extension, expected as soon as this week, would come after a veto threat from President Obama derailed a developing $400 billion deal between Senate Majority Leader Harry Reid and House Ways and Means Chairman Dave Camp [R-Mich.] that would have extended some expired tax breaks indefinitely, as well as others for two years. Republicans on both side of the Capitol suggested the move showed that a one-year deal was the only proposal with a chance of becoming law. The House posted its one-year deal to restore the expired provisions on Monday, setting up a vote on the measure as soon as Wednesday…House Republicans have warned for weeks that a one-year deal on the tax "extenders" would be the best they could do if lawmakers fell short on a broader deal, even though tax writers from both parties have said that such an agreement would make it difficult for companies and families to plan for 2015."

[Study: $17b tax hike from Obama Web rules - The Hill: "President Obama's call for the federal government to regulate broadband Internet service like a public utility would lead to a $17 billion tax hit for people in the United States, according to a new analysis [from a liberal think tank]."

Watchdogs, lapdogs or attack dogs? - WashEx is rolling out a series this week on the efficacy of federal inspectors general, the 1978 system imposed to defeat waste, fraud and abuse. The findings are none too encouraging. "In the past two years, IGs at a half-dozen Cabinet-level agencies have been accused of retaliating against whistleblowers or softening their findings to protect top department executives or the White House. Damning information about high-level misconduct has been scrubbed from recent IG reports at the Departments of State, Defense, Homeland Security, Interior and a slew of independent agencies, according to congressional reports and outside watchdog groups."

WITH YOUR SECOND CUP OF COFFEE...
As a Quaker, Lydia Darragh was supposed to be a pacifist. But the Dublin-born mother of five found herself thrust into war when the British occupied Philadelphia in 1777. British Gen. William Howe made his headquarters near Lydia's family, but with a growing need to make their plans for attack, Howe and his troops took over rooms in the Darragh family home as well. Little did they know this gave Lydia all the information she needed to warn George Washington and his troops of the impending attacks at Whitemarsh, a location approximately 8 miles away. Lydia said she needed flour as cover to get out of the British controlled Philadelphia. After reporting her secret information to the colonists, she purchased her flour and returned home. The British suspected a member of the Darragh family for leaking the information, but Lydia never revealed anything.

Got a TIP from the RIGHT or LEFT? Email FoxNewsFirst@FOXNEWS.COM

POLL CHECK
Real Clear Politics Averages
Obama Job Approval: Approve – 42.3 percent//Disapprove – 53.1 percent
Direction of Country: Right Direction – 27 percent//Wrong Track – 66.7 percent

RAND STARTS TRICKY TANGO ON SENATE, PRESIDENTIAL RUNS
Lexington [Ky.] Herald Leader: "U.S. Sen. Rand Paul [R-Ky.] is making a major campaign announcement Tuesday. Fresh off Thanksgiving break at his home in Bowling Green, Kentucky's junior senator will officially announce he is running in 2016 for a second term in the Senate. You were expecting something else? Paul, who is openly considering a presidential bid that same year, told the Herald-Leader in an interview Monday that while he was still 'four to six months' away from making a decision about a White House run, 'the one thing we've decided is that I'm definitely running for re-election.'"

Brush with the law? - Despite a few unsuccessful bids to change the law, Kentucky's prohibition against a candidate running for two offices on the same ballot means Rand Paul has a deadline of Jan. 26, 2016 to drop out of the Senate contest if he decides on a simultaneous bid for the White House. As he continues to mull a presidential run, Paul's Senate bid has the strong support of fellow Kentucky Sen. Mitch McConnell, who owes Paul payback for his support against a midterm Tea Party challenger.

[National Journal takes a look inside Rand Paul's multi-pronged strategy to enable a run for both the Senate and the White House.]

Veepstakes frontrunner - Dayton Daily News: "Sen. Rob Portman [R-Ohio] will not run for president in 2016, saying that he will seek another term as U.S. senator from Ohio instead. Announcing his decision to a small group of Ohio reporters in his Capitol Hill office Monday, Portman said he decided to remain in the Senate because he felt energized by the new GOP Senate majority, saying 'there is a good chance for us to do something' on a broad array of issues, such as overhauling the tax code and expanding international trade…Although Portman said he was 'not interested' in being a vice presidential candidate for the eventual Republican nominee, he did not flatly rule out being on the ticket in 2016.…Portman's decision will now shine increased spotlight on the other Ohio contender, [Former Gov. John] Kasich, who drew positive attention last month after an appearance at the Republican Governors Association conference in Florida."

"With the new Republican majority, I see a real opportunity over the next two years to break the gridlock in Washington and actually get things done to help Ohioans and all Americans.  That's where I believe I can play the most constructive role. "I don't think I can run for president and be an effective senator at the same time."–Sen. Rob Portman, R-Ohio, in a statement today.

[Sen. Rob Portman, R-Ohio, and Sen. Rand Paul, R-Ky., will be among the featured speakers at today's WSJ Annual CEO Council Meeting in Washington D.C.]

Jeb: 2016 decision 'in short order' - WSJ: "Former Florida Gov. Jeb Bush on Monday said he is nearing a decision on whether to run for president and laid out a governing blueprint that could serve as the underpinnings of a 2016 campaign platform. Mr. Bush, addressing The Wall Street Journal CEO Council annual meeting, ticked off his priorities: an "all-in" energy policy that expands the use of the nation's natural resources; a reduction in business regulations; a simpler tax code; an "economically driven" overhaul of the immigration system; and a "radical transformation'' of the education system…Mr. Bush said he would make up his mind "in short order" about running for president in 2016. His decision, he said, will rest on whether he has "the skills to do it in a way that tries to lift people's spirits and not get sucked into the vortex." "I don't know if I would be a good candidate or a bad candidate, but I know how a Republican could win," Mr. Bush said, adding that voters are looking for an "uplifting, much more positive" message."

[Blocking Bush - National Journal examines gathering conservative opposition to a Jeb Bush run.]

Cruz swoops for hawks today - With an eye on burnishing his foreign policy bona fides ahead of a potential 2016 run, Sen. Ted Cruz, R-Texas, will deliver the keynote address at a policy forum hosted by Concerned Veterans for America and The Weekly Standard in Washington today. Entitled "What Should Modern American Foreign Policy Look Like?" topics for discussion will cover U.S. national security and foreign policy including ISIS, the Middle East and relationships with Russia and China. Other speakers include Rep. Adam Kinzinger, R-Ill., Rep. Tom McClintock, R-Calif., Pete Hegseth, CEO of Concerned Veterans for America and Bill Kristol, Editor of The Weekly Standard. Watch the forum live here starting at 12PM ET.

[Poll puts Mitt on top - Mitt Romney leads the field of potential GOP 2016 nominees according to a new poll from CNN/ORC. Romney was the first choice of 20 percent of respondents, followed by a tight pack with Dr. Ben Carson at 10 percent, former Florida Gov. Jeb Bush at 9 percent, New Jersey Gov. Chris Christie, 8 percent, former Arkansas Gov. Mike Huckabee, 7 percent and Kentucky Sen. Rand Paul, who polled at 6 percent.]

HILLARY SCHMOOZES PIPELINE FRIENDS AND FOES
The Keystone XL Pipeline found no part in 2016 frontrunner Hillary Clinton's address to an environmental group that fiercely opposes the project Monday evening. ABC News: "At a fundraising dinner for the League of Conservation Voters, Clinton spent most of her speech expressing support for the president's environmental policies, the need to stay vigilant in combating climate change and the risks around natural gas drilling, but she ignored the pipeline. The group has worked to kill its construction….[Clinton] praised the 'unprecedented action' President Obama has taken on climate change saying it 'must be protected at all costs.'…The decision to ignore Keystone was especially interesting because earlier Monday evening she appeared at a New York City fundraiser for Democratic Sen. Mary Landrieu who is in a tough run-off in Louisiana…Clinton has said since she oversaw the permitting process for the project it would be inappropriate for her to state her position."

Cook: You heard wrong, Hillary's (probably) running - Veteran political analyst Charlie Cook is pushing back on a report by the Kansas City Star that he put Hillary Clinton's chances at running at just 25 to 30 percent. "'I have never said that the odds of her running were less than 60%,' [Cook told MSNBC] 'Clearly this person misheard me.'… Kansas City Star columnist Steve Rose, who reported Cook's remarks at [a] private dinner in Kansas City, told msnbc he apologized to Cook for getting the quote wrong."
[But then again - FiveThirtyEight took off on Cook's mis-reported low estimate of a Hillary bid to point out that deteriorating poll numbers and a Republican-leaning political environment might persuade the frontrunner to bail out: "Clinton…no longer looks like such a juggernaut. Not only are her numbers dropping, but she is running on par with a Democratic brand in its weakest shape in a decade."]

Hillary, Sheriff Joe audition for Israeli mega donor - The Hill: "Hillary Clinton and Vice President [Joe] Biden will be among the attendees at a Washington forum on Israeli-U.S. relations this weekend. Both will speak to the Saban Forum, an annual event organized by the Brookings Institution and entertainment mogul Haim Saban. Saban is also a major political donor who has pledged to support the former secretary of State should she run for president in 2016."

Being 'dead broke' will change a person - WaPo: "[Hillary Clinton] has added several speeches to her January and February schedule, indicating that the likely 2016 presidential candidate will continue her lucrative paid speaking career into the New Year. As her advisers and supporters prepare for her likely presidential campaign, Clinton is set to deliver two speeches in Canada [Jan. 21] at events sponsored by the Canadian Imperial Bank of Commerce. She also is scheduled to address the Watermark Silicon Valley Conference for Women on Feb. 24…."

HOLDER ANNOUNCES NEW RULES FOR COPS ON RACIAL PROFILING
President Obama met with Al Sharpton and other advisers on civil rights and law enforcement to call for a continued dialogue on policing minority communities amid ongoing protests over a police shooting of an African American suspect this summer in suburban St. Louis. But the real action was in Atlanta, where Attorney General Eric Holder spoke at Martin Luther King's Ebenezer Baptist Church to announce new restrictions on law enforcement agencies, rules he called "robust safeguards to help end racial profiling, once and for all." Holder invoked the Missouri shooting, saying the situation, "presents this nation a really unique opportunity" to address "issues that have for too long been ignored." But it is unclear how the new restrictions, which expand on rules first imposed during the Bush administration, would have prevented the shooting which involved an officer trying to detain a specific suspect from a convenience store robbery.

But what will we call Theodore Roosevelt Island and the Woodrow Wilson Bridge? - Local news site Bethesda Now reports that a group of residents of the tony Chevy Chase neighborhood of the District of Columbia are seeking to strip Francis Griffith Newlands' name from the fountain in the traffic circle at the border between the district and Chevy Chase, Md. Newlands, a Democratic senator from Nevada from 1903 until his death in 1917, was the original developer of the neighborhood. He and his partners included racially restrictive land covenants that were common for the new "streetcar" suburbs of a century ago. The resolution says the name does not reflect a community that is "open, tolerant, and inclusive in every respect."

LANDRIEU RUNS SEPARATE, UNEQUAL CAMPAIGNS
Did you hear? President Obama offered a full-throated endorsement of embattled Democratic Sen. Mary Landrieu, D-La., in her Saturday runoff election with challenger Rep. Bill Cassidy, R-La. The reason you probably haven't heard is that Landrieu, who got in big trouble for blaming her unpopularity on racist and sexist voters, is running two separate campaigns: one for white voters and another one for black voters. James Hohmann offers his take: "Depending on whose vote she's after, Mary Landrieu either stands with Barack Obama — or hardly knows the guy The Louisiana Democrat, who is trailing in the polls ahead of Saturday's Senate runoff, has been quietly running ads on urban radio stations that criticize the GOP's treatment of the country's first black president, while her aides and surrogates have boasted to predominantly black audiences of how often she's supported him. Meanwhile, when addressing mostly white audiences, Landrieu has been adamant that the election has nothing to do with Obama, and that she can think for herself. 'He's not for Keystone; I am,' she said during a televised debate Monday night. 'He shut down oil and gas drilling; we all are for it.'"

[Ducking the polls? - Quin Hillyer points out a scheduling conflict for Saturday's vote: "This is a real concern: Sportsmen are seen as a largely Republican constituency, and the runoff takes place on Louisiana's last duck-hunting weekend and the first day of deer hunting. Cassidy's campaign must keep hunters from assuming they don't need to vote because his victory is in the bag.'"]

All the auguries are bad for Landrieu - National Journal: "White early voting turnout dropped 3% compared to the early vote in the Nov. 3 primary, but the number of early votes cast by African-Americans -- Landrieu's base voters -- has plummeted by 24%. Women's early votes have fallen off more than men's. And while about 18% fewer Democrats have cast early ballots ahead of the runoff, over 3% more Republicans have cast early votes than before Nov. 3."

BAIER TRACKS: A CONTRAST IN COVERAGE…
"Sometimes there are stories that shine a bright spotlight on where the mainstream media would rather focus their attention.  Case in point: Elizabeth Lauten, a staffer for a Republican Congressman who resigned Monday after comments she posted about the first daughters. She mocked Sasha and Malia on Facebook for their demeanor and attire at the annual turkey pardon, typing that they should 'try showing a little class' referring to their appearance. While it's general practice in Washington that any personal criticism of the president's children is off limits, two things are notable: 1) the speed of the outrage and then her resignation and 2) how much coverage this staffer and her Facebook post received in the media.  A segment on broadcast network news shows (30-minute programs that these days seem to have precious little time for Washington stories), front page treatment in the Washington Post,  A16 in the New York Times and multiple segments on cable news yesterday and today. Contrast that to the coverage of Obamacare architect Jonathan Gruber's unearthed video comments about how the law was formed thanks to the "stupidity of the American voter" and other clips. Some news organizations have yet to do a full story on Gruber, even ahead of his testimony on Capitol Hill. Again, some stories tell us more than just what's written inside them." – Bret Baier.

MAKE SURE IT'S NOT OCCUPIED
At best porta potties are an eyesore for most people, but the Detroit Free Press reports on a group of Michigan rocketry hobbyists who see things a little differently. After some modifications, the group, Thrusting the Throne, plans to launch the porta potty rocket into the sky. The "throne" is aiming to fly between 2,500 and 3,000 feet, an altitude so high, the group has gotten a permit from the Federal Aviation Administration. Larry Kingman and his fellow rocket scientists have retrofitted the lavatory to become more aerodynamic for the flight, saying, "There's actually a very substantial aluminum airframe that we've built that has motor mounts in the center of it, so we'll have a cluster of seven motors in the middle. Truly, we're not just taping rocket motors to a Porta Potty." Now as rocket enthusiasts, Kingman and his group knows that what goes up must come down so the porta potty is fitted with two sky diving parachutes designed to direct it to land within vicinity of the launch pad.

AND NOW, A WORD FROM CHARLES…
"I understand the pent up anger and the rage over the president's unconstitutional action, but the cure for that is to go see a psychiatrist not to vote in the Congress and shut down the government." – Charles Krauthammer on "Special Report with Bret Baier" Watch here.

Chris Stirewalt is digital politics editor for Fox News.  Want FOX News First in your inbox every day? Sign up here.