Boehner faces conservative backlash over tax proposal, even as Dems resist offer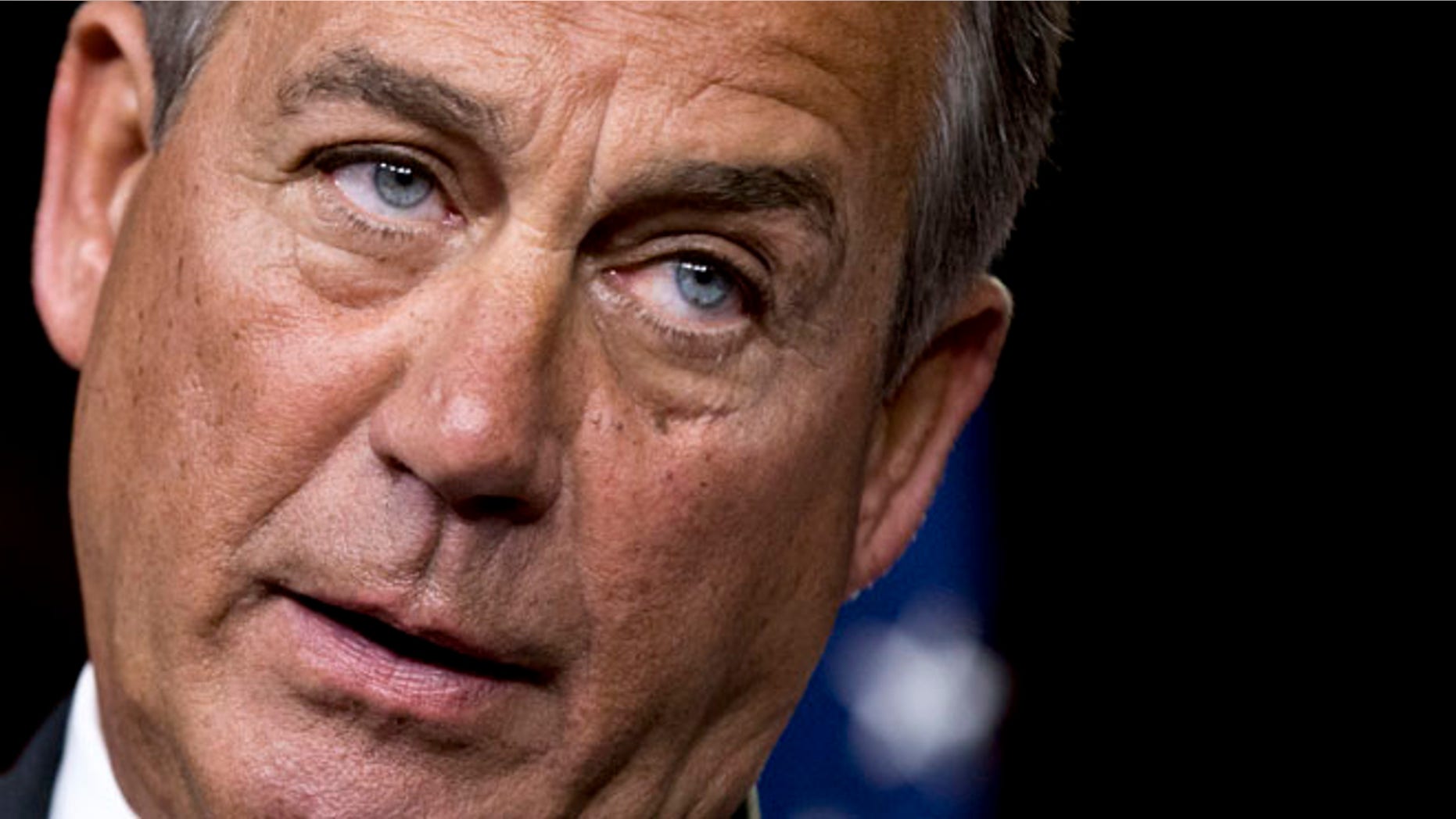 Conservatives in both chambers are already starting to pounce on House Speaker John Boehner's fiscal crisis counter-proposal, in a sign of the political risk the speaker took by calling for $800 billion in new tax revenue -- though that proposal was rebuffed by President Obama.
Tea Party-aligned conservative South Carolina Sen. Jim DeMint said Tuesday that the House Republicans' plan "will destroy American jobs and allow politicians in Washington to spend even more."
On the House side, Rep. Louie Gohmert, R-Texas, said Boehner's proposal was "not a good place to start." Meanwhile, conservative think tanks and advocacy groups like the Heritage Foundation voiced similar skepticism.
Still, despite taking heat from his own rank-and-file, Boehner's plan was rejected outright by the White House. President Obama, in an interview Tuesday with Bloomberg, called the plan "out of balance" and stressed that any deal to avert the looming fiscal crisis must include an increase in tax rates for top earners.
"Rates are going up, they have to go up," White House Press Secretary Jay Carney echoed. In a taunt to Republicans, he panned their offer as "magic beans and fairy dust."
The insistence on rate increases returns the debate to where it's been for months, and underscores the stalemate on Capitol Hill with less than a month before taxes are set to rise on all Americans. Obama wants tax rates for rise for the top 2 percent, while Republicans adamantly oppose this.
House Democratic Whip Steny Hoyer, in a cryptic statement, suggested Tuesday that progress would be made imminently behind the scenes. "In the next few days ... we will see substantive movement in private to get this done," he said.
But on the House floor Tuesday, something a bit less substantive was playing out.
House Democratic Leader Nancy Pelosi pushed Tuesday for a vote on the Senate-passed bill that would extend current tax rates for middle-class families while letting rates rise for the top 2 percent. Republicans, who want to preserve the rates for everybody, have opposed this -- and Pelosi's effort is unlikely to succeed for several reasons.
First, she would need to find 218 supporters, including 27 Republicans. And even if she is somehow able to muster that bipartisan support, congressional rules could delay a vote until next year -- by which point the shelf life on the procedural maneuver Pelosi is trying to employ would have expired.
Pelosi and Hoyer both suggested they might feasibly be able to call a vote by the end of the month. But the push also, and perhaps more importantly, served as a forum for Pelosi to try and embarrass Republicans.
"We only need a couple-dozen Republicans," she said on the floor Tuesday, calling on them to back the push for a vote "or explain to your constituents why you do not want them to have this $2,000 tax break."
The Republican counter-offer includes $800 billion in revenue through tax reform; $600 billion in health savings; $300 billion in other entitlement savings; and another $300 billion in savings elsewhere in the discretionary federal budget.
The White House panned the proposal as vague and lacking a tax rate hike.
Republicans were similarly fuming last week over the president's call for $1.6 trillion in tax hikes -- four times the value of his proposed spending cuts.
The administration's latest proposal includes roughly $600 billion in spending cuts. Those cuts, however, would be offset by $200 billion in proposed stimulus and other spending programs.
In a letter to Obama on Monday, House Republicans said they "cannot in good conscience agree" to the president's proposal, which was unveiled last week by Treasury Secretary Timothy Geithner, calling it "neither balanced nor realistic."