Blumenthal Takes Populist Approach in Lively Debate With McMahon the CEO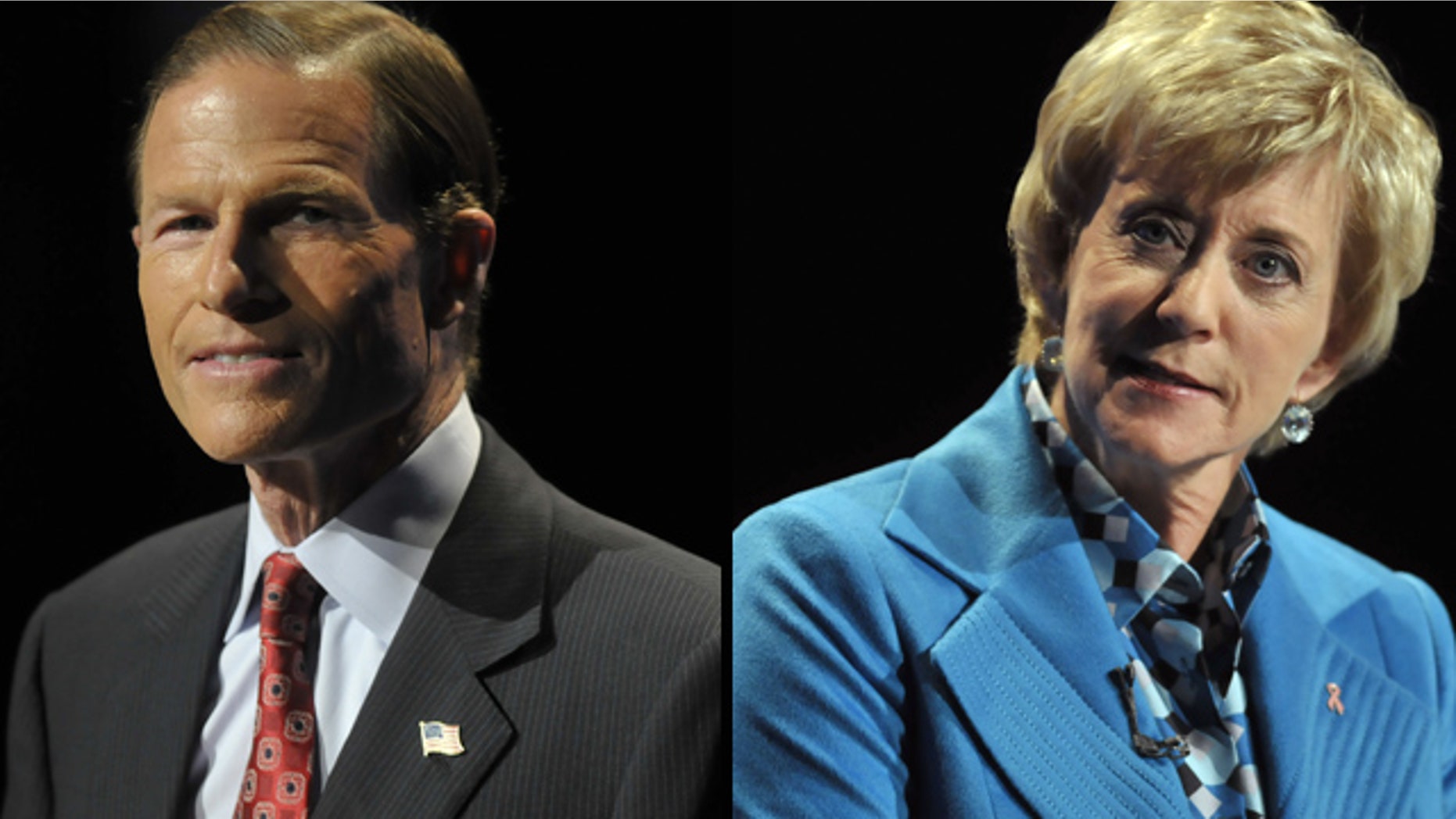 HARTFORD, Conn. -- The New York Yankees, thin-crust pizza, the death penalty and Chris Dodd's future -- that's what Connecticut Attorney General Richard Blumenthal and World Wrestling Entertainment chief Linda McMahon agree on.
As for the rest -- the two candidates vying to replace Dodd in the U.S. Senate could find very few other areas for cooperation during Monday night's debate hosted by Fox Connecticut and the Hartford Courant. Fox News' Bret Baier participated as moderator.
Even when asked to find a point of agreement with the other side, McMahon struggled to pin down a positive about her opponent.
Calling Blumenthal a lifelong government employee, she said that her Democratic counterpart should understand that CEOs are successful because they give a little to get a little. Otherwise, "you are going to wind up at the negotiating table or back in court."
Blumenthal, appealing to working families, said he can agree with Republicans who opposed the Troubled Assets Relief Program -- or TARP -- which Blumenthal called a boon to Wall Street at the expense of Main Street.
"Connecticut is a small state but I've boxed above my weight by reaching out to Republicans as well as Democrats," Blumenthal said, adding that Washington isn't listening because it suffers from too much acrimony and partisanship. He said he would "bring the qualities of leadership that my opponent has never shown" by working for the public interest by standing up to special interests.
"Would those be the special interests funding your campaign?" McMahon asked, noting that she would have voted for TARP "holding my nose" because when the treasury secretary says it's time to do something or collapse "we move."
The Republican candidate, who has closed a 40-point gap in polls from January to just 3 percentage points before the debate, said while Blumenthal was working in government, she created jobs -- more than 600 in the state of Connecticut. McMahon noted that she has gone bust and rebuilt, experienced the disappointment of having to lay off workers in order to strengthen a company for future growth.
She said she has used tax incentives and hard work to grow WWE, adding that it provides health and accident coverage for its independent contracting wrestlers. Blumenthal questioned why she would support jobs offshore by purchasing products from overseas manufacturers and how come her company is under investigation for allegedly misclassifying workers to avoid tax payments.
McMahon questioned why that probe started after she joined the Senate race against the state's top cop. Blumenthal responded that he's in civil law, not criminal.
But a sign of just how nasty the debate would be occurred hours earlier, when McMahon released a TV ad featuring clips of Blumenthal appearing to suggest he served in Vietnam rather than stateside, as a member of the Marine Reserve.
Over the weekend, Blumenthal began airing an ad that suggested McMahon would be willing to lower the current minimum wage to help struggling businesses. McMahon called that a lie and said she said nothing different than Blumenthal, which is that the way minimum wage is determined needs to be reviewed.
Blumenthal issued a mea culpa for misrepresenting his service, saying he never intended to suggest he was actually on the ground in Vietnam.
Monday marked the first face-to-face debate between the two candidates, who also sparred over the new health care law and an extension of Bush-era tax cuts. Blumenthal said McMahon was holding the middle class hostage to tax increases by insisting top income earners get an extension of their current rates.
McMahon said Republicans were not allowed at the negotiating table on health care and called remaining stimulus money a waste that should be redirected to paying down the debt.
As for the Tea Parties, McMahon said she would like to work with them in areas where they "find common ground" like smaller government, fewer taxes and deficit reduction.
Blumenthal said he understands that Americans are angry and the Tea Party's views reflect that anger. He said he wants to go to Washington to make sure that Washington listens to the people. But Blumenthal said he would pledge not to adjust Social Security and Medicare payments in the future, a position that may find him at odds with Tea Parties.