Bin Laden son put on US terror list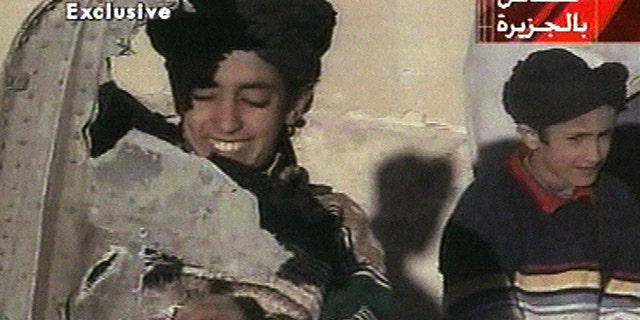 The Obama administration Thursday added the son of Al-Qaeda founder and September 11th mastermind Usama bin Laden to a terror list, marking the 239th terrorist designation from the State Department since 2012, a State Department spokesperson told Fox News.
The State Department designated Hamza bin Laden, 27, as a Specially Designated Global Terrorist (SDGT), which imposes sanctions on foreign people thought to have committed or pose a serious risk of committing acts of terrorism that threaten U.S. national security, foreign policy, or the economy of the United States.
Al-Qaeda senior leader Ayman al-Zawahiri earlier announced Hazma bin Laden as an official member of the terrorist group, according to a 2015 audio message obtained by the State Department. That message also contains bin Laden threatening revenge against the United States—specifically calling for lone wolf attacks against Washington D.C., Paris, and Tel Aviv.
FOUR GUANTANAMO DETAINEES TRANSFERRING TO SAUDI ARABIA, AS PART OF FINAL WAVE
The State Department said that in 2016, bin Laden called on Saudi Arabian-based tribes to unite with Al-Qaeda's affiliate in Yemen to "wage war" against the Kingdom of Saudi Arabia.
"Hamza bin Laden was designated under Executive Order 13224 because he fits the criteria for a terrorist designation," Rhonda Shore, spokesperson for the Bureau of Counterterrorism and Countering Violent Extremism at the State Department, told Fox News. "On July 9, 2016, al-Qa'ida issued another audio message from Hamza bin Laden threatening revenge against the United States and warned Americans they would be targeted in the United States and abroad."
When asked why bin Laden was just designated a terrorist on Thursday if the Obama administration had intelligence regarding his terrorism ties as far back as 2015, a State Department spokesperson told Fox News that records of this kind can take extensive time to prepare, and designations of terrorists are typically a multi-month process involving not only the secretary of State and the State Department, but the Secretary of Treasury and the Office of Foreign Assets Control within the Department of the Treasury.
'REAL HOUSEWIVES OF ISIS' TV SKETCH FACES BACKLASH
According to the spokesperson, terrorist designations are used to expose and isolate organizations and individuals, while imposing serious sanctions on them, and enabling coordinated action across the U.S. government, and internationally, to disrupt the activity of terrorists, such as denying them access to the U.S. financial systems, and enabling U.S. law enforcement actions.
The State Department is calling the move a "powerful tool," and a measure to notify the U.S. public and international community that bin Laden is "actively engaged in terrorism."
The Office of the Director of National Intelligence and the National Counterterrorism Center did not immediately respond to Fox News' request for comment regarding the whereabouts of Hamza bin Laden.