Billionaire Ross Perot, who ran twice for president, dead at 89
NEWYou can now listen to Fox News articles!
Self-made billionaire Ross Perot, who ran for president in 1992 and 1996, has died at age 89 after a five-month battle with leukemia, the Dallas Morning News reported.
Perot, who won19 percent of the vote as a third-party candidate in 1992, died early Tuesday at his home in Dallas surrounded by his family, family spokesman James Fuller said. The native-born Texan, who made his billions by founding Electronic Data Systems Corp., was seen by admirers as a patriot who served his country well before his two failed bids for the White House. In 1979, he financed a private commando raid to free two EDS employees being held in a prison in Iran. He was also a tireless advocate for Vietnam veterans.
In 1992, Perot spent more than $60 million of his own money to run against incumbent President George H.W. Bush and challenger Bill Clinton, promising to bring his business acumen to the nation's finances. Some Republicans blamed him for Bush's loss, noting he pulled the largest percentage of votes for a third-party candidate since former President Theodore Roosevelt's 1912 bid.
Perot's second campaign four years later fizzled, as he gathered just 8 percent of the vote, and the Reform Party that he founded and hoped to build into a national political force began to fall apart.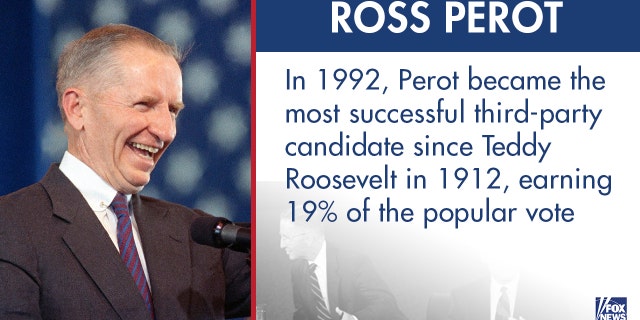 However, Perot's ideas on trade and deficit reduction remained part of the political landscape. He blamed both major parties for running up a huge federal budget deficit and letting American jobs to be sent to other countries. The movement of U.S. jobs to Mexico, he said, created a "giant sucking sound."
Perot continued to speak out about federal spending for many years. In 2008, he launched a website to highlight the nation's debt with a ticker that tracked the rising total, a blog and a chart presentation.
Henry Ross Perot was born in Texarkana on June 27, 1930. His father was a cotton broker; his mother a secretary. Perot said his family survived the Depression relatively well through hard work and by managing their money carefully.
Young Perot's first job was delivering papers in a poor, mostly black part of town from his pony, Miss Bee. Perot said when the newspaper tried to cut his commission, he complained to the publisher — and won. He said he learned to take problems straight to the top.
From Texarkana, Perot went to the U.S. Naval Academy even though he had never been on a ship or seen the ocean. After the Navy, Perot joined International Business Machines in 1955 and quickly became a top salesman. In his last year at IBM, he filled his sales quota for the year in January.
In 1962, with $1,000 from his wife, Margot, Perot founded Electronic Data Systems. Hardware accounted for about 80% of the computer business, Perot said, and IBM wasn't interested in the other 20%, including services.
Ross Perot is shown in this Oct. 30, 1968, file photo, as Electronic Data Systems Corp. chairman. In 1984 Perot, founder of EDS, sold his company to GM for $2.5 billion. (Photo: Associated Press)
Many of the early hires at EDS were former military men, and they had to abide by Perot's strict dress code — white shirts, ties, no beards or mustaches — and long work days. Many had crew cuts, like Perot.
The company's big break came in the mid-1960s when the federal government created Medicare and Medicaid, the health programs for seniors, the disabled and the poor. States needed help in running the programs, and EDS won contracts — starting in Texas — to handle the millions of claims.
EDS first sold stock to the public in 1968, and overnight, Perot was worth $350 million. His fortune doubled and tripled as the stock price rose steadily.
In 1984, he sold control of the company to General Motors Corp. for $2.5 billion and received $700 million in a buyout. In 2008, EDS was sold to Hewlett-Packard Co.
Perot went on to establish another computer-services company, Perot Systems Corp. He retired as CEO in 2000 and was succeeded by his son, Ross Perot Jr. In 2009, Dell Inc. bought Perot Systems.
In September 2011, Forbes magazine estimated Perot's wealth at $3.5 billion and ranked him No. 91 on its list of richest Americans.
The Associated Press contributed to this report