Biden says US, Turkey prepared for military solution against ISIS in Syria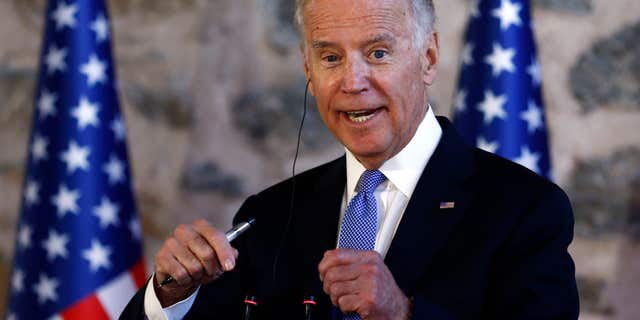 NEWYou can now listen to Fox News articles!
Vice President Joe Biden said Saturday the U.S. and Turkey are prepared for a military solution against ISIS in Syria should the Syrian government and rebel-opposition forces fail to reach a peace agreement during its upcoming meeting in Geneva.
The next round of Syrian peace talks are scheduled to take place Monday, but are at risk of being postponed over a dispute over who will comprise the opposition delegation, according to Reuters. Syrian rebels said they hold the Syrian government and Russia responsible should the peace talks fail to bring an end to the civil war that has torn the country completely apart.
"We do know it would better if we can reach a political solution but we are prepared ..., if that's not possible, to have a military solution to this operation in taking out Daesh," Biden said at a news conference after a meeting with Prime Minister Ahmet Davutoglu.
A U.S. official later told Reuters that Biden's comment was talking about a military solution to defeating Islamic State, not Syria as a whole. Biden said he and Dabutoglu have also discussed how both the U.S. and Turkey can support Sunni Arab forces fighting to force out Syrian President Bashar al-Assad.
He also met with Turkish President Tayyip Erdogan, capping a two-day visit to Istanbul focused on boosting the fight against ISIS militants and trying to resolve the Syrian crisis.
U.S. has backed Syrian rebels with Special Forces soldiers to help train them. Washington is also conducting air strikes against ISIS, which holds large swaths of Syria and Iraq.
Secretary of State John Kerry also said Saturday he was confident Syria peace talks would proceed. Kerry met with Riad Hijab, chair of the Syrian opposition's High Negotiations Committee and other delegates representing the Syrian opposition.
"They discussed the upcoming U.N.-sponsored negotiations regarding a political transition in Syria and all agreed on the urgent need to end the violence afflicting the Syrian people," State Department spokesman John Kirby said.
Kerry emphasized how important it is to maintain the momentum of the International Syria Support Group, a group of big world and regional powers backing peace efforts in the war-torn nation, Kirby said.
Biden also offered his condolences over a Jan. 12 terror attack that killed 12 German tourists in Istanbul. The Turkish authorities say the suicide bomber was linked to the Islamic State.
"We have a robust operation and commitment to defeat ISIL," said Biden, crediting Turkey for increasing efforts to secure its 550-mile border with Syria, as well as allowing anti-IS coalition aircraft to use Turkish bases for bombing runs against IS targets.
Biden also acknowledged the threat that Kurdish militants pose to Turkey, calling the PKK, or Kurdistan Workers' Party, "a terrorist group plain and simple." Ankara views its war on terror as a two-prong effort focused on Kurdish militants and IS jihadists who have established cells in Turkey and use the country as a gateway to Syria.
The Associated Press contributed to this report.