Ben Sasse: Jeff Flake's donation to Doug Jones is a 'bad idea'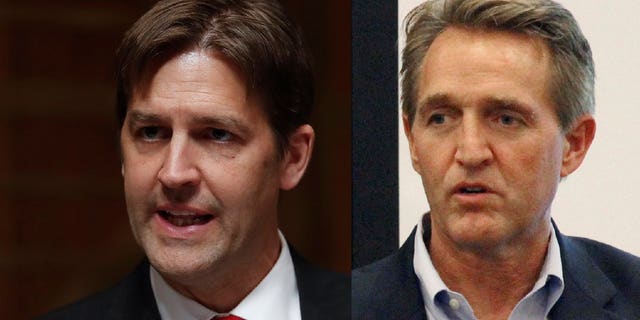 Sen. Ben Sasse, R-Neb., condemned his colleague Sen. Jeff Flake writing a $100 check to Democrat Doug Jones to help him in the contest for Alabama's vacant U.S. Senate against embattled Republican Roy Moore.
"This donation is a bad idea," Sasse tweeted Tuesday. "It's possible to be against BOTH partial birth abortion AND child molestation. Happily, most Americans are."
Moore faces several accusations of sexual impropriety with teenage girls when he was in his 30s. He denies the allegations.
When a Twitter user asked for Sasse's solution to the tough choice Alabamians face in the Dec. 12 special election, the Nebraska senator replied: "Have said from day one I wouldn't vote for either of them. If you don't reject 2 bad choices now, you won't get better choices in the future."
Read more at WashingtonExaminer.com