Ben Carson has sold nearly as many books as Hillary Clinton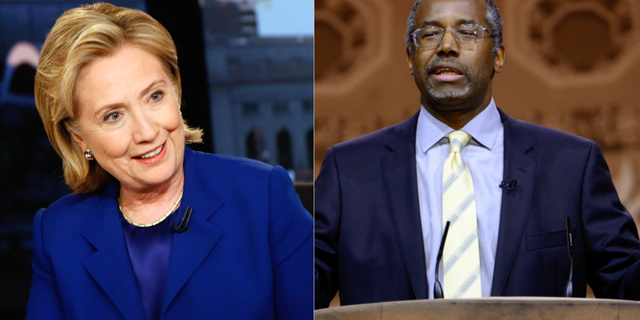 In a book battle between two potential 2016 presidential contenders, the result is, surprisingly, nearly a draw.
Despite all the hype behind her recently released book, Hillary Clinton's "Hard Choices" is only narrowly edging Ben Carson's "One Nation" in book sales, according to Nielsen Bookscan figures provided to The Daily Caller for the week ending July 6.
Clinton has sold 177,000 books so far, while Carson has sold 162,000 books, according to Nielsen, which says its survey "currently covers approximately 85 percent of the print book market."
Slate's Dave Weigel was the first to note the surprising closeness of the Clinton-Carson book sales numbers.
Clinton was reportedly given a $14 million advance for her memoir of her time as secretary of state, the second highest advance in history. Carson's book advance has not been reported, but despite being a successful author of several previous books, it was almost certainly magnitudes lower than Hillary's.
Carson's book, which was officially released May 20, has been on the market a little longer than Clinton's book, which was released June 10. But considering the massive campaign behind Hillary's memoir, the fact that Hillary's book sales have tapered off so significantly has to be tremendously disappointing to Clinton's publisher Simon & Schuster, especially given all the money they shelled out to her.
Though incredibly unlikely, Clinton and Carson could find themselves facing off on a different terrain in 2016. Clinton is widely seen as the front-runner for the Democratic presidential nomination should she decide to run. Carson, a retired neurosurgeon who has become a popular figure among conservatives, has suggested he is considering a 2016 presidential run himself.