Barbara Bush's 'heroic act' saved my life nearly 60 years ago, Texas woman says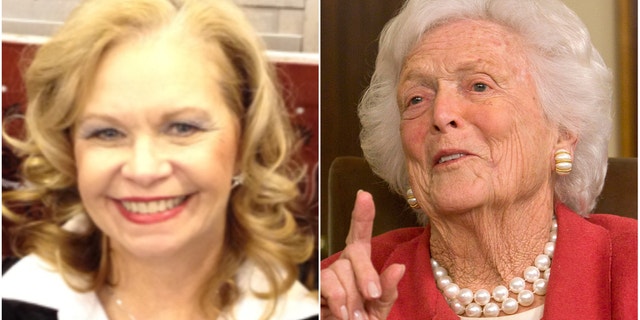 For years, Donna Abert Andrich has held onto a letter addressed to Barbara Bush. She wanted to thank the former first lady for saving her life when she was just 5 years old — but she never knew how to reach her.
The now retired middle school art teacher from Aldine ISD in Houston, Texas, briefly crossed paths with the Bushes back in 1959 when they were staying at a luxury apartment in Houston, located on Del Monte Drive. Several well-known people stayed at the short-term housing complex before moving into their new homes.
"You, George and your children had just moved to Houston from Midland and were waiting for your house to be ready," Andrich wrote in the 2014 letter provided to Fox News.
The apartment complex had a courtyard and large pool, where tenants enjoyed playing water volleyball under the hot Texan sun. Andrich, who was born just two days apart from Bush's son, Jeb, recalled watching the adults from the shallow end of the pool before she lost her footing.
"I slipped down under and began to realize I was under everyone's legs drifting farther down," Andrich explained. "I did not know how to swim nor was I wearing a life jacket. I remember it being very pleasant and really didn't know I was drowning."
Bush then spotted the drowning child from a nearby lawn chair. She jumped up and dove into the pool without giving it a second thought.
LOVE LETTER FROM GEORGE HW BUSH TO BARBARA FROM WW2 GOES VIRAL
"You immediately got out of your chair, jumped in and pulled me out! I don't think you were wearing a bathing suit either," Andrich reminded Bush in the letter. "You saved my life, but jeopardized your own."
"I think she does need to hear [this story] and I think that her family needs to know this."
Andrich's parents, Donald and Alva, thanked the former first lady for her "heroic act." Bush smiled and invited the family over. Inside, Andrich remembers admiring a painting of the pair's late daughter, Robin.
"We were amazed how similar she and I looked alike," Andrich said.
Andrich never saw the Bush family again, but she never forgot about that day nor her rescuer. Days before Mrs. Bush died, on April 17, Andrich shared her story with local news station KPRC-TV in hopes the family would hear the uplifting story.
BARBARA BUSH VIEWING, FUNERAL PLANS SET
"I think she does need to hear [this story] and I think that her family needs to know this," Andrich told the news station.
Andrich, who had been a teacher for more than 28 years, said Bush, a tireless advocate for literacy, inspired her career.
"[It] has been the most difficult but the most rewarding career I could have had. I truly felt a strong calling that I could make a difference in my student's lives," she said.

Bush was not only an experienced campaigner, first lady, wife and mother — she was a "guardian angel," Andrich said.
"Thank you for your 'selfless act of bravery.' I am very grateful for you being there at the right time," Andrich concluded the letter.