Barack Obama's Twitter Calls Out House Representatives On Debt Ceiling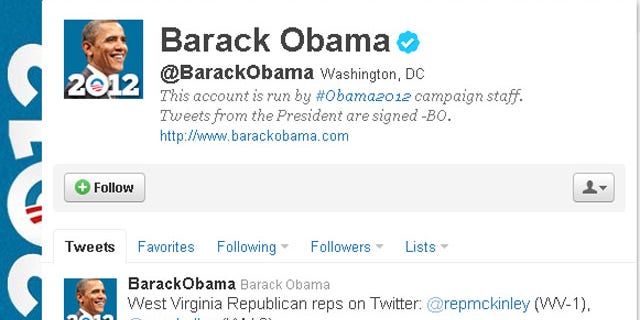 The debt ceiling drama is going down to the wire and President Barack Obama decided to use his Twitter account to get Americans to put pressure on their representatives all day on Friday.
At 11:45 a.m., Obama personally tweeted from his account before the Twitter avalanche began.
"The time for putting party first is over," he wrote. "If you want to see a bipartisan #compromise, let Congress know. Call. Email. Tweet," he concluded, signing the tweet 'BO' which means that he personally sent it.
From noon on, his account sent out 116 tweets to followers over the next six hours.
Typically each state saw two tweets each. First, people in the state were asked to tweet their representatives and then they were provided with the accounts of the representatives for their state.
Idaho's Raul Labrador, Texas's Francisco Canseco and Bill Flores, Florida's Marco Rubio, David Rivera and Ileana Ros-Lehtinen were among the House members who Twitter followers were told to contact.
But the representatives didn't all take the Twitter attention sitting down.
"Thank you for the tweet," Rivera tweeted back to the president. "Now, where is your plan to solve the #debt crisis?"
Flores responded with a little bit more bite.
"Thanks @BarackObama for all the new Twitter followers," he wrote.
"We tried to search for your debt limit plan and found this," he tweeted, attaching a link to the White House website which provided zero search results for "debt limit plan."
On Friday, the president once again called for a bipartisan plan to solve the debt ceiling crisis.
Separately, Speaker of the House John Boehner is trying to pass a plan in the House as time winds down before the August 2 deadline when the U.S. would default on its debt.
Contact Adrian Carrasquillo at Adrian.Carrasquillo@foxnewslatino.com or on Twitter @RealAdrianC.
Follow us on twitter.com/foxnewslatino
Like us at facebook.com/foxnewslatino