Auto Union Looks to Recover Concessions From Ford During Contract Talks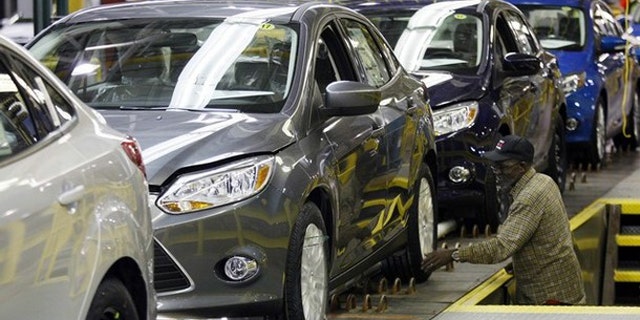 NEWYou can now listen to Fox News articles!
Now that Ford is back in the black, the United Auto Workers union wants to recover the perks it gave up over the past few years as the auto giant teetered on the brink of bankruptcy.
Rhetoric is flaring ahead of negotiations this summer for the UAW's next four-year contract. More than 1,000 delegates from the union are meeting in Detroit this week to strategize for those negotiations.
The talks will encompass labor agreements with the Big Three automakers, but Ford's impressive profits may make the company a target for union representatives looking for a bigger share of the wealth. Union members also have more leverage with Ford, since Ford workers did not agree to the no-strike clause approved by employees at General Motors and Chrysler.
Bill Johnson, who represents workers at a Ford plant in Wayne, Mich., told the Detroit Free Press that if Ford does not restore "everything" to the union, "the membership is going to knock it down."
Of Detroit's Big Three, Ford is doing the best. The company did not have to declare bankruptcy and did not accept a federal government bailout. Last year, the company earned $6.6 billion and it has since awarded millions in bonuses to senior executives.
General Motors recorded a $4.7 billion profit. Chrysler lost money in 2010, though it is expected to turn a profit this year.
Marcey Evans, a Ford spokeswoman, said the company's focus in the negotiations will be on "ensuring that all parts of our business are operating as competitively as possible." She would not comment on what past concessions could be back on the table.
"We have a history of working collaboratively together with the UAW to find solutions to critical issues, and we look forward to our discussions with them later this year," Evans said in an e-mail to FoxNews.com.
UAW President Bob King has said the union will press the automakers for expanded benefits.
"All the sacrifices that our members made to turn these companies around were part of the process that's really led to this amazing turnaround," he told Bloomberg in January, claiming members gave up between $7,000 and $30,000 since 2005. "We want our membership to share in a very meaningful way in the upside of these companies."
The auto union has made a series of concessions over the past several years as the industry's financial woes became increasingly more dire. They agreed to pay higher premiums and higher co-payments for health care in 2005. In the last four-year contract in 2007, they set up a second-tier wage for entry-level workers starting at $14 an hour, or about half the wage for current workers. They also approved several other changes, though union members received a $3,000 bonus in exchange for the agreement.
In 2009, workers went further and agreed to suspend bonuses and cost-of-living increases, among other concessions.
But with executives getting hefty bonuses and union workers now looking for their share, one Michigan economist warned that the industry could be drifting toward the habits that originally made it less competitive against leaner foreign automakers.
"All the bad habits are going to be on the table for restoration," said David Littmann, a senior economist with the Mackinac Center for Public Policy. Though union workers have made concessions, total pay and benefits are still better for American auto workers than their Japanese counterparts -- the average GM worker earns $57 an hour in pay and benefits compared with $51 an hour at Toyota, according to an August estimate Littman cited from the Center for Automotive Research.
Littmann said health care benefits will probably be the biggest provision union negotiators will be after this summer. He said that in light of the epic battle over collective bargaining rights in Wisconsin, UAW representatives may feel obligated to press hard for better benefits.
"They're kind of duty-bound to show clout," he said.
The UAW contract expires in September. A representative for UAW could not be reached by FoxNews.com for comment.
One UAW official told the Free Press that while members want their concessions back, they're also committed to product quality and mindful of job security.
FoxNews.com's Judson Berger contributed to this report.